Curator's Corner
Impressionist Sculpture?
Ever think sculpture when you think Impressionism? Sculpture gets a bad representation in art history books during the 1800s, unless you want to look at endless (yawn) "classically" inspired works of art. It wasn't just the US that was obsessed with classicism when it came to sculpture in the 1800s. That's why the works of Rodin stand out so much in that century. However, Rodin's sculpture was strongly influenced by "classical" sculpture, and that's why I prefer the work of his student, Medardo Rosso, though, goodness knows, Rodin was on a path to modernism with his works!
---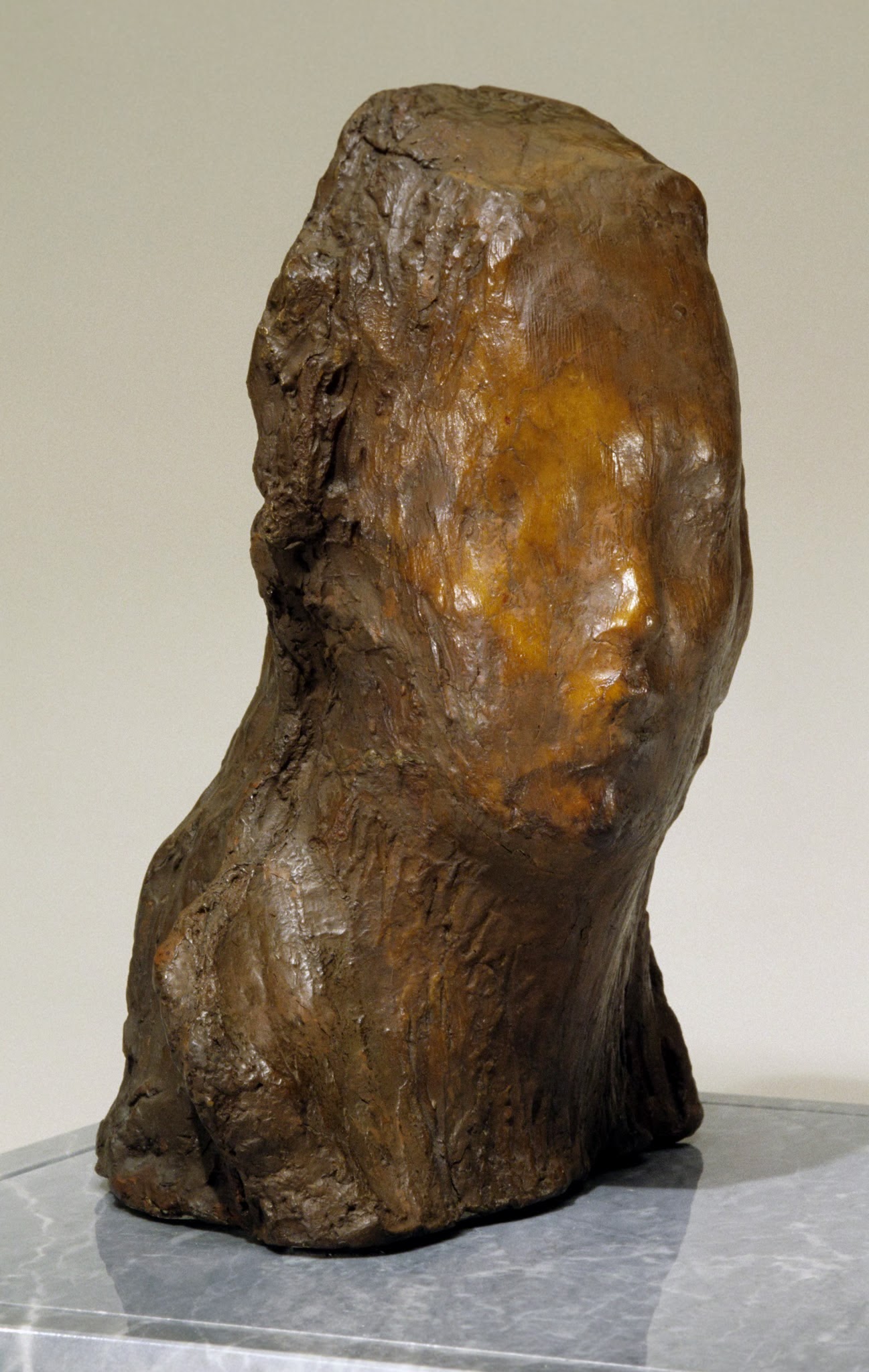 Medardo Rosso (1858-1928 Italy), Ecce Puer (Behold the Boy), 1906-1907. Wax over plaster, 15 7/8" x 9 1/2" x 6 3/4" (40.3 x 24.1 x 17.1 cm). © Philadelphia Museum of Art. (PMA-2620)
Well, the popular perception in Western art history is that the sculpture of Rodin was the springboard to modernism in 1900s sculpture. Granted, Rodin's idea of capturing fleeting moments in sculpture, including copying ancient Greek and Roman sculpture with missing heads and arms was evocative of "the moment," I think Medardo Rosso by far got a grip on the Impressionist idea of the stolen moment that would never be repeated. There's far too much classical (Western) reference in Rodin's sculpture for him to be (for me) the epitome of the modern aesthetic, although, I must admit to liking Rodin's Flying Figure.
Rosso originally studied to be a painter until about 1880. He lived in Paris after 1883 for two years where he was exposed to the sculpture of Rodin while studying under the romantic-realist sculptor Aimé-Jules Dalou (1883-1902), who despised the academic (Neoclassical) style of sculpture. Rosso was impressed with Rodin's emphasis on mottled surfaces that reflected light in ways that made the sculpture seem to visually vibrate. Instead, however, of contemplating subjects with grandiose allusions to antiquity, history, religion or emotion as Rodin did, Rosso tackled subjects from every day life.
Rosso did several versions of young children he saw on the streets of Paris. After 1889 Rosso spent most of his active career in France, and his sculpture subsequently became more associated with French, rather than Italian art. The many-textured, suggestive surface of this work, reflects Rosso's perception that "Nothing is material in space." His favorite medium was wax, which allowed him to create surfaces that imitated the soft nuances of light of Impressionist painting. His ability to capture an intimate moment, as Impressionism did in painting, was a great influence on sculpture in the early modern period of the 1900s.
Another artist whose sculpture expressed an Impressionist aesthetic, Edgar Degas.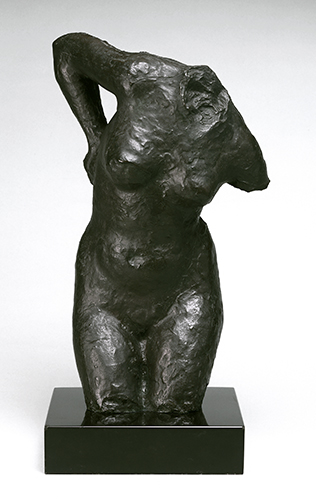 Edgar Degas (1834-1917, France), Woman Rubbing Her Back, ca, 1900. Cast after 1922, bronze, height: 18 1/8" (46 cm). © Philadelphia Museum of Art. (PMA-1537)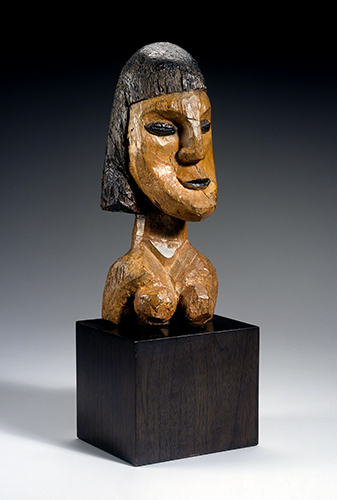 Ernst Ludwig Kirchner (1880-1938 Germany), Head of a Woman, 1913. Painted oak, 20" x 12 7/8" x 12 3/8" (50.8 x 32.7 x 31.3 cm). National Gallery of Art, Washington. (NGA-S0086)
German Expressionist sculpture explored the mottled surface much like Impressionist sculptors. However, it was more associated with the interest in the active surfaces of Medieval German sculpture than with an interest in the transient effects of light.
Correlations to Davis programs: Explorations in Art 3 1.3-4 studio; Explorations in Art 5 1.1-2 studio; Explorations in Art 6 1.4