Davis Desk
Call to Artists—Submit Your Art for an Online Gallery Show
In these days of COVID-19, the digital community is becoming an increasingly important part of our lives. We teach online, we learn online, and we visit family members online. We even have doctors' appointments online. We've all received humorous videos and emails from friends and colleagues to help us cope. My personal favorite is this: Things You Only Say When Remote Teaching.
---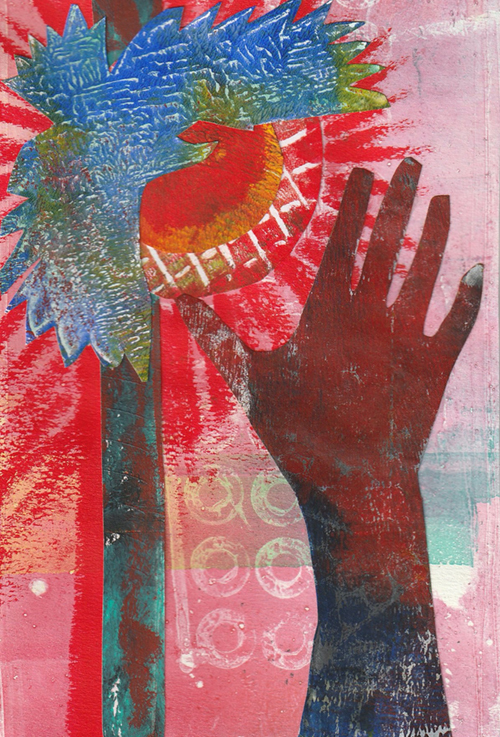 Exhibit submission by Ashley Phipps
Davis Publications is also adapting to this new digital community. We created a new section of our website with tons of free resources for you to use. On these pages, you'll find recordings of our free webinars by art education experts, complimentary professional development sessions, free lessons, videos, and articles. You can access all of these resources at any time here—Davis Art Free Resources.
In addition to the plethora of digital resources, SchoolArts magazine and the Frank Juarez Gallery are preparing for an online exhibit of Mail Art titled, Pushing the Envelope. This online art show will celebrate the new phenomenon you've all been experiencing this year—quaranteaching. We want to give you an outlet to share your thoughts, feelings, frustrations, and overall response to the challenges you've faced as art educators in the COVID-19 world. We are seeking artwork by art teachers, museum educators, and/or college art professors. The work of active and retired art educators from public and private K–12 schools, higher education, and museums will also be accepted. Artwork may be created in any 2D media; it just needs to fit in a 4" x 6" or 4-⅛" x 9-½" envelope and be mailed.
The entry deadline is July 24, 2020. View submission guidelines, and learn more about Mail Art here. Also check out art historian Karl Cole's blog post about Mail Art over at Curator's Corner. He does a fantastic job (as always) laying out the history of Mail Art and expanding the understanding of what it is and what it can be.
We hope you will consider submitting artwork for consideration. Now more than ever, art educators need to support our community and remember that, whether we are teaching remotely or in schools with social-distancing practices, art is a timeless way for all of us—as members of the human community—to share those ideas and ideals that bring us together and that are worthy of informed, respectful debate and exploration.