Curator's Corner
Mail Art
SchoolArts magazine is currently inviting all art teachers to enter Pushing the Envelope: A Mail Art Gallery Show. The theme of the online exhibit is Quaranteaching in a Pandemic. Art educators are invited to enter one mail art piece (small enough to fit in a 4" x 6" or 4 ⅛" x 9 ½" envelope) and mail it to Frank Juarez (address in the link below), who will organize an online exhibition of the entries, some of which will be published in SchoolArts. The deadline to enter is July 24, 2020. Find all the details and participation guidelines at DavisArt.com/MailArt.
---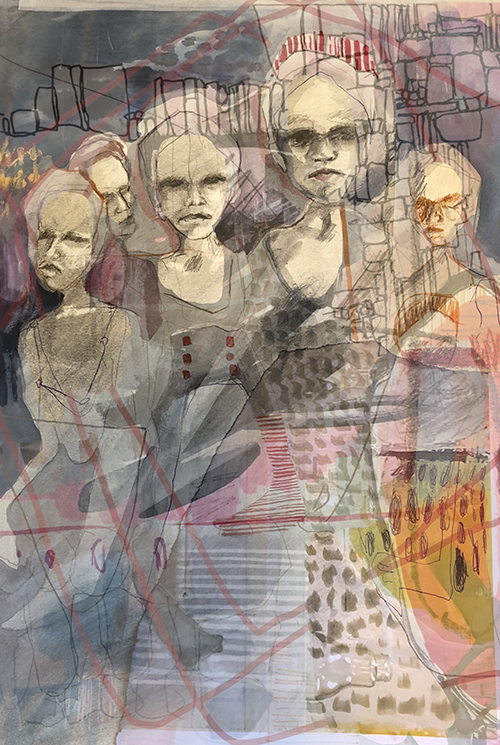 Mail art by Nicole Brisco.
The idea of using the mail to expand the possibilities and participation in making art began in the 1950s as an anti-establishment movement by Raymond Johnson (1927–1995). Johnson was rebelling against the entrenched, commerce-oriented "official" art world in New York, which was obsessed with Abstract Expressionism at the time. By using the post office, Johnson circumvented the rigid rules of the "insider" galleries and encouraged mass participation in the creation of art.
These are two ideas of Mail Art. But mail has been a part of art in different ways since there was organized mail delivery. Early examples in Western art are images of people, usually female figures, reading a just-delivered letter. But as a key element of art, mail was interestingly explored as subject matter by artists of the Trompe-l'Oeil Realism movement in 1800s U.S. art.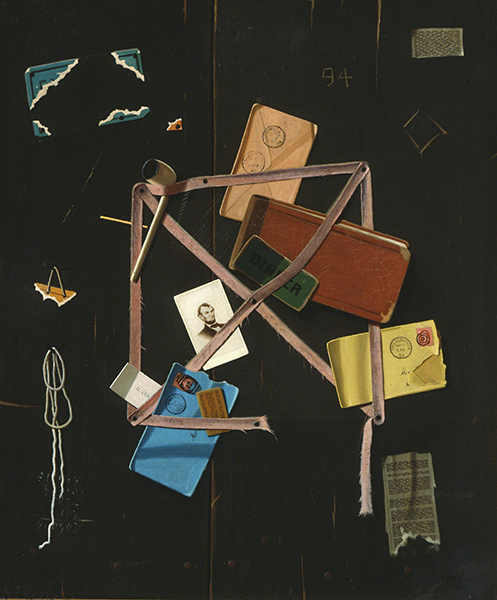 John Frederick Peto (1854–1907, U.S.), Old Time Letter Rack, 1894. Oil on canvas, 30 1/8" x 25" (76.5 x 63.5 cm). © 2020 Museum of Fina Arts Boston. (MFAB-188)
The format of arranging photorealistically painted objects on a shallow vertical space is certainly related to Dutch Baroque still life. The door setting can also be traced to William Harnett (1848–1892), considered the "leader" of the Trompe l'Oeil Realism movement. Peculiar to John Frederick Peto's setting is the inevitable image of Abraham Lincoln. Although such works usually refer to writing or printing, Peto was not as concerned with making all of the writing legible as Harnett was.
The elements of mail are presented as momentos, worn and discarded. This is in keeping with the spirit of many Dutch Baroque still-life paintings in which objects were decayed or broken as symbols of the transience of life. However, Peto's work does not present these tokens in a melancholy or moral way. The brilliant color and meticulous care to detail create a lively surface.
Peto was born in Philadelphia. He was fond of painting in watercolors as a youth, and probably trained at the Pennsylvania Academy of Fine Arts between 1879 and 1888. While there, he met Harnett, who most likely had a great impact on Peto's painting career. Although Peto's still-life paintings were popular with business and professional people, he supplemented his income with portraiture, both in painting and photography.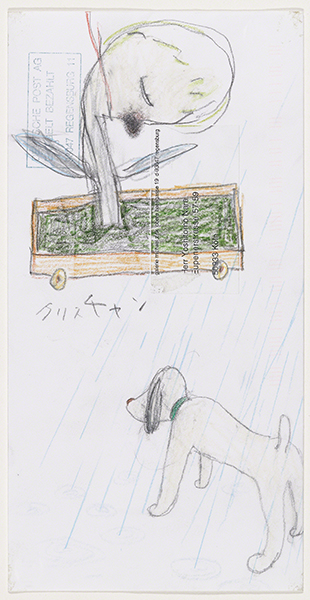 Yoshitomo Nara (born 1959, Japan), Untitled (plant and dog in rain), 1992–2000. Pencil and color pencil on envelope, 8 7/8" x 4 ½" (22.5 x 11.4 cm). Image © 2020 The Museum of Modern Art, New York. © 2020 Yoshitomo Nara. (MOMA-P4261)
Here's a different take on mail art, where the mail acts as support. This melancholy little drawing was executed across the front of a cancelled envelope, complete with address and stamp showing underneath. It comes from a group of studies Yoshitomo Nara did that were executed on both the front and back of numerous types of discarded paper. Nara is known for his images of small girls and dogs. In this piece, the little girl's head forms the blossom of the flower, very much reminiscent of the work of Odilon Redon (1840–1916), the French Symbolist. His imagery is also influenced by Japanese comics and the pets he had growing up lonely in rural Japan. The isolation and blank background of the forms may also be reflections of the loneliness of his growing up.
The subject of the following print probably does not represent a smart way for artists to send their mail art to Pushing the Envelope: A Mail Art Gallery Show. But, it is a type of mail, the theme of this post.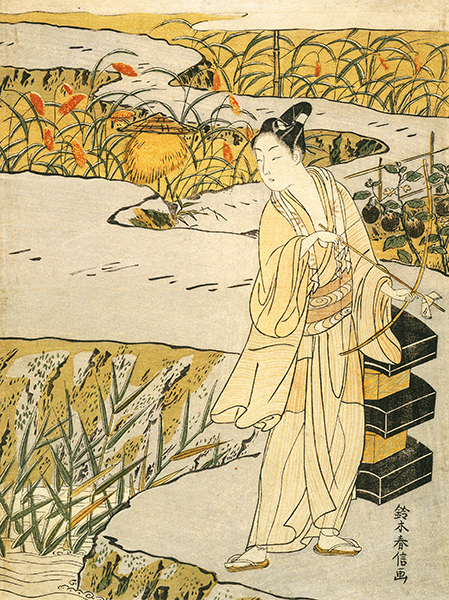 Harunobu Suzuki (1724–1770, Japan), Youth About to Send a Love Letter by Arrow, ca. 1768. Color woodcut print on paper, 10 ¾" x 8 1/8" (27.3 x 20.6 cm). © 2020 Philadelphia Museum of Art. (PMA-1736)
This print is a parody from the Tale of Heiki, in which the famous warrior Nasu no Yoichi (died ca. 1190), loyal to the Minamoto clan, shot a fan from the top of a mast of a Taira clan ship with an arrow during the Genpei War (1180–1185). Hopefully this youth's beloved knows her mail is coming by arrow.
An ukiyo-e artist, Harunobu Suzuki was known for his reed-slim figures of elegant "beautiful women" (i.e. bijin, synonymous with courtesans) before 1765, when he began producing multiple-block color prints. He then branched out into scenes from romantic novels from ancient Japan, including scenes such as this. He also began producing genre scenes, though this subject hardly counts as such.