Curator's Corner
The Week of Weir
Since I'm always a sucker for American Impressionism, I've chosen one of my favorites for the closing week of August: Julian Alden Weir. His birthday is the 30th of August, so let's call this week the Week of Weir! Even though he condemned Impressionism early on, Weir caved by the 1880s and took the plunge, quite beautifully I might add. I'm showing you two gorgeous works from the Phillips Collection that put me in mind of late summer in August.
---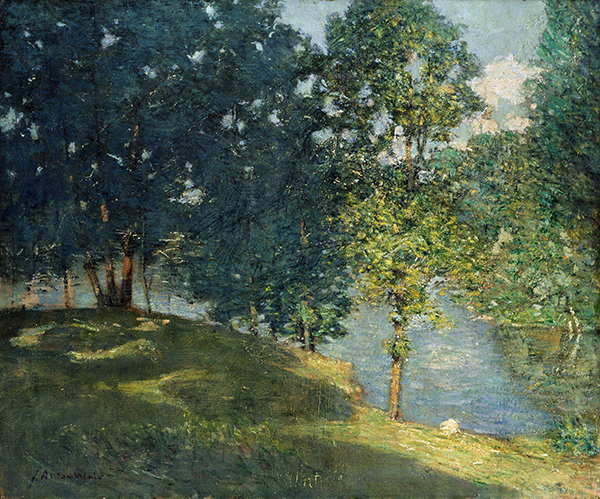 Julian Alden Weir (1852–1919, U.S.), Afternoon by the Pond, ca. 1908–1909. Oil on canvas, 25 1/8" x 30" (63.8 x 76.2 cm). © 2023 The Phillips Collection, Washington, DC. (PC-561)
Afternoon by the Pond typifies Weir's work of the 1890s through the end of his career. It employs all of the familiar aspects of Impressionism, including a modest sense of broken color, bright pure color palette, and an emphasis on dappled light. Like many of the American Impressionists, Weir only took the dissolution of form so far, preferring solidly modeled forms in the foreground, while his most flickering light and sensation of fleeting vision of the scene is obvious in his background brushwork.
Many American artists born in the 1840s and 1850s looked beyond Britain for inspiration in the decades following the Civil War (1860–1865). Exciting enclaves of American-émigré painters popped up in Munich and Paris. They brought back with them alternatives to the academic (classicism and realism) manner, ranging from Tonalism and Dark Impressionism to mysticism and Symbolism to—most of all—Impressionism.
When American artists returning from Europe introduced Impressionism in the 1880s, the entrenched national academies at the time (National Academy of Design and Pennsylvania Academy of Fine arts) and museum schools on the East Coast encouraged the continuation of the conservative styles of classicism, historicism, and realism. Although late in coming to America, Impressionism quickly caught on in the final two decades of the 1800s.
Weir was born in West Point, New York. His earliest training in art was by his father, Robert Weir (1803–1889), a Hudson River School romantic-realist painter and drawing teacher at the West Point military academy. The younger Weir went on to study at the National Academy of Design in New York. He went to Paris in 1873, where he studied under the academic classicist painter Jean-Léon Gérôme (1824–1904) at the School of Fine Arts. These early studies cemented his drawing and foundational painting abilities.
While studying in Paris, Weir visited Holland and Spain, where he was inspired by the work of Baroque artists. He was particularly influenced by Frans Hals (1582–1666) and Diego Velázquez (1599–1660), who painted in a tenebristic (extremes of dark and light) manner. He was also greatly influenced by the French realist Jules Bastien-Lepage (1848–1884), whose painting style was characterized by diffused light on sunless days with a limited range of tonalities. These two major influences affected the development of the American Tonalist style that was popular among another group of American expatriates studying in Europe, primarily in Munich.
Returning to New York in 1877, Weir taught at Cooper Union Women's Art School and the Art Students League. Active in avant-garde artist organizations starting at that time, he helped to found the Society of American Artists and the Tile Club, both populated by many American artists drawn to Impressionism.
Although he pronounced the third French Impressionist Exhibition in Paris (April, 1877) a "chamber of horrors," repeat visits to Paris in 1880, 1881, and 1883 cemented Weir's progression as an American Impressionist. By the 1890s, Weir had abandoned his dark palette and academic style. In 1893, his work was exhibited alongside works by Monet. In 1897, Weir was one of the founding members of the Ten American Painters, a group of artists who left the National Academy because it did not favor Impressionism.
Here is another gorgeous little work that makes me think of late summer walks. The brushwork is very Monet-esque.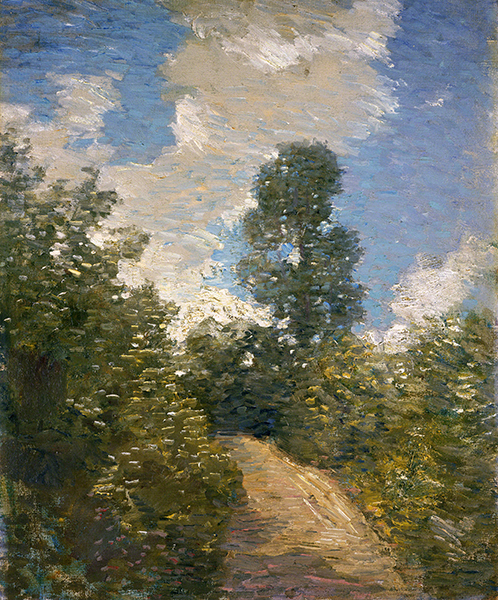 Julian Alden Weir, Back Road, 1900–1910. Oil on canvas, 24" x 20" (60.9 x 50.8 cm). © 2023 The Phillips Collection, Washington, DC. (PC-529)
Correlations to Davis programs: Explorations in Art 2E Grade 1: 1.2, 4.4; Explorations in Art 2E Grade 3: 5.5; Explorations in Art 2E Grade 4: 3.1, 3.2; A Community Connection 2E: 5.1, 5.4; A Global Pursuit 2E: 7.1, 7.2; A Personal Journey: 2E 5.4; Exploring Painting 3E: Chapter 11; Discovering Art History 4E: 13.1