Curator's Corner
Peace for the New Year
The last couple of years have been rather stressful for all of us, I would imagine, what with the pandemic and all its consequences. When I'm stressed out, I tend to want to look at art; the more the better. So, to usher in a sense of peace for everyone, I recommend staring at the following two works until your eyes start watering from the very peaceful beauty of them. Happy New Year!
---
Mori Ippō (1798–1871, Japan), Snowscape, mid-1800s. Ink and light color on silk, hanging scroll, 60 ¼" x 33 7/16" (153.1 x 87.9 cm). © 2021 Museum of Fine Arts Boston. (MFAB-804)
Active in Osaka, Mori Ippō trained in the Shijō style. Little is known about his training other than that he was the adopted "son" of the renowned Mori family of painters.
Mori's painting style ranged from remarkably detailed work in which textures and space were delineated by sophisticated nuances in shading, and more traditionally stylized floral works in a yamato-e aesthetic. His paintings are characterized by shapes rather than contour lines, a debt to the Shijō school's emphasis on strong brushwork. Many of the Shijō artists were adept at snow scenes because the nuanced use of ink washes was well-suited to large contrasts of positive and negative forms.
Painting during the Edo Period (1603–1867) in Japan continued to be characterized by professional painters and scholar/amateurs. There were numerous sub-categories within these two veins, but Japanese painting was dominated by the Kanō school and its adherents who painted for the shoguns and military nobility. Their style was traditional Japanese with an emphasis on decorative, stylized surface and bright colors. The amateur scholar/painters preferred to paint in the ages-old Chinese tradition of monochromatic ink, primarily landscape.
Kyoto developed a "school" based on the work of Maruyama Ōkyo (1733–1795). Maruyama trained in the conservative Kanō school, favoring initially stylized forms in strong brush work. Later, under Western influence, he developed a more realistic style, based on careful observation and preliminary sketches. This style involved both contour lines in ink and areas of wash. The group of artists this style attracted is called the Maruyama/Shijō School, "Shijō" after Shijō Street in Kyoto where the artists' workshops were located.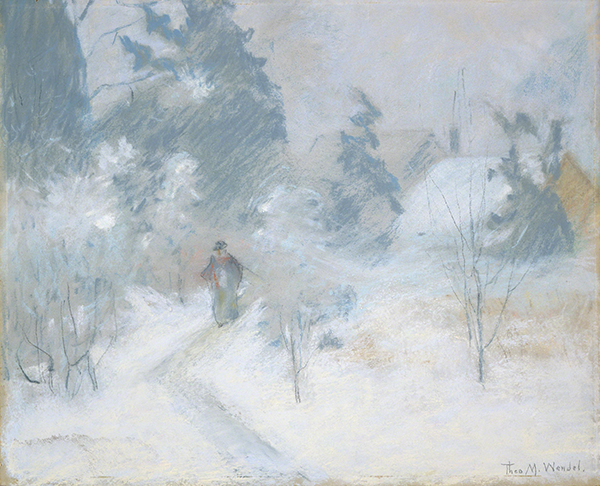 Theodore Wendel (1859–1932, U.S.), Snow Scene, ca. 1889. Pastel and graphite on paperboard, 12 ½" x 15 ½" (31.8 x 39.4 cm). © 2021 Museum of Fine Arts, Boston. (MFAB-330)
I could not resist adding this beautiful American Impressionist work, since the artist was part of the Boston Impressionist movement of the late 1800s.
This snow scene may be a reminiscence of France, although by 1890, Theodore Wendel's subject matter began to reflect scenes of Massachusetts, particularly the region around Gloucester. Wendel's translation of the Monet technique is flawless in its incorporation of a varied, high-key palette awash with titanium white. Wendel was particularly praised for his snow scenes of New England.
Wendel was born in Midway, Ohio. He studied art at the McMicken School of Design in Cincinnati and the Royal Academy in Munich (1878–1879). In 1879 he joined American expatriate painter Frank Duveneck (1848–1919) in Bavaria, where Duveneck trained American artists in the Dark Impressionist style, a derivative of Spanish and Dutch Baroque influence.
Although Wendel came back to the U.S. in 1881, he returned to Europe to study in Paris from 1886 to 1887. During subsequent summer trips, he painted alongside the pioneer Impressionist Claude Monet (1840–1926), where Wendel's style evolved from the Dark Impressionist mode through Tonalism and finally to full-blown Impressionism. Returning to the U.S. and living in the Boston area, Wendel's work was praised in the late 1880s as the earliest of the "Boston Impressionists" to effectively translate the French Impressionist style in America.