Curator's Corner
Kimono Patterns and Ukiyo-e Prints
The Worcester Art Museum is hosting a fascinating exhibit tying kimono design and its importance in the ukiyo-e print aesthetic. Ukiyo-e, meaning "images of the floating (i.e. transient physical) world," was a genre of printmaking aimed at the affluent middle class of the Edo period (1615–1868) in Japan. This was a period in which the middle class gained wealth and patronized this art form that reflected their worldly pleasures. One of those pleasures was viewing prints of idealized figures of women and men wearing the latest fashions, called bijin-ga. Since the Heian period (794–1185), the patterns and arrangement of kimono sleeves (up to thirteen layers in Heian times!) was an important aesthetic that reflected good taste. Through the prints of ukiyo-e artists, this aesthetic was documented in all its glory.
---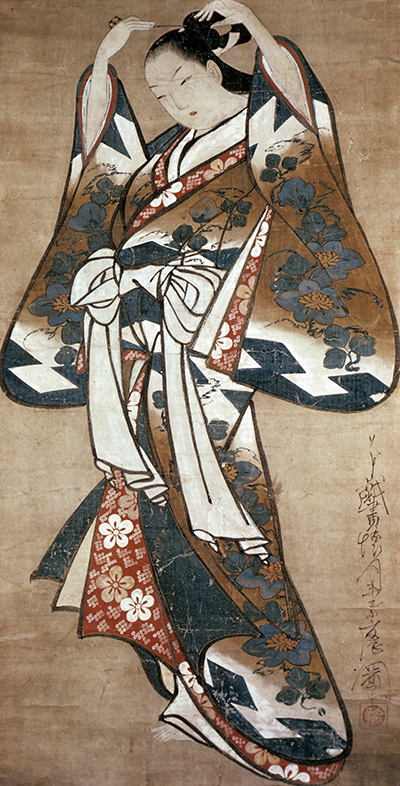 Kaigetsudō Doshin (active 1704–1716), Woman Placing Hairpin in Her Hair, ca. 1715. Ink and colors on paper, 38 9/16" x 16 ½" (98 x 42 cm). Private Collection. Image © 2021 Davis Art Images. (8S-4150)
Kaigetsudō was the name taken by a group of artists in the first two decades of the 1700s, named for the first artist to start the genre of "beauty" images, Kaigetsudō Andō (ca. 1671–1743). Kaigetsudō Doshin was also an early explorer of the genre. Little is known about his birth or upbringing. He was most likely a talented pupil of the "school" founder Andō, who "adopted" him by granting him his last name.
The female figures these artists portrayed, which display almost identical characteristics, may have been influenced by two of the major print pioneers of the ukiyo-e style, Sugimura Jihei (ca. 1681–1703) and Hishikawa Moronobu (1618–1694). The female figures invariably are defined by organic contour lines, and, when standing, with a distinctive S-curve. All the artists of the style paid meticulous attention to elegant, sophisticated pattern contrasts, and the figures are always presented against a blank background.
The Kaigetsudō artists paid great attention to the patterns depicted on the kimonos of their figures. The painting of this anonymous woman features two prominent patterns symbolizing spring (plum blossoms, on the under kimono), and autumn (patrinia flowers on the over kimono). The obi (sash) tied in front indicates the woman's vocation as a professional beauty.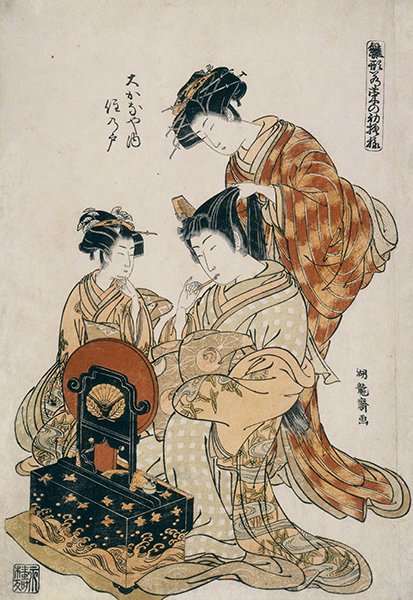 Isoda Koryusai (active 1764–1788), The Courtesan Okanaya, from the series Models for Fashion: New Designs as Fresh as Young Leaves (Hinagata wakana hatsu moyo), ca. 1775. Color woodblock print on paper, 10 13/16" x 9 ¾" (27.5 x 24.7 cm). © 2021 Brooklyn Museum. (BMA-1186)
Isoda Koryusai was unusual among ukiyo-e artists, having been born into a Samurai-class family in Edo (Tokyo). Although little to nothing is known about his training, some scholars propose that he ventured into printmaking in order to survive having become a "masterless samurai" (ronin), basically an unemployed samurai. His elite class gave him a background in literary and historical works and bird-and-flower subjects. Although there is no evidence, Koryusai's style and compositions suggest that he may have been a pupil of the first major ukiyo-e artist, Suzuki Harunobu (1724-1770), or he certainly imitated Harunobu's style in order to cash in on his notoriety.
Koryusai was an extremely prolific printmaker, having produced more than 170 series of prints, with more than 2500 designs attributed to his name. His most famous series, and his only original conception, was Hinagata wakana no hatsu moyo ("Models for Fashion: Designs as Fresh as Young Leaves"). The courtesans of the Yoshiwara, through the ukiyo-e prints, became models of the latest fashions, even for middle class women. The series contained 150 compositions of courtesans and their kamuro (courtesans-in-training) modeling the most up-to-date kimono patterns.
In this print, Sunimoto of the Okanaya House has a maid arranging her complex hairdo while her kamuro observes. Even the maid sports the latest fashions with a handsomely tie-dyed patterned kimono. A fashion custom that originated during the Heian period is visible in the careful layering of numerous kimonos so that each different layer displays a tasteful combination of patterns. Sunimoto applies lip color while looking in a mirror, which Koryusai handsomely designed to be supported on a black lacquered chest bearing a scene of birds over sea waves. Sunimoto's outer kimono displays a handsome pattern of a meandering stream with foliage.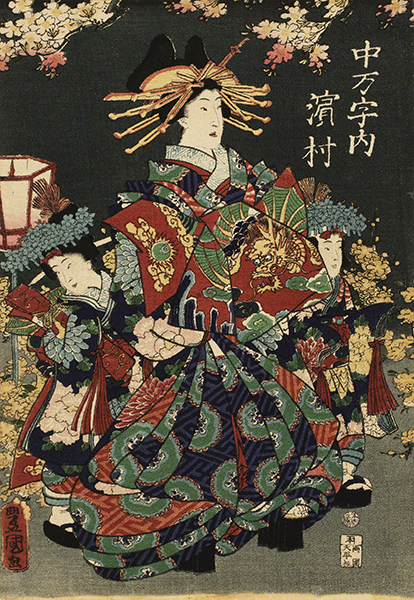 Utagawa Toyokuni III (Kunisada I, 1786–1864), Modern Competition of the Most Popular Courtesans, 1862. Color woodcut print on paper, 8 7/16" x 5 7/8" (21.4 x 14.9 cm). © 2021 Philadelphia Museum of Art. (PMA-8154)
Starting in the 1830s (the late Edo period), bijin-ga acquired a distinctly exaggerated, overly decorative, almost grotesque aesthetic. Fashions of the period became parodies of classical kimono designs from earlier in Edo. The emphasis on contrasting patterns, girth of the garments, and garish colors developed an almost comical exuberance. The elegant, slender wooden or ivory hair pins seen in earlier Edo period female figures—such as the Koryusai above—morphed into almost weapon-like size in these late prints. How does the woman hold her head up? Even the wooden geta (shoes) are exaggerated in their size and height. When compared to the lithe, elegant women in the previous two prints, this professional beauty truly looks like a caricature of a fashionable woman. One has to wonder what lengths the other women in this series went to outdo the others in this "competition"?
Kunisada was the son of a relatively well-known poet in Edo, and his artistic talent manifested itself early. His ability was noticed as a youth copying actor prints. In 1800, he became an apprentice under Utagawa Toyokuni (1769–1825), the patriarch of the Utagawa print school, whose name Kunisada subsequently adopted (1842) to honor him. Kunisada became a great artist in his own right, adapting, like his namesake, all of the range of popular ukiyo-e subjects. Like Toyokuni, Kunisada favored actor prints, a specialty of the Utagawa school.
Although Kunisada started out producing primarily actor prints, he eventually branched out into bijin-ga and, in the 1830s, he dabbled briefly in landscapes and genre scenes. He is known to have collaborated with the landscape artist Utagawa Hiroshige (1797–1858) and bijin-ga artist Utagawa Kuniyoshi (1798–1861). These two artists are considered the greatest of the late Edo period ukiyo-e artists. By the 1840s and 1850s, Kunisada too acquired universal fame for his prints. His work was more popular than contemporaries Hiroshige or Katsushika Hokusai.
Correlations to Davis programs: Experience Printmaking 1E: Chapter 4; Discovering Art History 4E: 2.3, 4.1; The Visual Experience 3E: 3.5, 13.5; The Visual Experience 4E: 7.9