Curator's Corner
Gems of the Month: Robert Motherwell's Lyric Suite
In order to beat the holiday rush, I think it's a good time for some early presents in the form of gorgeous works of art. Unfortunately, I can't gift the real artworks to you, but just seeing these fabulous abstractions is inspiration enough! I'm so taken with the color of these works. As an artist, I often wish I could completely let go and paint in an automatist fashion, but I'm too Virgo.
---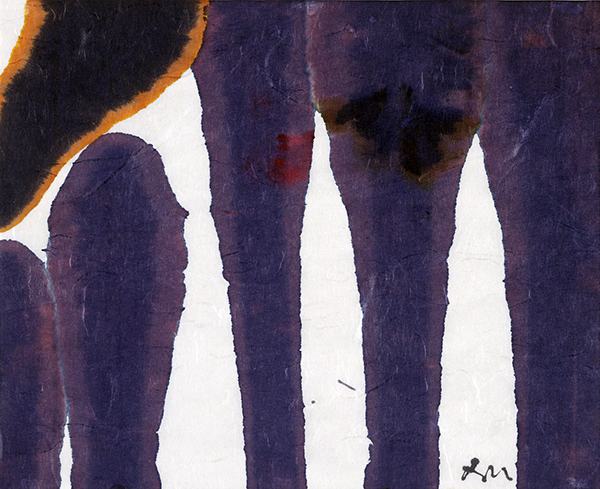 Robert Motherwell (1915–1991, U.S.), Untitled, from the Lyric Suite series, 1965. Colored ink on Japanese mulberry paper, 9" x 11 1/16" (22.8x 28.1 cm). Courtesy of the Museum of Modern Art, New York. © 2022 The Dedalus Foundation/Licensed by VAGA at Artists Rights Society (ARS), New York. (MOMA-P3234movg)
Robert Motherwell's Lyric Suite was a series of ink drawings/paintings on rice paper, examples of his use of automatic drawing. Automatic drawing is spontaneous, gestural work that is executed intuitively rather than with a plan. It was one of the tenets of Surrealism, which had a major impact on the development of Abstract Expressionism. Despite being an apparently subconscious production, a lot of preparation went into creating the series, in particular the technical discipline required to somewhat control the flow of ink. Motherwell limited his palette to red, blue, black, and orange.
Automatic drawing/painting has been likened to calligraphy artists, who consider the act a meditative process. Motherwell recognized that Chinese and Japanese traditions in ink painting involved both material (medium) and spiritual concerns. This is very similar to the Zen Buddhist emphasis on emptying oneself of worldly concerns and the absence of meaning to prepare the soul for encountering enlightenment.
The intimacy of the Lyric Suite is in sharp contrast to Motherwell's large paintings, such as his series Elegy to the Spanish Republic. Motherwell completed more than 100 Lyric Suite works between 1948 and 1967. The way the artist skillfully achieved the ink density and soaking through the paper produced truly spectacular results with what can be a hard-to-control medium.
Many influential European modernist artists fled to New York when World War II (1939–1945) broke out. This exposed American artists—hungry for change from the dominance of Social Realism during the Great Depression (1939–1940)—to a wide variety of abstraction and Surrealism. American artists, disillusioned by what they perceived as the failure of traditional values and systems in the war, sought new ways of expression.
These American artists rejected any realistic or nationalistic tendencies, as well as the sterile formalism of such abstractionists as Piet Mondrian (1872–1944). They were drawn to forms of abstraction that revealed individual expression, especially Chilean Surrealist Roberto Matta (1911–2002), who was in New York from 1939 to 1948. Matta introduced the New York artists to the idea of psychic automatism, creating from the subconscious. This enabled American artists to explore new forms.
These artists were united in their belief that abstract art could express timeless, universal themes. By the mid-1940s, the leading artists of the New York School were exhibiting in galleries there. In 1948, several of the artists founded an informal school called Subjects of the Artist. The Museum of Modern Art began acquiring American abstract works, and in 1958 the museum organized an exhibition called The New American Painting. This show traveled to eight European countries, giving Abstract Expressionism (the New York School) an international reputation as a premier modernism movement.
Although Abstract Expressionists valued spontaneous creation, randomness, and abstraction, Abstract Expressionism cannot be defined by a single style. For convenience's sake, the movement can be characterized by two distinct tendencies. The gestural, or action, painters were concerned with the unique and spontaneous touch of the artist in a variety of ways, and the emphasis was on the texture of the paint. The color field painters were concerned with an abstract statement in terms of large, unified color shapes or areas.
Motherwell was the youngest of the Abstract Expressionists. His early training was in art history, literature, and philosophy at Stanford University in California. He became an eloquent spokesperson for Abstract Expressionism and modernism in America. He was largely self-taught as a painter, except for some formal study in California and later with Swiss-born American Surrealist Kurt Seligmann (1900–1962) in New York. In 1941, he met a number of European Surrealists. The aspect of Surrealism that intrigued him the most was automatism, the concept of the intuitive, irrational, and accidental in the creation of a work of art.
The earliest works by Motherwell reflect his attempt to combine the total abstraction of Mondrian with the spontaneity of Surrealism. In 1943, Matta suggested Motherwell experiment with collage, a medium to which he repeatedly returned throughout his career, more than any other Abstract Expressionist. His early abstract paintings were combinations of forms inspired by Picasso's work and ovoid and geometrical shapes, which would come to characterize his later paintings.
Here are two more works from the Lyric Suite series. Wouldn't you like to hang color and ornaments like this on your tree?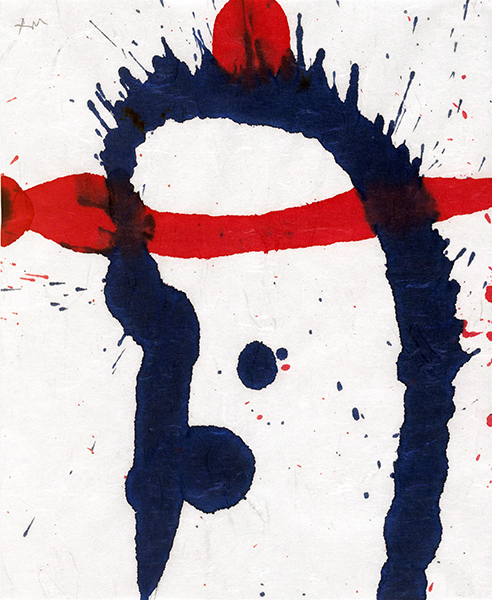 Robert Motherwell, Untitled, from the Lyric Suite series, 1965. Ink on Japanese mulberry paper, 11 1/16" x 9 1/16" (28.2 x 23 cm). Courtesy of the Museum of Modern Art, New York. © 2022 Dedalus Foundation/Licensed by VAGA at Artists Rights Society, New York. (MOMA-P3325movg)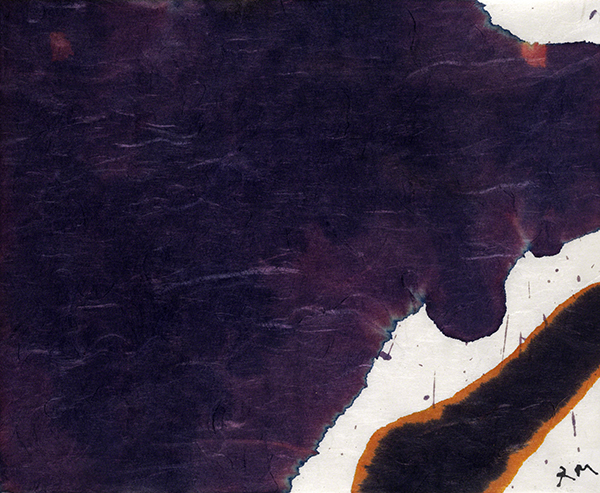 Robert Motherwell, Untitled, from the Lyric Suite series, 1965. Ink on Japanese mulberry paper, 9" x 11 1/16" (22.9x 28.1 cm). Courtesy of the Museum of Modern Art, New York. © 2022 Dedalus Foundation/Licensed by VAGA at Artists Rights Society (ARS), New York. (MOMA-P0933movg)
Correlations to Davis programs: Explorations in Art 2E Grade 4: 6.7; Explorations in Art 2E Grade 6: 5.1; Experience Painting: pp. 91–92; The Visual Experience 4E: 4.3; Discovering Art History 4E: 17.1