Curator's Corner
Self-Taught Artists
I was recently studying the insanely wonderful art of contemporary artist Carmen Cartiness Johnson (I posted about her back in February), and I noticed that her artist's statement said right off the bat that she is "self-taught." Now, except for a year and a half at an art museum school in Chicago, I am essentially a self-taught artist. But, unlike Johnson, my work is not exhibited in museums. Do you see where I'm going with this?
---
I have written biographies of hundreds of artists—about where they studied, who they studied with, and who influenced them. And yet, I feel as if the phrase "self-taught" often conjures up images of "visionary art" in the minds of some art historians (especially ones with PhDs).
Ever since the early 1900s, what was once considered naïve, self-taught art was reevaluated for what it truly is: art that responds to an inner vision that often is richer and more expressive than the work of artists who follow the academic path. This was especially influential on many well-known artists of Dada, Surrealism, and abstraction. I have personally resolved to downplay formal education and emphasize what inspired artists, and how they had the innate ability to express that, in future writings of artist bios. How about that?
How many museum walls would be noticeably bare without the work of "self-taught' artists? I present to you the work of artists represented in major museums, all with "big names" who were essentially "self-taught" artists.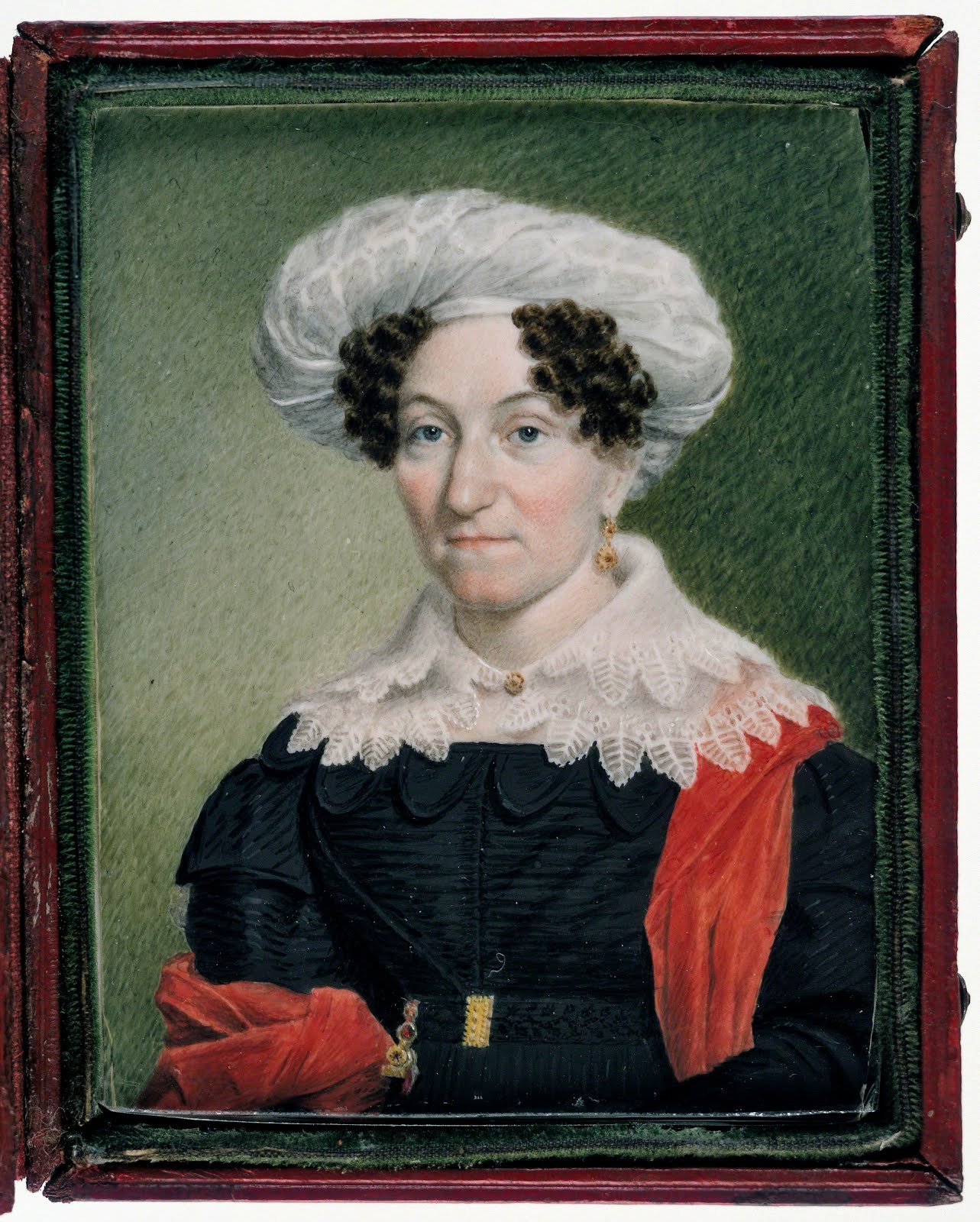 Sarah Goodridge (1788–1853, US), Sarah Salisbury Tappan, ca. 1830. Watercolor on ivory, 3 7/16" x 2 11/16" (8.7 x 6.8 cm). © 2018 Worcester Art Museum. (WAM-380)
When Sarah Goodridge (1788–1853) was growing up on a farm in Templeton, Massachusetts in the late 1700s/early 1800s, the few rights that were accorded to women did not include attending the limited number of art schools in the US at the time. Women who showed an aptitude for drawing at an early age were mostly trained by male relatives, if they happened to be artists. Goodridge honed her drawing skills when she moved to Boston to spend time with a brother who lived there. Although she may have taken lessons in Boston, she was largely self-taught. Portrait miniature painting was profession in which it was easier for women to succeed because the work could be done at home. In Boston, she became acquainted with the Grand Manner painter Gilbert Stuart (1755–1828), whose work may have informed her own style.
Goodridge opened a studio in Boston in 1820 and became one of the most prolific portrait miniaturists of the first half of the 1800s. Compared to her contemporary miniature painters, Goodridge's figures show more solid modeling, and an acute attention to physical detail. At the time this portrait of a woman from an elite Worcester family was painted, Goodridge was producing as many as two paintings a week and was able to support her family on her art.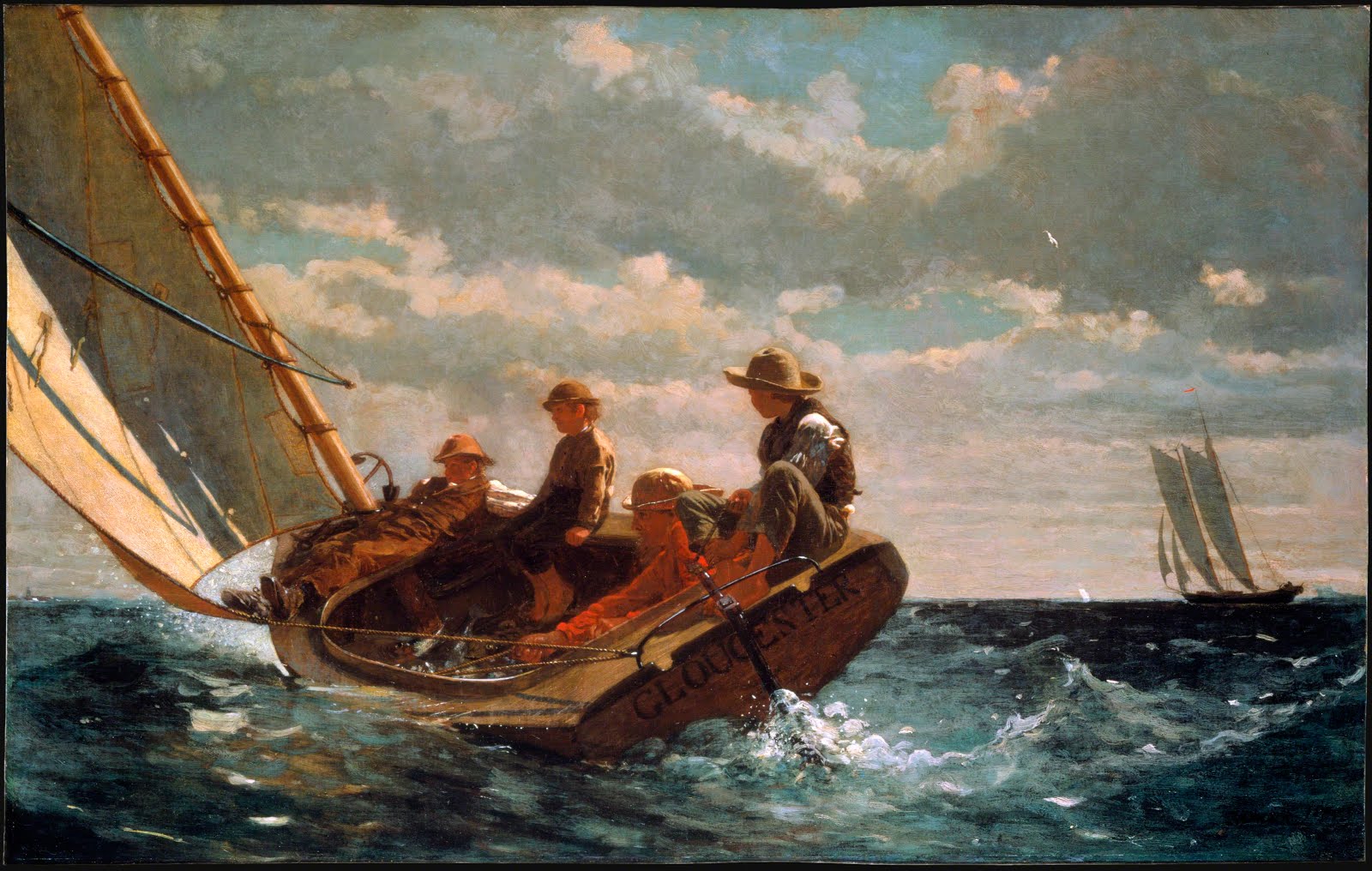 Winslow Homer (1836–1910, US), Breezing Up (A Fair Wind), 1873–1876. Oil on canvas, 24 ¼" x 38 3/16" (61.5 x 97 cm). © 2018 National Gallery of Art, Washington, DC. (NGA-P0230)
Winslow Homer (1836–1910) is by far—next to Thomas Eakins (1844–1916)—one of the supreme American realists of the 1800s. Homer was born in Boston and his parents encouraged him to draw at an early age. Drawing became the staple of his income for the first two decades of his life. He honed this skill by keen observation of everyday life. That genre became one of his strong points as an illustrator when he was hired by Boston lithographer John Bufford (1810–1870) (a rival to Currier and Ives) in 1855. He executed book illustrations and magazine and music sheet covers, which also honed his artistic skill.
In 1859 he became a freelance illustrator in New York for a number of publications and served as a war "correspondent" for Harper's weekly magazine during the Civil War (1860–1865). During that war he concentrated more and more on painting. He translated many of his Civil War sketches into paintings after 1866, when he spent a year in France. Although Impressionism was budding in France at the time, Homer was drawn more to the Realism movement, particularly the Barbizon painters in their emphasis on painting outdoors and visual reality. He was also moved by the work of Dutch Baroque landscape artists whose work he saw in the Louvre museum.
As early as 1873, Homer became fascinated with painting scenes of the ocean and other bodies of water after a visit to Gloucester, Massachusetts, where he produced a watercolor of this scene. Like Dutch Baroque seascape artists, Homer produced many outdoor studies of waves and light on water to produce his marine works, which were always painted entirely in the studio. For the effects of bright sunlight and deep shadow, Homer used the traditional academic method of tints and shades using black and white added to local color.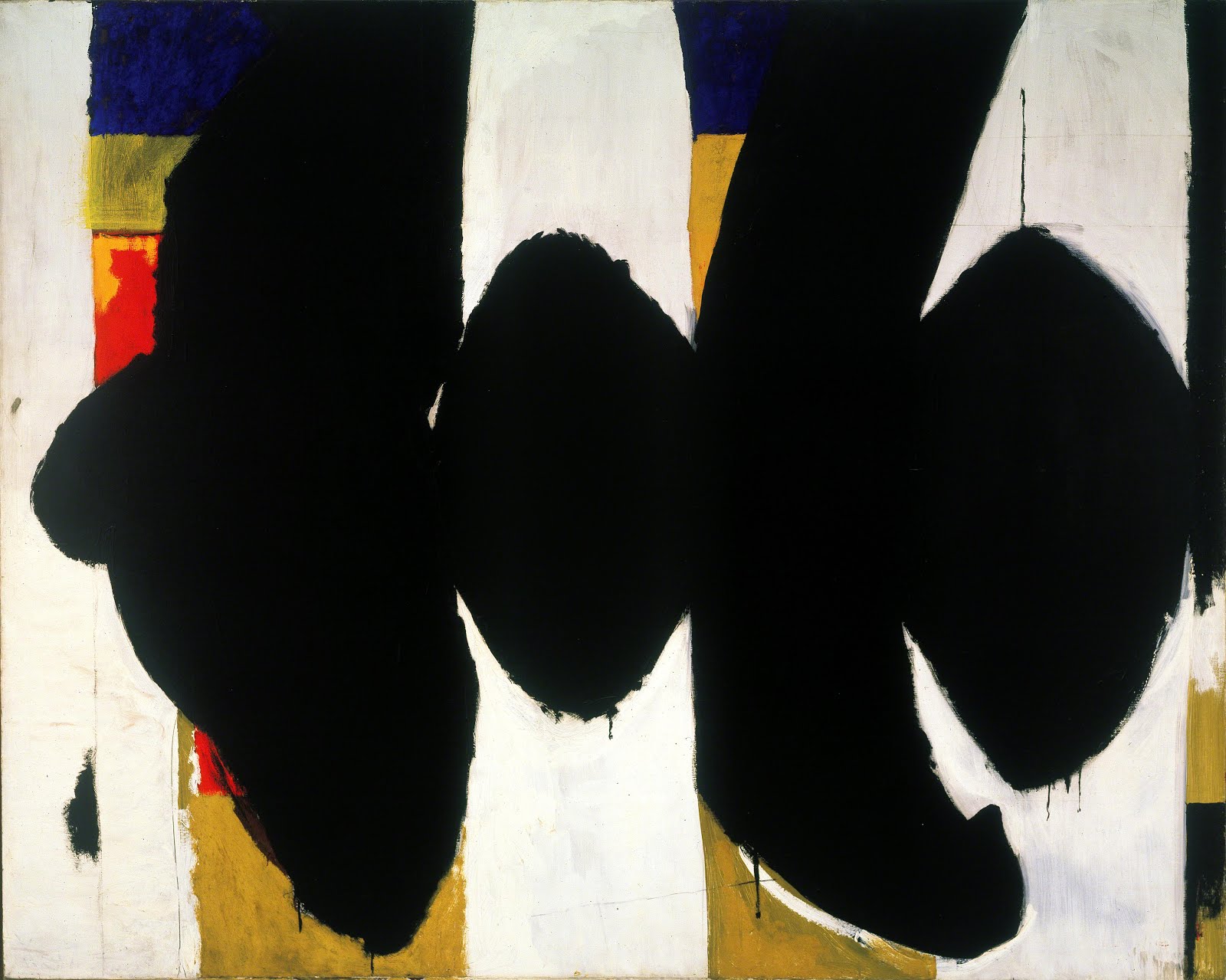 Robert Motherwell (1915–1991, US), Elegy to the Spanish Republic No. 34, 1953–1954. Oil on canvas, 80" x 100" (203.2 x 254 cm). Albright-Knox Art Gallery, Buffalo, NY. © 2018 Estate of Robert Motherwell, Licensed by VAGA, New York. (AK-453movg)
Abstract Expressionism was the first indigenous modernist art movement in the US. It blossomed after a roughly twenty-year period in which realism, especially social realism, was ruler. The movement was influenced greatly by émigré artists from Europe during World War II (1939–1945), many of whom had a Surrealism and Dada background.
The Surrealist aesthetic of "automatic creation," or the superiority of the subconscious in creation, was one of the motivating factors among the Abstract Expressionists. The Abstract Expressionists were also attracted to any European movement that advocated total abstraction, which included De Stijl and the Russian movements of Suprematism and Constructivism.
Robert Motherwell (1915–1991) was the youngest of the "first generation" of the Abstract Expressionists. His early education was in ART HISTORY, literature, and philosophy at Stanford University in California. As a painter he was largely self-taught, except for some brief formal study with the Swiss Surrealist Kurt Seligmann (1900–1962) in New York in 1941. He met a number of other Surrealists there, and he was most impacted by the idea of their aesthetic grounded in the intuitive, irrational, and accidental aspects of creating a work of art.
Motherwell painted his first version of Elegy to the Spanish Republic in 1948. It was his profound reaction to the defeat of the Spanish Republic by Fascists in the 1930s. He painted more than 150 versions of this theme throughout his life. In contrast to the bright palette of his other paintings, the Elegy series was dominated by black and white. Like Picasso's (1881–1973) painting Guernica, Motherwell's Elegy series equated black with death and white with life. By the 1960s, the series had become monumental in scale, almost mural-like. The artist intended the loosely brushed forms to symbolize universal tragedy. This particular version related to Motherwell's feelings about the Korean War (1950–1953).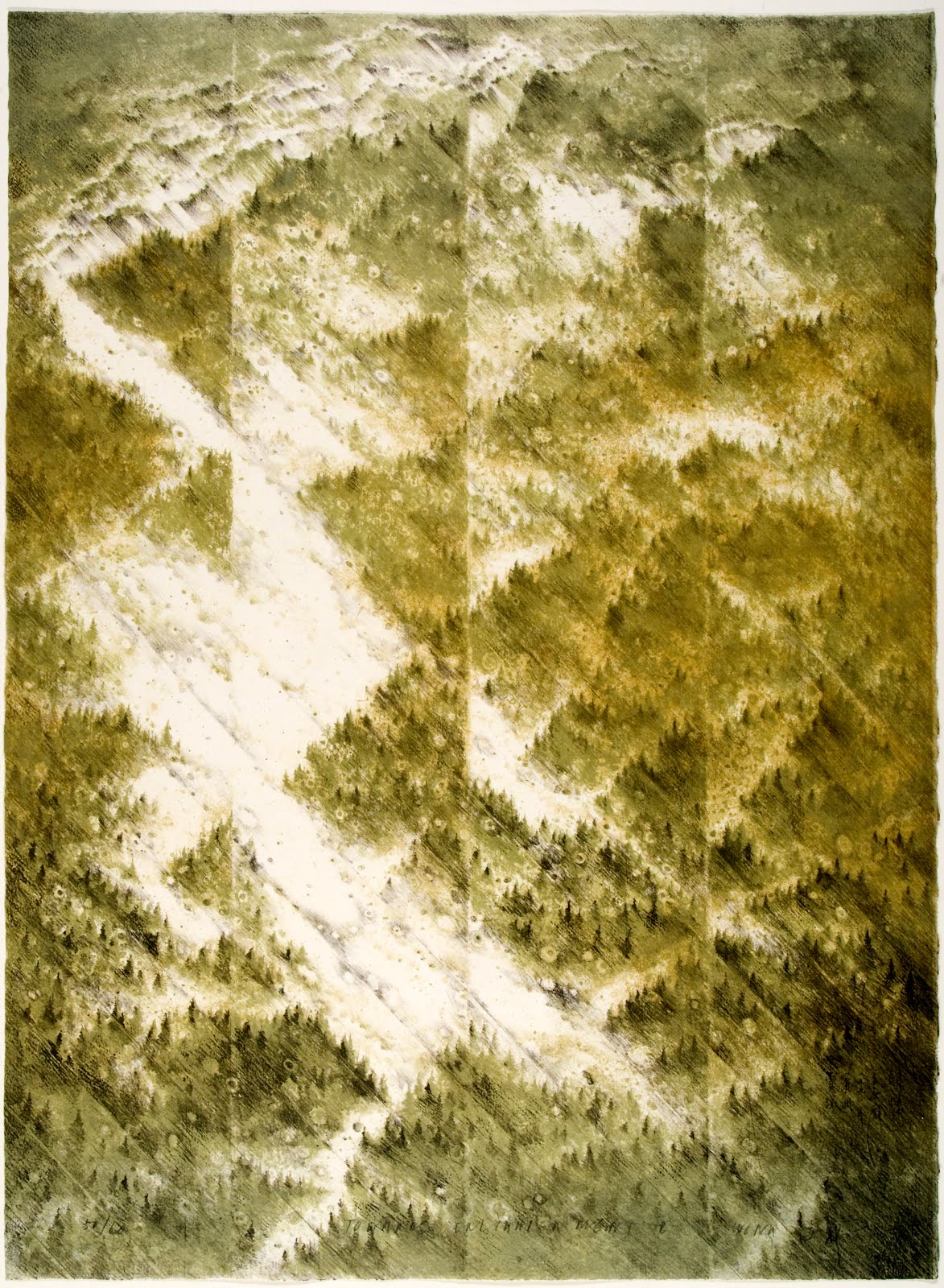 Wong Wucius (born 1936, China), Towards Enlightenment B (Green), 1991. Color offset lithograph on paper, 30" x 21 5/8" (76.2 x 54.9 cm). Philadelphia Museum of Art. © 2018 Wucius Wong. (PMA-5258)
Artists of an independent or progressive mind were obviously not welcome in the China of Mao Tse Tung (1893–1976). After the formation of the Republic of China in 1948, many Chinese artists adopted Western artistic styles, but this was quashed when the Communists took over and advocated for Chinese artists to pursue "revolutionary realism." This is the Western equivalent of social realism, a style that is meant to be uplifting to everyday life in a hit-over-the-head way.
The "Cultural Revolution" (1966–1976) was meant to bring society into conformance with Mao's "progressive" ideas, but it ended up in the persecution of many well-known artists. The "failure" of Communism in the late 1980s, along with the opening of more dialogue with China by Deng Xiaoping (1904–1997) in 1978, engendered a boom of the Chinese economy in the 1990s. Artists turned increasingly away from a political context and experimented within traditional subjects and forms, often in the realist aesthetic. Increasingly, however, modernist interpretations of traditional Chinese art became the norm.
Wong Wucius (born 1936) was born in Guangdong and moved with his family to Hong Kong in 1938. He initially pursued studies in literature, but gradually decided on a vocation as an artist, He began as a self-taught painter, and augmented his work with the renowned calligrapher Lui Shou-kwan (1919–1975) at age 14. His teacher's circle included many artists who were pioneers in exploring Western modernism within traditional Chinese themes such as the venerated landscape.
Towards Enlightenment is an ongoing series in which Wong combines the traditional Buddhist search for Nirvana—always connected to landscape painting—with a modern concern for abstract design that he learned from the work of artists such as Zao Wou-ki (1921–2013), who were influenced by the late landscapes of Cézanne (1839–1906). In combining Western modernism with Chinese tradition, these works do not diminish the emotional connection to landscape that is so traditional in Chinese painting!