Curator's Corner
Gem of the Month: Morgan Russell
---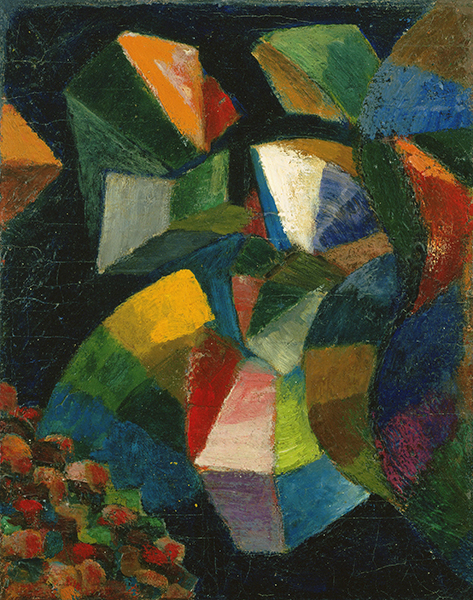 Morgan Russell (1886–1953, U.S.), Color from Synchromy (Eidos), 1922–1923. Oil on canvas, 14 ½" x 10 5/8" (36.8 x 27 cm). Courtesy of the Museum of Modern Art. © 2023 Artist or Estate of Artist. (MOMA-P2216)
Color from Synchromy is part of a series Russell produced in the 1920s. He called the series Eidos, meaning "form" in Greek. In the Eidos paintings, the illusion of spinning motion relates to Russell's plan to accompany his paintings with a kinetic light machine that would suggest the afterimage of fireworks. Some scholars believe that the twisting motion of the Eidos paintings and a strong sense of plasticity (sculpture-like form) were inspired by Michelangelo's (1475–1564) Mannerist figures in the Sistine Chapel.
Until the mid-1900s, throughout the history of American art American artists looked to European painting and sculpture movements for inspiration. At first it was England, then later Italy and Germany. Starting in the 1860s, Paris became the main destination for American artists who wished to learn a continental style. During the 1870s, when the Impressionist movement blossomed, Paris became the center of the progressive art world. Thereafter, it maintained its primacy as the capital of Western avant-garde art until World War II (1939–1945). American artists at the turn of the 1900s flocked to Paris, attracted by the revolutionary spirit in artistic experimentation. This was particularly true after the Armory Show of 1913.
One of the most notable contributions American artists in Paris made before World War I (1914–1918) was a movement called Synchromism, which means "with color." Its founders were Russell and Stanton Macdonald-Wright (1890–1973). After meeting in Paris in 1911 and seeing Paul Cézanne's (1839–1906) late paintings in which he reevaluated construction of space and form in an Impressionist palette, Russel and Macdonald-Wright went in a new direction together.
The first Synchromist exhibition was held in Munich in 1913. Russel and Macdonald-Wright also exhibited works with European avant-garde artists in the 1913 Armory Show, the first American artists of the avant-garde movement. In 1914, the two artists held a Synchromist exhibition in New York. Although they had drawn many artists to the style, the movement was largely gone by 1920. After the lackluster public reception of Synchromism in the U.S., Russell felt he should move on to produce still lifes, portraits, and landscapes to appeal to Americans' conservative tastes. By 1922, Russell had returned to the Synchromism aesthetic, which reinvigorated his painting.
Born in New York, Russel studied sculpture at the Art Students League, as well as studying architecture for two years. During this time, he worked as a sculptor's model. With financial help from sculptor and avant-garde art patron, Gertrude Vanderbilt Whitney (1875–1942), Russell went to Paris in 1906. He was enthralled by Renaissance and Baroque art, in particular the sculpture of Michelangelo. He returned to the Art Students League when he came back to the U.S., this time studying painting under Dark Impressionist painter and Ash Can School mentor, Robert Henri (1865–1929).
In 1909, Russell returned to Paris, this time discovering progressive avant-garde painting ranging from Expressionism to Fauvism to Cubism. He was particularly drawn to Fauvism with its emphasis on subjective use of color. While attending Henri Matisse's (1869-1954) school, Russell learned new color principles such as divorcing objects from their natural color in favor of brilliant pure hues. In 1911, he met Macdonald-Wright in a color theory class. The meeting was a boon to both artists' careers. Along with Macdonald-Wright, Russell was primarily interested in the use of abstract color, believing that color could be orchestrated like music.
Correlations to Davis programs: Explorations in Art 2E Grade 4: 6.7; Explorations in Art 2E Grade 6: 5.1; The Visual Experience 4E: 4.3; Exploring Painting: Chapter 12