Curator's Corner
An American Original: Charles Willson Peale
In England's American colonies, it was natural for colonial artists who were eager for a vital school of painting of their own to look to British art for inspiration. By the time of the American Revolution (1765–1783), a number of American artists had already established a straightforward realistic style that was thoroughly American in its aesthetic and outlook. There were three great painters of the 1700s born in America at the time of the Revolution: Benjamin West (1738–1820), who had moved to Britain in 1763 and never returned; John Singleton Copley (1738–1815), a Loyalist who fled to Britain in 1774 when the revolutionary wave was forming; and Charles Willson Peale (1741–1827), who remained in America through the Revolution. For me, that makes Peale an American original. He was the embodiment of the Enlightenment (1680–1820), a philosophical movement that emphasized the possibilities of what human beings could accomplish learning from history and science, bringing progress to the country. And Peale certainly did a lot for young America!
---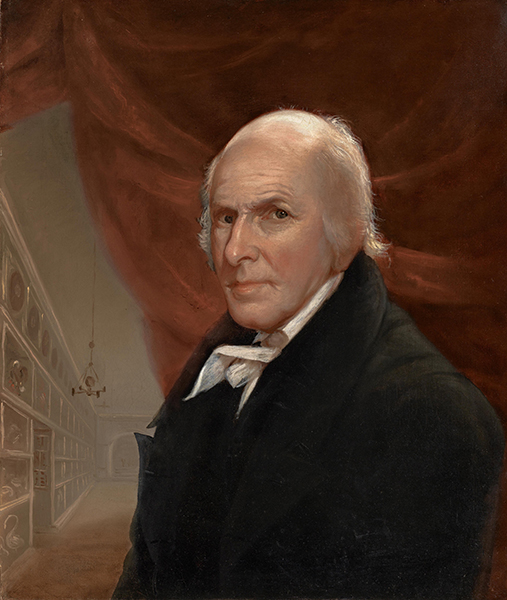 Charles Willson Peale (1741–1827, U.S.), Self-Portrait in the Museum, 1822. Oil on canvas, 26" x 22" (66 x 55.9 cm). © 2023 Philadelphia Museum of Art. (PMA-8524)
Beginning in 1822, Peale painted seven self-portraits, his final body of painted works. This self-portrait with a view of Peale's Philadelphia Museum as a backdrop was a study for a full-length self-portrait, which is now in the collection of the Pennsylvania Academy of Fine Arts. This series of self-portraits, all studies for the Academy portrait, represents a departure for Peale, who normally did no preliminary studies for his portraits. But the sensitive, unidealized selfie is a final testament to his importance in American art history.
Peale's Philadelphia Museum, which moved to the second floor of Independence Hall in 1802, was the first public museum in America. He established the museum in 1784 to show Americans how they could learn from art, history, and nature to create a truly formidable culture. For fifty years, Peale and his family established a collection of paintings (mostly portraits of notable people), as well as objects from natural history, history, archeology, and science. After struggling financially for years, the museum's collection was auctioned off in 1854. But Peale's legacy was certainly established.
As a young person, Peale worked as a silversmith, clockmaker, and saddle maker before deciding to become a portrait painter in the mid-1760s. At the time, portraiture was the mainstay of American painting. Peale took lessons from established Philadelphia artist John Hesselius (1728–1778) and studied portraits of Hesselius's other student, Copley, in New England. Between 1767 and 1769, Peale studied under West in London, but he never adopted West's grandiose "Grand Manner" style or history painting itself, because he realized that American patrons only wanted portraits at that time.
Returning to America in 1775, Peale almost immediately began to secure portrait commissions. He was drawn to Philadelphia due to the city's large potential clientele. Peale's mature American style was based primarily on close observation of the sitter and his innate ability to evoke a sitter's personality. During the Revolution, he served in the Pennsylvania militia, fighting at the Battles of Lexington and Princeton. All the while, he carried paints with him to sketch Revolutionary participants.
Seeking to market his painting skills, Peale displayed portraits of Revolutionary War officers in his home. The popularity of the display suggested a branching out in the form of a pay-for-admission exhibition. This led to the opening of the Philadelphia Museum—a repository of nature and art—its first exhibition in 1784 a display of forty-four portraits of "worthy personages" from the Revolutionary period. In 1795, Peale founded the Columbianum in Philadelphia, America's first artists' society. He was also one of the founding members of America's first art academy, the Pennsylvania Academy of Fine Arts in Philadelphia, which begin in 1805.
Correlation to Davis programs: Explorations in Art 2E Grade 1: 2.1; Explorations in Art 2E Grade 2: 2.3; Explorations in Art 2E Grade 3: 1.1; Explorations in Art 2E Grade 6: 1.9; A Global Pursuit 2E: 2.3; Exploring Painting 3E: Chapter 7