Curator's Corner
Celebrating Spring with Color: Eliot Clark
As anyone can probably guess when reading this blog, I'm a big enthusiast of American Impressionism. There are just so many unique personal versions of the style, it's hard for me to name any one artist as my favorite. But I found a wonderful, prolific artist to help welcome spring with COLOR: Eliot Candee Clark.
---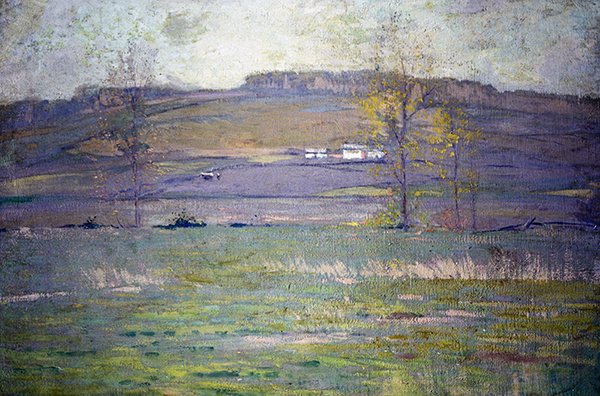 Eliot Clark (1883–1980, U.S.), Spring Landscape, Pennsylvania. Oil on canvas, 20" x 30" (51 x 76 cm). Photo courtesy of R.H. Love Gallery, Chicago. Image © 2023 Davis Art Images. (8S-26837)
This early work by Clark, Spring Landscape, Pennsylvania, shows an indebtedness to his father, Tonalist landscape painter Walter Clark (1848–1917). Both Clarks used a much higher-key palette (more Impressionist-like) than other Tonalists such as James Abbott McNeill Whistler (1834–1903). It is conceivable that Clark's Tonalism is indebted to the airy, Impressionist works of John Henry Twachtman (1853–1902), who had painted in the Tonalist style early in his career. Like Twachtman, Clark's landscapes reveal an abiding reverence for nature, a spiritual aspect that is seen much more in his work than in the work of French Impressionists, who used landscape as a vehicle to explore the effects of light on local color.
Tonalism was a lyrical, atmospheric style that infused the Impressionist palette with subtle tonal harmonies as seen in the Nocturne works of Whistler, as well as those by Twachtman, Edward Potthast (1857–1927), and Dark Impressionist Frank Duveneck (1848–1919). Clark often painted with these artists when accompanying his father to the art colonies in Gloucester, Massachusetts; Chadds Ford, Pennsylvania; and Ogunquit, Maine, all epicenters of the nascent American Impressionist movement.
Clark's father instilled in him at an early age how to paint in the Impressionist method of en plein air (out of doors), rendering a finished painting all in one sitting, as well as how to internalize memories of lighting and color to use in works that he might paint in the studio. This beautifully layered landscape has a combination of Impressionist color and the less-broken brushwork seen in French Impressionism. His brushwork also bears striking similarities to that of his father.
French Impressionist works were introduced to the United States in New York exhibits during the 1880s, which were not well-received by critics. By the time of the 1893 World's Columbian Exposition in Chicago, many American painters were working in Impressionist styles, although painting at the time was still dominated by the brown-yellow landscapes of the academic artists. American Impressionism debuted in New York and Boston in the 1880s in exhibits that featured works by American artists who studied in Paris. The conservatives who controlled the Society of American Artists, however, prevented these artists from mounting exhibits featuring Impressionist works. Many critics considered Impressionism a fad that lacked the grandiose objectives of "true art."
Such an attitude led these artists—known as The Ten—to resign from the Society and form their own "academy" of Impressionism in 1897. The Ten was the first group to organize outside of official institutions, and was instrumental in making Impressionism a lasting strain in American painting, which it remains to the present day. The Ten held their first exhibit together on March 30, 1898, at the Durand-Ruel Gallery in New York. That gallery had first introduced French Impressionist works to America and was known to favor avant-garde artists.
Born in New York, Clark's talent emerged during childhood. He submitted his first work to the New York Water Color Club at age 9 and to the National Academy at 13, where he exhibited regularly until his death in 1980. Clark's only formal artistic training was two months at the Art Students League. He studied in Europe between 1904 and 1906, first in Paris and Giverny—the home of the "founder" of Impressionism, Claude Monet (1840–1926)—and then to London, where his work was impacted by an exhibit of Whistler's Nocturne works, both painted and in print.
When he returned to the U.S., Clark established a New York studio. Between 1912 and the early 1930s, he frequently painted the grand mountain landscapes of the West and Southwest, applying an Impressionist palette to views of the Grand Canyon and Yosemite. Between 1922 and 1932, he lived mainly in Kent, Connecticut, where his mature Impressionist style emerged, living in the midst of numerous art colonies mostly dedicated to Impressionist painting. In the late 1940s, he began to summer in Virginia, where he moved permanently. He was one of the few Impressionists in the southern states. He painted and exhibited his work regularly almost up until the time of this death.
The lovely work below shows Clark's fully developed Impressionist style. It is a clever combination of the broken color technique of Impressionist—seen in the small, uniform swipes of pure color—and solidly modeled forms.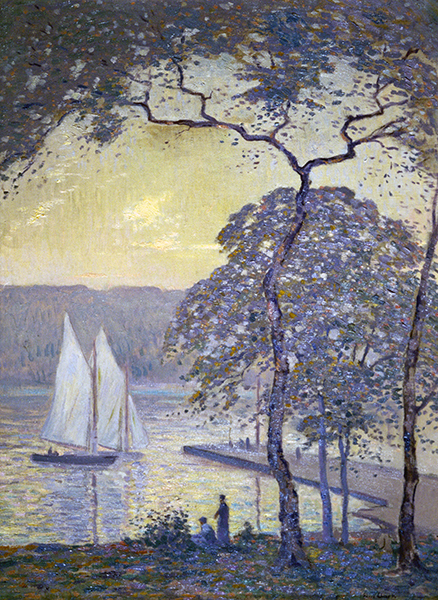 Eliot Clark, On the Sound. Oil on canvas, 27 1/8" x 20" (69 x 51 cm). Photo courtesy of R.H. Love Gallery, Chicago. Image © 2023 Davis Art Images. (8S-26836)
Correlations to Davis programs: The Visual Experience 4E: 2.4; A Community Connection 2E: 5.4; A Personal Journey 2E: 5.4; A Global Pursuit 2E: 7.1; Explorations in Art 2E Grade 1:, 4.4; Explorations in Art 2E Grade 4: 4.5; Explorations in Art 2E Grade 5: 4.1; Explorations in Art 2E Grade 6: 2.3, 2.4; Discovering Art History 4E: 13.1