Curator's Corner
Summertime with John Henry Twachtman
I know that summer started in June, but I always feel as if summer isn't really here until the 4th of July weekend. Let's rejoice over that fact with an artist who is often left out of writings about the changes in late-1800s American art: John Henry Twachtman.
---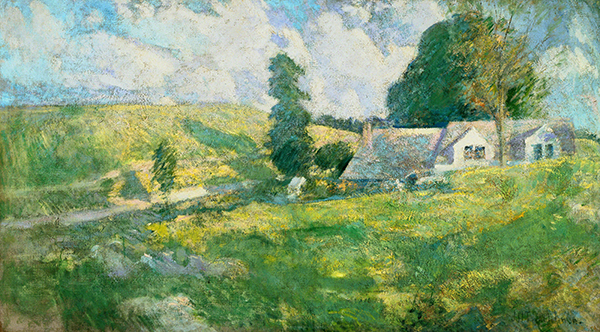 John Henry Twachtman (1853–1902, U.S.), Summer, ca. late 1890s. Oil on canvas, 30" x 53" (76.1 x 134.8 cm). © 2022 The Phillips Collection, Washington, DC. (PC-414)
This painting from late in Twachtman's life may have been painted during his time with the Cos Cob art colony in Greenwich, Connecticut, where he lived in the 1890s. As his late work progressed, Twachtman's palette became lighter, forms became more broken, and compositions more daring. Gone completely is any vestige of the Dark Impressionist palette from the 1880s. This work, painted outdoors in one setting, displays a palette similar to that in the works of Childe Hassam (1859–1935). It also reflects the influence of fellow Impressionist/Tonalist George Elmer Brown (1871–1946).
During the last half of the 1800s, painting in America was dominated by the Society of American Artists and the National Academy of Design, both in New York City. These institutions ruled the art world, and their juries decided who did and did not show at annual exhibitions, just as European academies did. Like the European academies, too, the subject matter and styles sanctioned by the American institutions were history painting, grandiose classicism, and Hudson River School-influenced landscape painting, a sort of romantic realism reminiscent of the Barbizon painters in France.
Such stuffy styles were rejected by a younger group of artists, members of the Society who looked to France for inspiration in painting during the 1880s. The American painters who went to France were inspired by the French impressionists, and by expatriate Americans who were painting in impressionism-influenced styles such as John Singer Sargent (1856–1925), James Abbott McNeill Whistler (1834–1903), and Mary Cassatt (1844–1926).
Impressionism was artistically and aesthetically controversial in the U.S. during the 1890s. French impressionist works had been introduced in exhibits in New York in the 1880s, and not well-received by critics. By the time of the 1893 Chicago's Columbian Exposition, many painters were working in Impressionist styles, although painting at the time was still dominated by the Barbizon-influenced brown-yellow landscapes of the academic artists.
Twachtman began his studies of painting under Dark Impressionist Frank Duveneck (1848–1919). Born in Cincinnati, Twachtman studied under Duveneck there from 1871 to 1874. In 1875, he went with Duveneck to Munich, where he studied under academic painters who, like Duveneck, were influenced by the painterly work of Dutch and Spanish Baroque artists in a dark palette.
The palette employed by Twachtman did not lighten until he went back to Europe in 1882. At that time, he studied in Paris and was exposed to the Impressionists. However, he was more affected by the work of Whistler and Jules Bastien-LePage (1848–1884), who emphasized the pervasive quality of natural light. While Twachtman did not adopt the Impressionist idea of capturing a moment in time, he did adopt the bright Impressionist palette and the emphasis of natural light on landscapes. He is often categorized as a Tonalist, because of his soft tonal harmonies and the mystic reverence for nature visually, rather than scientifically like the Impressionists.
After returning to the U.S. in 1886, Twachtman began painting outdoors in rough and layered brush work. In 1897, he was a founding member of The Ten, a breakaway group from the National Academy, whose members painted in the Impressionist or Tonalist style. Twachtman exhibited with them until his death.
Correlations to Davis programs: A Community Connection 2E: 5.4; A Personal Journey 2E: 5.4; A Global Pursuit 2E: 7.1; Exploring Painting 3E: Chapter 11; Explorations in Art 2E: Grade 4 4.5; Explorations in Art 2E: Grade 5 4.1; Explorations in Art 2E Grade 6: 2.1, 2.3, 2.4