Curator's Corner
African American History Month 2017 #1
The landmark first retrospective exhibition of African American artists from slavery to contemporary took place forty years ago. Between September of 1976 and August of 1977, the exhibition Two Centuries of Black Art traveled to the Los Angeles County Museum, High Museum in Atlanta, Dallas Museum of Art, and the Brooklyn Museum. To celebrate African American History Month, I thought you might like to see some of the works that were in that groundbreaking, historical art show over the next few posts. Many of the works came from private collections.
---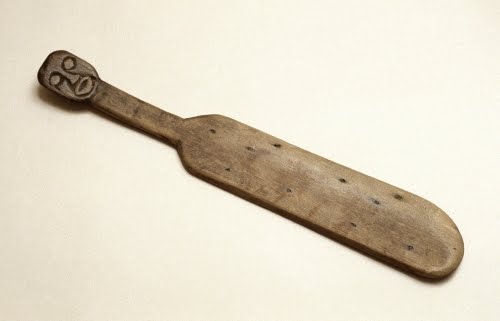 Unknown artist, Butter patter, 1800s. Wood, length: 13 3/8" (34 cm). Private Collection. Image courtesy of the Los Angeles County Museum of Art, 1976. (8S-21813)
The Africans who were taken to America as slaves to cultivate crops brought with them the skills they learned in Africa: pottery making, wood carving, weaving and dyeing, and basket making. As they did in Africa, they used materials available to them from nature. Because slaveholders rejected any overt African influence in the handicrafts of their black artisans (to discourage communication among them), subtle references to the slaves' pasts were incorporated into their artwork.
The carved end of the handle of this butter patter is in the image of an African American male's head. The flattened, abstracted features of the face are reminiscent of African masks or ancestor figures. In Africa, figure sculpture was intended to memorialize the dead, protect a shrine, or express a person's status within the community. The human figure in African art was also carved on a variety of utilitarian wooden objects, including bowls, furniture, house posts, doors, and pulleys.
As slaves, wood sculptors had to be slightly retrained to produce Western household objects. The butter patter was used to scrape butter out of the churn and form it into blobs or sticks. The inclusion of the African American head is an expression of pride by the slave who carved it and (most likely) by the one who used this patter.
My look into artworks featured in the exhibition Two Centuries of Black Art continues tomorrow with the work of Alma W. Thomas.
Other posts in this series:
Part 4: Edward Mitchell Bannister