Curator's Corner
African American History Month 2017 #9
---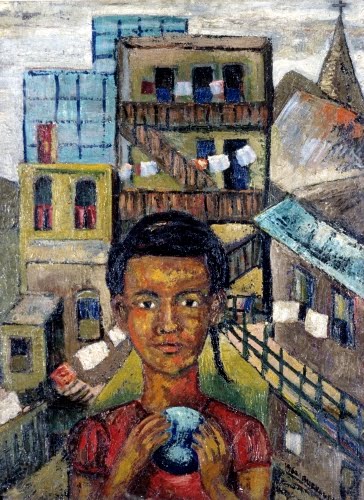 Margaret Burroughs (1917–2010), Slum Child, 1950. Oil, 37" x 28 3/8" (94 x 72 cm). Hampton University Museum, Norfolk, Virginia. Image courtesy Los Angeles Museum of Art, 1976. (8S-21935)
I've always been fond of her, not only because I once met her at the Hyde Park Art Center in Chicago, but because I passed by the DuSable Museum in Washington Park every day on my way to the Engelwood-Howard El line on 55th Street when I worked in Chicago. She left an amazing legacy for the advancement of African American art and artists in my home town.
Born in Louisiana, Burroughs' parents moved to Chicago in the Great Migration when she was four years old. Together with graphic artist Charles White (1918–1979), whom she met in high school, she helped establish the Art Craft Guild (1932) that taught art lessons from the School of the Art Institute to many future prominent African American artists. She also helped to found the South Side Community Arts Center in 1937, which had had backing by the Depression-era Federal Arts Project.
Burroughs received a teaching degree from Chicago State and later got an MA in art education from the School of the Art Institute (1948). She and her husband, Charles Burroughs, established weekly "salons," which gathered artists and writers in their South Side home, much on a par of those in New York during the Harlem Renaissance. The art collected at these salons became part of the seed collection of the DuSable Museum (originally the Ebony Museum of African American History), founded in 1961.
This painting is particularly appropriate to represent her, because it reflects her lifelong concern with education and African American children. The painting represents a view of the typical Chicago tenement apartment buildings with their wooden back porches, easily seen from the El train.
Other posts in this series:
Part 4: Edward Mitchell Bannister