Curator's Corner
African American History Month 2020 I
Every year I like to feature African American artists whose work you may or may not have ever seen for African American History Month (February). I'm starting this year's survey with artists that have been featured in this blog before, but not these works.
---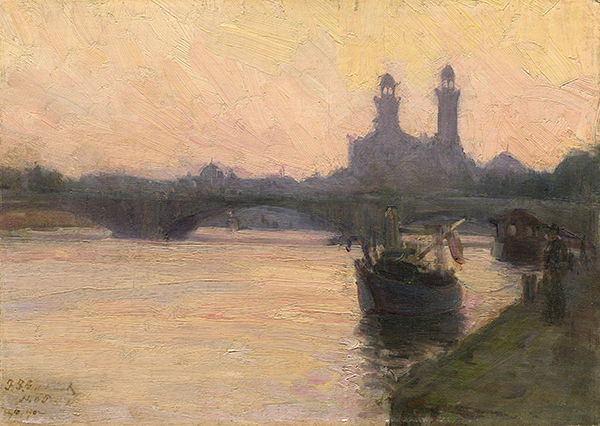 Henry Ossawa Tanner (1859–1937, US), The Seine, ca. 1902. Oil on canvas, 9" x 13" (22.8 x 33 cm). © 2020 National Gallery of Art, Washington, DC. (NGA-P0633)
Henry Ossawa Tanner was essentially an expatriate African American painter who spent most of his career in Paris. He settled in Paris because of the more progressive racial attitudes there. While there, he was greatly influenced by the pure colors and light palette of the Impressionists. He was also influenced by the flat, broad areas of brilliant color in symbolist works by artists such as Pierre Bonnard (1867–1947) and Paul Sérusier (1863–1927). In the liberal social atmosphere of Paris, Tanner's painting matured as he gained self-confidence.
Starting in the late 1890s, his non-religious subjects reflected a distinctly Post-Impressionist style. His landscape paintings in particular revealed tightly composed subjects executed in an Impressionist palette. In The Seine, Tanner has clearly adopted the Impressionist palette. The tiny, sketchy composition indicates that it was done quickly outdoors in Impressionist fashion.
Also reminiscent of Impressionism are the short brush strokes of pure color not seen in his earlier works. This work is connected to Post-Impressionism by the dominant horizontal line established by the bridge that gives the composition unity. The use of architectural elements as a compositional structural device is seen in the work of Post-Impressionists Georges Seurat (1859–1891) and Paul Signac (1863–1935).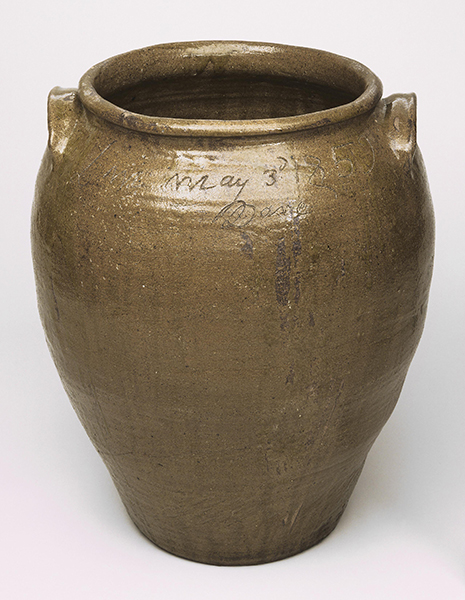 David Drake (also known as "Dave the Potter," 1800–ca. 1870, US), Storage jar, 1859. Alkaline-glazed stoneware, height: 26 ½" (67.3 cm). © 2020 Philadelphia Museum of Art. (PMA-2765)
Before emancipation, African American artists were primarily slaves who worked on utilitarian objects meant for plantation needs such as textiles, ceramics, and furniture. David Drake was taught ceramic arts by one of the numerous white artists in the Edgefield district of South Carolina, and subsequently work for Lewis J. Miles (Miles Mill), Edgefield.
The Edgefield district, renowned to this day for fine ceramic production, developed its distinctive style during the second quarter of the 1800s. By using local clays and ingredients, the Edgefield potters created inexpensive stoneware for food storage, preparation, and serving. Drake's work is typical of the symmetrical shapes and glassy, usually brown glazes of Edgefield pottery.
Little is known about Drake. With the Emancipation Proclamation in 1864, he took the name of the family, it is theorized, where he was a slave when he honed his ceramics skills. His pots are a combination of throwing on the wheel and building with coils. The glaze is timber ash and lime, the lime being responsible for the brown color. A unique feature of Drake's pots is their large size, some large enough to hold twenty-five to forty gallons.
As early as 1840, Drake began signing his pots. His pots are unusual because they are almost always inscribed with texts, such as this one. It was very bold for slaves to decorate their wares with verse and signature for it was illegal in the pre-Civil War South to teach Blacks to read and write. Although Drake is known to have signed and dated more than 100 jars, some scholars believe that he may have made upwards of 40,000 pieces. The inscription on this jar reads: Good for lard or holding fresh meat, / blest we were when peter saw the folded sheet;(on reverse) LM (Lewis Miles) May 3d 1859/Dave.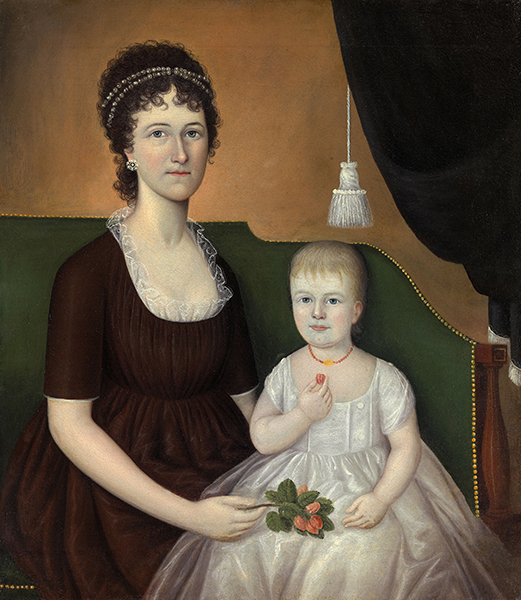 Joshua Johnson (ca. 1765–1830, US), Mrs Andrew Bedford Bankson and son, Gunning Bedford Bankson, 1803 or 1805. Oil on canvas, 32" x 28" (81.3 x 71.1 cm). © 2010 Art Institute of Chicago. (AIC-277)
Joshua Johnson was the first African American to become a professional painter and make a living from his art. Born as a slave around 1763 of a white father and black mother, Johnson was purchased by his father when about a year old. He was apprenticed to a blacksmith in Baltimore and freed in 1782. As a free black man, Johnson was acquainted with several abolitionists (people who wanted slavery outlawed) in Baltimore.
Johson was most likely self-taught, claiming that he had derived his style by his own keen perception of nature and art. Although there are no records of his painting education, Johnson may also have been influenced by the style of Charles Willson Peale's (1741–1827) nephew, the Baltimore portraitist Charles Peale Polk (1767–1822), whose naïve style Johnson's resembles.
As of 1796, he advertised himself as a portrait painter and limner. Like other itinerant painters, he traveled a lot, often relocating to areas where there were other artists, especially chair makers, which suggests he may have taken on such work to supplement his portrait income. Like many naïve-style, itinerant painters, Johnson attracted local patrons from Baltimore's middle-class families because his portraits emphasized rich surfaces, details of costume, and a flattering depiction of status.
Johnson's emphasis on carefully rendered fashion in this painting is typical of many of his portraits. He had a keen interest in the depiction of jewelry. Mrs. Bankson's hair is bound with a double circlet of light glass beads that accentuates her brown hair and gray eyes. The son's clothes—a white muslin gown (boys were dressed in gowns until they could walk)—is complemented by a small necklace of coral. Among the numerous symbols represented by fruit, the strawberry was a symbol of harmony and nourishment of the soul.