Curator's Corner
Women's (Art) History Month 2020 V
I'm wrapping up Women's History Month 2020 with a First Nations artist, a pioneering photographer, and an art form that was finally acknowledged as such in the late 1900s.
---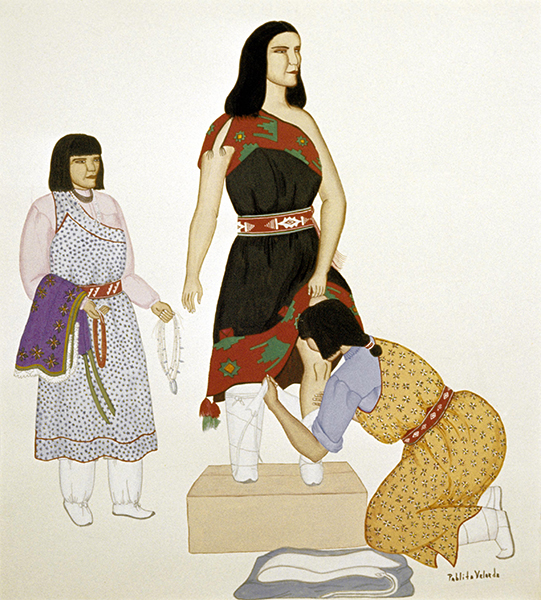 Pablita Velarde (1918–2006, Santa Clara Pueblo, New Mexico), Dressing a Young Woman for Her First Ceremonial Dance. Tempera on paper, 13 3/8" x 11 7/8" (34 x 30 cm). © 2020 Museum of New Mexico, Santa Fe. (8S-11525)
This scene probably represents events surrounding a harvest or corn dance, important ceremonies celebrating the successful crops held each August at Santa Clara Pueblo. Chanting and pounding of drums are integral in forming memories of such ceremonies. Pablita Velarde's figures float against an otherworldly blank background, placing emphasis on the event rather than her style. Special attention was paid to the accoutrements of the dance, and the traditional manner in which the girl is being dressed.
Because indigenous cultures often did not have a long tradition of figure representation, the artists of the Santa Fe School tradition adapted Western modes of figure representation without the rigorous lessons in anatomy that white artists received. Native artists were more concerned in details of the cultural traditions they depicted, rather than fluid representations of the human body.
The Pueblo and Navajo cultures of the Southwest did not have a tradition of pictorial narrative art. However, during the first two decades of the 1900s, there was a concerted effort by well-meaning anthropologists and intellectuals to begin such a tradition for them. These thinkers believed that many traditions of First Nations life were vanishing and needed to be documented in pictorial form. By the late 1920s, many Pueblo artists were experimenting with painting and drawing scenes of traditional Pueblo life. Read more about this movement and the Studio School in my post from 2010.
Velarde, born at Santa Clara Pueblo, New Mexico, was one of the first students of the Studio School. She lost her sight for five years when she was a child, and after regaining it, she credited the experience for her strong desire to paint. Her first sight of colors, shapes, and scenes made a deep impression on her as a girl. She became a keen observer of the cultural traditions around her. Contact with Tonita Pena (1895–1949), the first Pueblo woman to dedicate herself to easel painting rather than family life, also made a great impression on Velarde, cementing her resolve to become a painter.
Velarde's subjects range from ceremonies to everyday life, and her paintings are renowned for their meticulous detail. Now considered important ethnological documents of Pueblo life, Velarde did not paint as she observed, but rather stored from events in her mind to paint later from memory in a quiet moment, endowing such subjects as this one with an iconic aspect.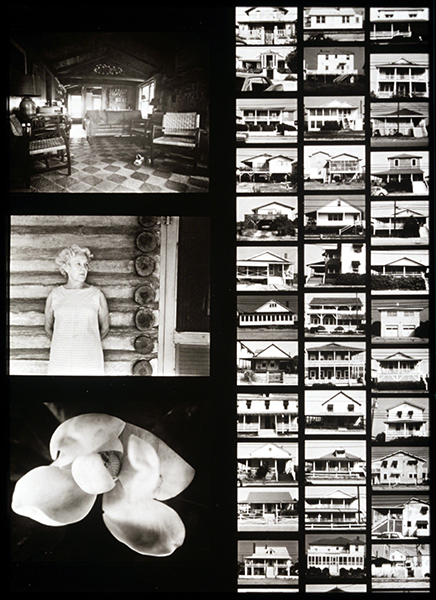 Barbara Crane (born 1928, U.S.), Wrightsville, North Carolina, from the Repeats series, 1971. Gelatin silver print on paper, 14 1/8" x 11" (36 x 28 cm). Image courtesy of the artist. © 2020 Barbara Crane. (8S-20505)
Barbara Crane's body of work is characterized by a number of series on single topics. A typical format is that of a central image surrounded by multiple exposures of one related form. She is also known for sheets of multiple exposures that overprint one image on top of another that document barely discernable, time-sequenced movement. In the 1960s, she concentrated heavily on the (nude) human form in abstraction.
The kernel of Crane's work from 1960 to 1969 was a series called Grids. True to its title, the series is comprised of static images from popular culture printed over multiple exposures of a figure in subtle motion.
Between 1969 and 1971, she extended this grid compositional device in a series called Repeats, in which series of images of popular culture were printed from 35mm strips directly onto paper. This series, including Wrightsville, North Carolina, contains a subtle rhythm and movement in the multiple, similar imagery. It incorporates the Conceptualist repetition of similar forms with a close-up of nature reminiscent of Edward Weston (1886–1958).
One of the biggest developments in photography and its relationship with art coincided with the Conceptualism movement. Conceptualism theorized that the idea behind an art work was as significant, if not more so, than the completed work. This theory, although it seemed to denigrate every aspect of traditional art production, actually opened artists up to new interpretations of, not only subject matter, but media.
This attitude marked a graphic change from "art photography" of previous periods. Artists no longer wanted to use the camera primarily to imitate "fine art", i.e. painting. After World War II (1939–1945), photographers gradually began to look at the camera for what it could do, rather than what it could imitate. While exploring the possibilities of dematerializing art or critiquing the visual prevalence of mass media, artists discovered fresh possibilities in the medium.
Despite documenting popular culture as a decorative device in the composition, Crane's work is unlike that of Pop Artists, who were dominating the art scene when this photograph was produced, Crane neither elevates the culture nor denigrates it. It simply records her impressions of an area near where she lived.
Crane has spent her career pushing the norm of what was "usual" for photographers to produce with the camera. Born in Chicago, she studied art history at Mills College (Oakland, 1945–1948) and finished her BA at New York University in 1950. At Mills College, she was impressed with the close-up nature photography of Weston and the abstract potential of photography. However, out of necessity her early career consisted of portrait photography. Her personal photography pursued abstraction, particularly after receiving a Rolleiflex camera.
Crane's personal portfolio got her accepted into the photography program at the Illinois Institute of Design in Chicago in 1964. IIT, a design school founded by Bauhaus alumnae Ludwig Mies van der Rohe (1886–1969) and László Moholy-Nagy (1895–1946), continued the Bauhaus credo of applying fine arts aesthetics in design (and architecture) disciplines. Crane took the constructive disciplines of architecture and graphic design as an underlying structure of her mature work. Her master's thesis was based on abstractions of the human body that emphasized resultant sculptural forms.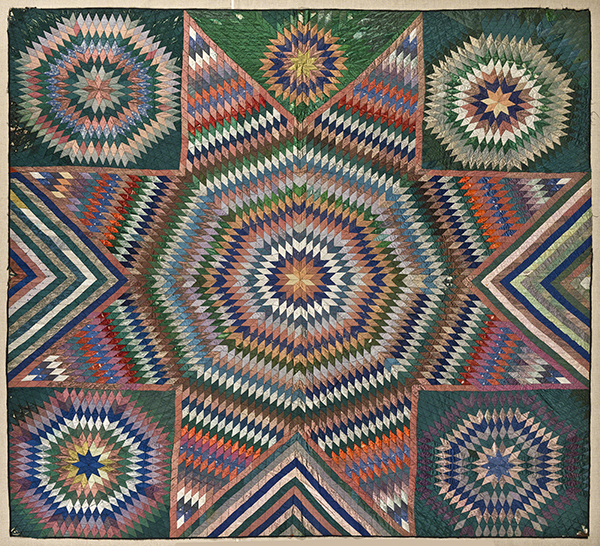 United States, Star of Bethlehem Quilt, ca. 1850. Silk scraps, 91" x 86" (231.1 x 218.4 cm). © 2020 Brooklyn Museum. (BMA-5160)
The "Star of Bethlehem" quilt pattern traditionally consists of an eight-point star, subdivided into many small diamonds to form a burst pattern. It is one of the few pieced patterns that migrated from Europe to the U.S. The pattern first emerged in the U.S. during the early 1700s in pieced bedcovers. It was immensely popular from the beginning, assuming many alternate names, including "Lone Star" in the Republic of Texas, "Star of the Magi," and "Star of Jerusalem," among others. "Star of Bethlehem" is what endured when the pattern traveled with settlers to the West.
"Star of Bethlehem" quilts are incredibly complex, time-consuming combinations of pieced diamonds of various materials. Early examples included diamonds of silk such as this example. The silk scraps most likely were sold by dressmakers before the Civil War (1860–1865). With the westward migration, any old fabric scraps would do for this complicated process. The central star with four smaller stars in the corners was popular up until the late 1800s, when the central square usually appeared on a blank background.
Until the 1900s, so-called folk arts—the miscellaneous arts of textiles, woodwork, metalwork, and ceramics—were denigrated as unsophisticated because they were considered the work of untrained rural people. This included the work of itinerant painters and sculptors who did not seek professional training in their chosen art forms. Folk art ascended in appreciation in the first quarter of the 1900s, when modernism showed the same characteristics of a bold, instinctive sense of design and color that seemed effortless for folk artists—and a conscious effort for modernists.
This was especially true about fiber arts, specifically quilts. Once considered haphazard arrangements of scraps of cloth, in the 1900s quilts gained recognition as works of art when the range of aesthetic expression is examined. They can display dazzling, abstract effects anticipatory of Op Art or the most detailed realism of embroidery. The two main types of quilt are appliqué—in which shapes are cut out of whole cloth and sewn onto a background fabric—and pieced—in which pieces are sewn together side by side. By and large, the meticulous work of quilt-making was executed by women.
Quilting in the West evolved out of the medieval (ca. 1000–1400) practice of producing quilted cotton or linen garments for men to wear under their armor. This practice was soon transferred to the production of throws to adorn beds. In more affluent homes, these quilted cotton throws were decorated with embroidery or appliqué. In the U.S., quilted bedspreads became common household-made items during the colonial period, when the British forbade tailors from leaving for the American colonies. Pieced bedspreads made from worn out fabrics became common among the less-than-affluent.