Curator's Corner
Celebrating Martin Luther King Day: Nellie Mae Rowe
In celebration of Martin Luther King, Jr.'s legacy, I'm sharing the art of a truly individual, inspiring African American artist: Nellie Mae Rowe. Her independent and unique spirit is part of centuries of African American art history and a vital part of the American experience.
---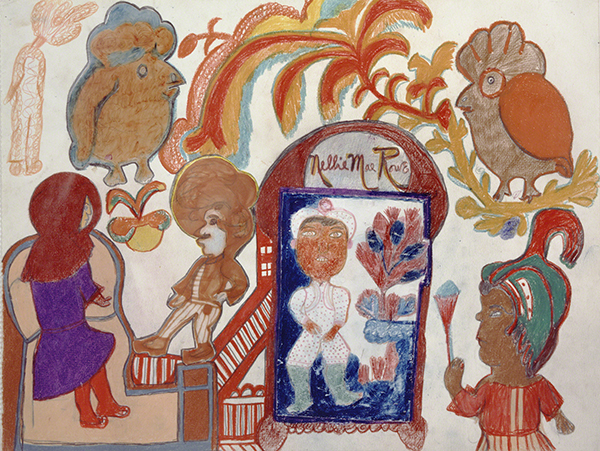 Nellie Mae Rowe (1900–1982, U.S.), Visit to the Podiatrist, ca. 1980. Wax crayon, felt-tip pen, graphite, and collage of cut papers on paper, 18" x 23 3/4" (45.7 x 60.3 cm). Courtesy of the Philadelphia Museum of Art. © 2023 Artist or Estate of Artist. (PMA-9563)
In a period before the Civil Rights Movement (1950s–1960s), when few African American women artists garnered major attention, Rowe was insistent in her artistic vision, taking control of her own narrative. She was part of a type of art once called "folk art," now called Visionary Art, that is characterized by self-trained artists who do not work within established styles, but whose works are directed by inner vision.
Rowe's works depict friends, neighbors, and herself in confident images of the beauty and joy of African American life. Attuned to the same impulse as many established African American artists from the Harlem Renaissance (ca. 1920s–1930s) onward, Rowe forged an artistic voice that reflected cultural pride in a personal style, and her work is an unabashed celebration of the richness of life she expressed as an integral part of the African American experience.
After the passing of her second husband in 1948, Rowe's artistic output increased greatly. She maintained that creative output until her death, producing drawings, paintings, dolls, sculptures made from chewing gum, and assemblages of found objects. Her art filled the front yard of her home, which she dubbed her "playhouse." Such Yard Art—Visionary art-filled front yards—is not unusual among African American artists in the South, and hers was on a main road that led into Atlanta. Between 1973 and 1975, hundreds of people visited her Playhouse, and it attracted the attention of prominent folk art curator Herbert Hemphill, Jr. (1929–1998) in 1974.
The artist's drawings evolved slowly over the course of her life. By the 1960s and 1970s, Rowe's works often featured single images, usually not overly decorated. Her vision was indeed so private that most visitors to her Playhouse probably could not decipher her works' messages. In the last decade of her life, her work expanded into more complex compositions, subject matter that pertained to specific events and actions. They contained human figures (often self-portraits), animals, trees, birds, flowers, and, less often, houses, roads, and household objects. The combinations of elements were thoughtful, often a disguised narrative that was personal, metaphorical, or humorous.
Rowe was born in Fayette County, Georgia, a farming region outside of Atlanta, where she spent most of her life. One of ten children of a blacksmith and sharecropper (rented farm) family, from an early age Rowe made objects such as dolls from found materials and practiced her drawing whenever she was not working on the family farm. Her father made baskets and her mother made quilts and clothing, so both respected her inclination toward the arts. First married at 16, Rowe worked on her husband's farm in Vinings until his passing in 1936. During that period she had little time for artmaking.
In 1976, Rowe debuted her work at the Atlanta Historical Society exhibition Missing Pieces—Georgia Folk Art 1770–1976. At the time, Visionary art was undergoing re-evaluation in the American art world, and art historians and collectors began seeking out living Visionary artists. Her work attracted the notice of Atlanta gallery owner Judith Alexander, who gave Rowe her first one-person show at Alexander Gallery in 1978. In the same year, her work was included in a group show of contemporary and Visionary artists at Nexus Gallery (now Nexus Contemporary Art Center) in Atlanta. Her work was included in the landmark exhibition Black Folk Art in America 1930–1980 at the Corcoran Art Gallery in Washington, DC. In 1986, the Studio Museum in Harlem held a retrospective exhibition of her work, Nellie Mae Rowe—An American Folk Artist.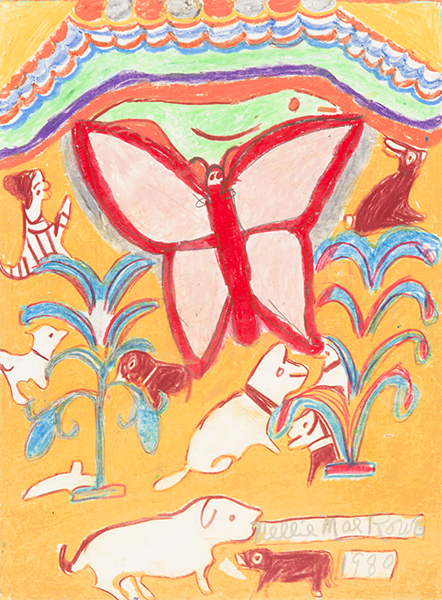 Nellie Mae Rowe (1900–1982, U.S.), Butterfly, 1980. Oil pastel and crayon, graphite on cream wove paper, 12" x 10 7/8" (30.6 x 27.6 cm). Courtesy of the Philadelphia Museum of Art. © 2023 Artist or Estate of Artist. (PMA-9581)