Curator's Corner
African American History Month 2021 I
Let's begin honoring African American History Month this year with the work of vernacular artist David Butler. His art reflects the long tradition of African-Caribbean influence in the art of many African American artists.
---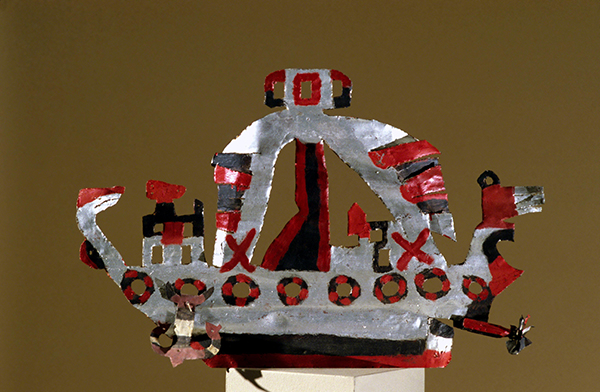 David Butler (1898–1997, U.S.), Ship, ca. 1950. Painted tin, 25 3/16" x 39 3/8" (64 x 100 cm). Private Collection. Image courtesy of Los Angeles County Museum of Art from the exhibition Two Centuries of Black American Art (1976). © 2021 Artist or Estate of Artist. (8S-21881)
Based in Patterson, Louisiana, Butler was one of the first artists to be recognized for the genre of Southern African American Yard Art. He built a body of work over decades, only beginning to focus on his art in middle age after his work in a sawmill left him injured. His interest in creating yard art stemmed from his desire to have color in his yard during winter when the flowers he had planted were not in bloom.
Butler called his works his "critters" because he created many sculptures of animals and imaginary creatures. His forms are flat and simply painted, yet show a sophisticated appreciation for balanced composition and use of color. Butler's work was featured in the landmark exhibition Black Folk Art in America 1930–1980 (1982) organized by the Corcoran Gallery of Art in Washington, DC.
Born in the town of Good Hope, Saint Mary Parish, Louisiana, to a missionary mother and carpenter father, Butler dropped out of school to help care for his seven younger siblings. He may have made toys for them to play with. Since childhood he had drawn pictures, whittled, and created sculptures depicting familiar and fantasy subjects.
Inspired by images in his dreams, Butler's subjects may also have been influenced by Haitian Christian religious stories told by his mother. His practice of filling his yard with objects charged with his creative energy reflects the Afro-Caribbean tradition of everyday objects attached to a home as a form of protective energy.
Butler may have learned how to work tin from relatives or seen examples as a child. He sketched his designs in chalk on tin roof panels collected for him by neighbors and friends. After flattening them with a hammer, he used ax heads, chisels, hammers, knives, and shears to cut out shapes. He then bent the flattened tin pieces in order to form three-dimensional shapes. Butler painted most works in a palette of red, white, silver, black, and green house paints, frequently applying items such as buttons, plastic toys, bicycle reflectors, marbles, light bulbs, and other found objects. His body of work includes kinetic whirligigs and stationary pieces such as decorated window awnings.
Information on David Butler gleaned from the book Souls Grown Deep: African American Vernacular Art of the South, Paul and William Arnett, editors, Tinwood Books, Atlanta (2000).