Curator's Corner
Autumn Color
The last few weeks have been wonderful for the array of reds, violets, maroons, yellows, and oranges contrasting with still-green trees in central Massachusetts. And if you think that doesn't get my art history mind working, then you don't know me! Here are two artists' visions of autumnal colors.
---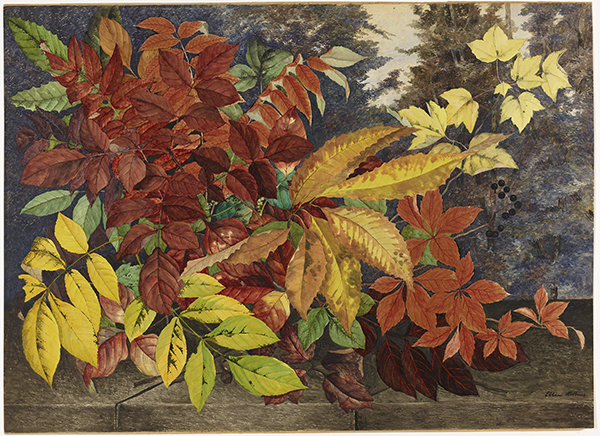 Ellen Robbins (1828–1905, U.S.), Autumn Leaves, ca. 1870. Watercolor on paper, 21 7/16" x 29 9/16" (54.5 x 75.1 cm). © 2020 Philadelphia Museum of Art. (PMA-8872)
In the 1800s and earlier, floral still life was a natural genre into which women artists could become accomplished. From an early age on, most young women in well-off families were educated in the so-called "female" arts of needlework, watercolor, and drawing. The subject matter almost invariably involved flowers. Women could observe flowers in their own home to paint, rather than to go to an academy where they risked seeing a nude model. Starting in the Baroque period in the West, there were numerous successful women painters who specialized in flowers.
One such woman was Ellen Robbins, born in Watertown, Massachuetts. After the death of her father, she and her six brothers and sisters tried to help out the family financially. Robbins at first tried doing needlework, but she always yearned to be a painter. When that failed, at the urging of a cousin Robbins studied at the School of Art and Design in Boston. She also worked at the Merrimac Printworks and Manchester Printworks sketching designs to decorate fabrics.
Robbins took classes at a design school of Stephen Salisbury Tuckerman (1830–1904), who had studied drawing in Britain during the Pre-Raphaelite period. He surely acquainted her with the teachings of John Ruskin (1819–1900), whose book Modern Painters (1843) encouraged artists to "follow nature." When she left Tuckerman's school, she could paint flowers "with ease."
Not long after leaving Tuckerman's school, Robbins began to concentrate on flowers, producing books containing twenty or so hand-painted illustrations, much in the style of Renaissance and Baroque botanical illustrations (florilegium). These books sold for $25 each, a lot of money for the late 1800s. Her work became popular from those books and she began floral illustrations on canvas as well as on porcelain and furniture. Critics claimed that bees would land on her works because they were so realistic. When chromolithography was perfected in the 1870s, her works were reproduced, reaching an even wider audience.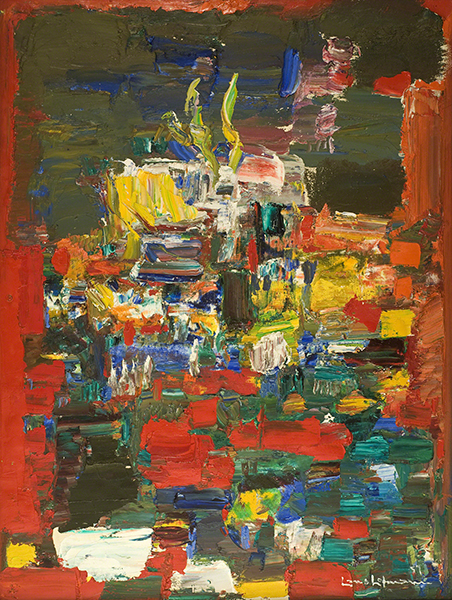 Hans Hofmann (1880–1966, U.S., born Germany), Autumn Blaze, 1957. Oil on canvas, 48 1/8" x 36 1/8" (122.2 x 91.8 cm). Image courtesy of Smithsonian Hirshhorn Museum and Sculpture Garden. © 2020 Estate of Hans Hofmann/Artists Rights Society (ARS), New York. (SI-176hmars)
Hans Hofmann's theory of "push and pull" is eloquently expressed in the painting Autumn Blaze. Hofmann considered nature to be his primary inspiration, especially when painting in Provincetown, Massachusetts. So many of his titles allude to it. Like many of his best-known works, the geometric shapes are aligned to the picture's edge, demonstrating the ideas about color as a space-defining device. If these colors don't recall a New England autumn, no other painting captured it either.
German modernism in the first two decades of the 1900s was confined primarily to various types of Expressionism, along with Symbolism, a style particularly favored by German artists, and Dada and Surrealism after World War II (1914–1918). The first major experiment with non-objective abstraction blossomed with the founding of the Bauhaus in 1919, a school which emphasized the integration of all the arts, including industrial arts.
Bauhaus painters experimented primarily with geometric abstraction based on Russian Constructivism and Dutch De Stijl. Still, other German artists went to Paris, which at the time was recognized as the center of modern artistic experiment in the Western world.
Hofmann showed an interest in art from an early age, even though he initially studied mathematics. In 1904, he moved to Paris with the help of an art patron. Between then and 1914, Hofmann experienced the range of new painting experimentation, including Neo-Impressionism, Fauvism, and Cubism. He met Pablo Picasso (1881–1973), Georges Braque (1882–1963), and Henri Matisse (1869–1954), absorbing a love of pure color from the Fauves and the architectonic structures of Cubism.
The greatest influence on Hofmann's painting came from his association with Robert Delaunay (1885–1941) and Sonia Delaunay (1885–1979). The Delaunays helped develop the style Orphism, which combined bright color to geometric, Cubism-based abstraction. While in Paris, Hofmann helped design Cubistic patterns for Sonia Delaunay's scarves.
In 1915, Hofmann opened an art school in Munich, where he achieved a reputation as a great teacher, which led to his invitation to teach in the U.S. in 1930. He taught in the U.S. from 1932 on, first in California, then at the Art Students League in New York, and finally at his own School of Fine Art. Many of the first and second "generations" of the Abstract Expressionists were educated in Hofmann's schools both in New York and Provincetown after 1934. His personal painting of the early 1930s was characterized by Expressionistic landscape and still life works with an underlying Cubist structure. After 1939, he developed his signature abstract style, a combination of Expressionist brush work, Cubist geometry, and Fauvist pure color.
Hofmann's paintings range from precise but painterly geometry to lyrical free-form abstraction to combinations of the two. His abstractions had a major impact on pupils such as Jackson Pollock (1912–1956). Hofmann's dripped abstractions from the mid-1940s predate Pollock's action paintings. He developed the "push and pull" theory of total abstraction, where solid geometric shapes floated over passages of action painting, capably producing a sense of depth in a totally abstract work.