SchoolArts Room
Pushing the Envelope: An Invitational Mail Art Show
When is the last time you have been really excited about an envelope you received in the mail? Email has cut into postal correspondence but maybe that can change if we start sending art through the mail. Mail art, also known as postal art and correspondence art, is a practice in which small scale artworks are sent through the postal service.
---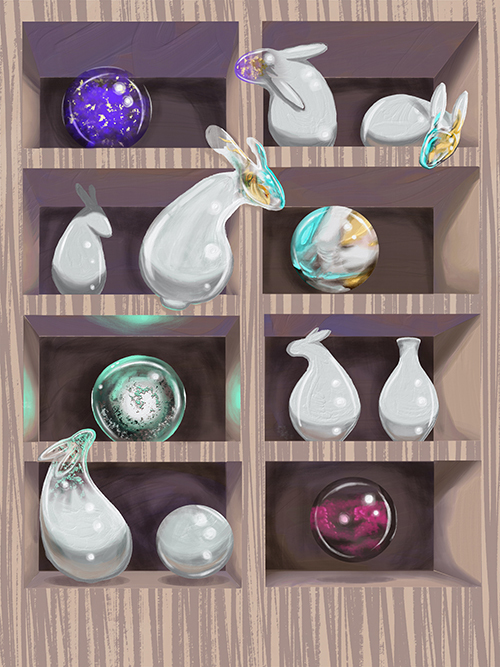 David Gran, Things on Shelves No. 7, digital painting giclée print, 6 x 9"
When I lived in Louisiana I participated in several themed mail art exhibitions and they were always entertaining and fun in which to participate. A playful spirit is a common characteristic of mail art.
The current threats to the postal service inspired me to plan SchoolArts' mail art show. We wanted the entries to be small so they wouldn't take so long to create. We also wanted to provide an opportunity for art teachers to express their feelings about our current quaranteaching situation.
The American Ray Johnson is considered to be the first mail art artist as he began experimenting with the practice in 1943. The term mail art came in wide use beginning in the 1960's. In 1970, Ray Johnson and Marcia Tucker organized The New York Correspondence School Exhibition at the Whitney Museum in New York, the first significant public exhibition of mail art.
While contributions for mail art are often organized around a particular theme and require a specific size and deadline, mail art generally operates within a spirit of "anything goes" media-wise as long as it can be sent through the mail. In standard practice, a mail art show has no jury, no entry fee, no censorship, and all works are exhibited. Works submitted to SchoolArts Mail Art Show will be displayed in the Frank Juarez online gallery.
SchoolArts Magazine is inviting all art teachers to enter our Pushing the Envelope Mail Art Show at DavisArt.com/MailArt. The theme of the show is Quaranteaching in a Pandemic. You are invited to enter one mail art piece and mail it to Frank Juarez (address below) who will organize an online exhibition of the entries, some of which will be published in SchoolArts. You can find all the details at DavisArt.com/MailArt.
How to Participate
Use any media that can be mailed.
Artwork must fit in a 4" x 6" or 4-⅛" x 9-½" envelope.
Decorate both the envelope and its enclosure.
One entry per art teacher (no student art accepted).
Include your name, school, title, medium, size, and year of work on the back of your artwork (optional). You can put your name on the front if you like.
Include a short statement about your submission. Note, this information could be incorporated in the artwork.
Mail your artwork to Frank Juarez, 1913 Wiemann Avenue, Sheboygan, WI 53081 by July 24, 2020.
Deadline: July 24, 2020