Davis Desk
Social and Emotional Learning (SEL) and Advocacy
The 2021/22 Art Advocacy Planner is now available. This year, we bring you articles and lessons concerning art and Social and Emotional Learning (SEL). Following is a message from our President, Julian Wade. Use the buttons at the bottom of this blog to request your complimentary planner or download the Worry Project Lesson featured in it this year.
---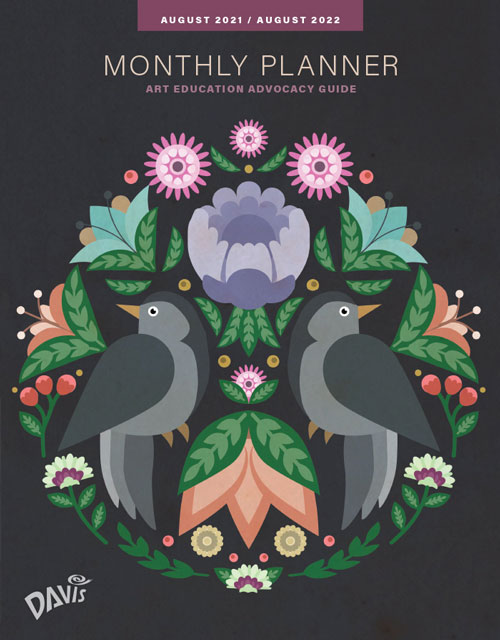 From Julian: We all understand how important Art Advocacy is to the success of our programs. There are hundreds of articles online telling us the same thing—know the facts, know the system, understand the opposition, design your campaign, and prepare your argument for rebuttal. It's exhausting and we're all more than a little exhausted right now!
If this year of COVID has shown us anything, it's the importance of self-awareness, social awareness, responsible decision making, self-management, and relationship skills. Do those terms look familiar? They should, they are the five elements of Social and Emotional Learning (SEL). But is that important to art advocacy? We think so! There's a natural link between SEL and Visual Art. Your program supports all five of these components and you don't have to dig deep to see how important that is to student success.
Self-Awareness illustrates how well we know ourselves, including how tuned in we are to our emotions. Studying visual art provides opportunities to explore and develop self-reflection habits daily.
Social Awareness focuses on how well we know the people around us, including our capacity for appreciation of diversity. Studying visual art provides opportunities to explore how students can impact their community.
Responsible Decision Making centers around identifying and solving problems. Creating art IS the process of problem-solving. It reinforces the importance of things like creating content and addressing controversial issues responsibly.
Self-Management speaks to impulse control, self-motivation, discipline, and goal-setting. Studying visual art promotes the development of self-control, encourages goal setting, and supports the development of time-management skills.
Relationship Skills emphasizes communication, cooperation, and conflict management. Studying visual arts promotes building and maintaining relationships through collaborative art projects, peer and class critiques, and community involvement with your program.
Art is a powerful tool in the development of social and emotional learning—of course you know this! Your program helps students learn important life skills—from resiliency to respect to critical thinking. Having a strong grasp of social and emotional skills is linked to greater levels of college-and-career readiness and long-term success for students. The work you do is relevant and will change the course of our future. If that isn't advocacy supporting your program, I don't know what is!