Curator's Corner
Women's History Month 2022: Toyin Ojih Odutola
Nigerian-born artist Toyin Ojih Odutola explores contemporary definitions of gender, culture, and society with a unique graphic/painting technique.
---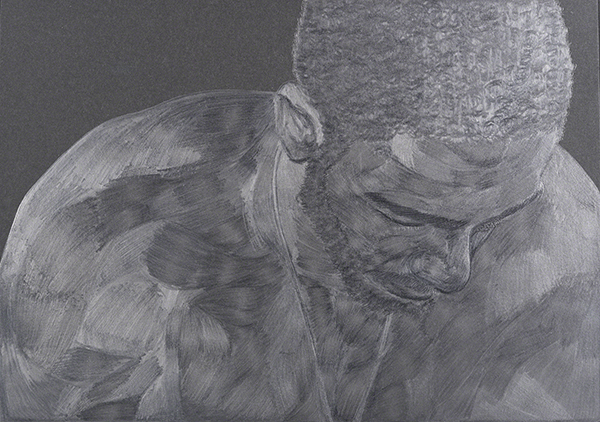 Toyin Ojih Odutola (born 1985, Nigeria/U.S.), M7, 2015. Graphite on black mat board, 10" x 14 3/16" (25.4 x 36.1 cm). Courtesy of the Philadelphia Museum of Art. © 2022 Toyin Ojih Odutola. (PMA-8563)
Instead of portraying posed portraits, Odutola creates portrait drawings that reveal snapshot-like moments in time. M7 (Male 7) is part of Odutola's ongoing exploration of perceptions of African/Black masculinity and male experiences. M7 expresses visually an internal emotional state, which often cannot be expressed outwardly due to the expectations of society. These emotions are further emphasized by Odutola's characteristic deeply layered, texturized skin surface in expressive patterning.
Born in the Yoruba city of Ile-Ife, Nigeria, Odutola moved to the United States with her mother and brother in 1990, joining her father as he studied at the University of California, Berkeley. In 1994, her family moved to Huntsville, Alabama. Odutola attended the University of Alabama in Huntsville, earning a BA in Studio Art in 2008. In 2012, she received her MFA from California College of Arts in San Francisco.
Odutola explores African heritage and her own experiences as an immigrant in the South in her body of work. Identity is a major theme in Odutola's art, expressed through the tactile layering of skin. She explores identity in a variety of drawing media, including ink, graphite, charcoal, and pastel. Odutola notes that artists such as Jacob Lawrence (1917–2000) Elizabeth Catlett (1915–2012), Romare Bearden (1911–1988) also inform her work.
Correlations to Davis programs: Explorations in Art 2E Grade 1: 2.1, 2.2; Explorations in Art 2E Grade 2: 2.1, 2.2; Explorations in Art 2E Grade 3: 1.1, 1.2, 1.3; Explorations in Art 2E Grade 5: 1.1, 1.2; Explorations in Art 2E Grade 6: 1.2, 1.3; A Community Connection 2E: 2.3; A Personal Journey 2E: 6.4; Discovering Drawing 3E: Chapter 7; Discovering Art History 4E: Chapter 2 Activity 2