Curator's Corner
Women's (Art) History Month 2021 IV
I have always been fascinated by how progressive (i.e., abstract) styles have continually found their footing as a counterpoint to the pervasive tradition of realism in American art since the early 1900s. One of the many interesting manifestations of realism-versus-abstraction occurred during the Feminist Art Movement of the late 1960s to 1970s. The movement evolved during a period when Pop Art and Photorealism were both reactions against the dominance of abstraction (Abstract Expressionism, Minimalism, etc.) in the "art world." Fortunately, there were artists whose work challenged the figurative/objective current in American Art. One of the "hotbeds" of the persistence of abstraction took place in my hometown, Chicago, with artists such as Vera Klement. She was instrumental in reaffirming the integrity of abstraction (as opposed to the concurrent "Chicago Imagists" or "Hairy Hoo") and played a leadership role in the formation of galleries and exhibitions dedicated to the art of women.
---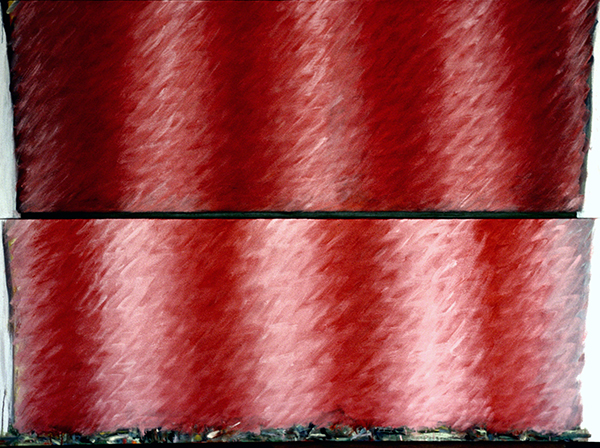 Vera Klement (born 1929, Poland/U.S.), Jim's Door, 1976. Encaustic on canvas, 59" x 81 1/8" (150 x 206 cm). Photo courtesy of the artist. © 2021 Vera Klement. (8S-17714)
Throughout the early 1970s, Klement exhibited widely as a member of The FIVE, a group of abstractionists who banded together against the pervasiveness of Chicago Imagism, which then dominated the Chicago art scene. From the 1970s to the present, her work has emphasized an active surface, aided in part by her inclusion of encaustic. Her works often float on a white ground, as in Jim's Door. In more recent works, she has included expressionistic figurative references in her work. The monumental size of Klement's canvases is a hang-over from her New York years. Another hang-over is the gestural brush work that recalls the action painting of Abstract Expressionism.
Klement was born in Gdansk, Poland, when it was part of independent German states established after World War I (1914–1918). She remembers as a child:
...the bright light and rhythmic pounding of the sea, and there, rising behind it, the dark forest that held in its silence the northern European legends of evil spirits: witches, erlkings, and poison toadstools. Light and dark—good and evil—life and death—that juxtaposition that eventually became the underpinning of my painting.1
In 1938, Klement and her family fled Europe as the Nazi terror spread and settled in New York. When she was 11 years old, her father, an amateur artist, introduced her to watercolors, from which she produced her first painting. She realized at that point that she wanted to be an artist, feeling that nothing could ever take from her the images she created in her paintings.
Klement studied at the Cooper Union School in New York, graduating in 1950. During the 1950s, under the influence of Abstract Expressionism, she created expressive, abstract woodcuts with gestural gouge marks. The New York School and avant-garde 1900s music—her husband, Ralph Shapey (1921–2002), was an avant-garde composer—led her to explore nonobjective abstraction during the mid- to late 1960s.
Moving to Chicago in the late 1960s, Klement found herself labeled "New York artist" by the Pop Art-inspired group Chicago Imagists. Klement's work resisted their naive and anti-intellectual style. She began having success during the Feminist Art Movement of the early 1970s, when galleries dedicated to women artists (N.A.M.E. and Artemesia) opened. In the 2000s, Klement's work persists in her gestural brush work, but she has returned to figuration, often inspired by the Polish wilderness or her experiences with the Nazis before the family left Europe.
1 Vera Klement: Blunt Edge. Wonjung Bae. 2010. Documentary film. veraklement.com.