Curator's Corner
Vietnam, part 3
---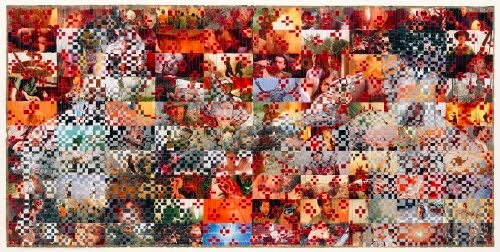 Dinh Q. Lê (born 1968, Vietnam), Untitled (movie grid), 2003. Cut-and-woven chromogenic color prints and tape, 33 ¼" x 67" (84.5 x 170.2 cm). The Museum of Modern Art, New York. © 2017 Dinh Q. Lê. (MOMA-P1461)
Dinh Q Lê's family fled western Vietnam during the horrible war between Vietnam and Cambodia in 1978. He lived and went to school in southern California, returning to Vietnam for the first time in 1992. Growing up as an expatriate Vietnamese, he was bombarded with images of the Vietnam War from Western journalism and Hollywood movies.
Much of Lê's work focuses on the disturbing physical and psychological effects resulting from the Vietnam War (1955–1975). Lê shows how these effects still permeate the cultural memory and landscape of Vietnam. History, mythology, and popular culture are stitched together by Lê, combining images from different sources into a sort of monument to memory.
Dinh Q Lê uses sculpture, video, and installation to create strong statements about the impact of historical events not only on countries, but also on individual lives that survive them. His work deals with the frequent uncertainty of memory and issues of responsibility that emerge from histories of conflict. The work of Dinh Q. Lê reconciles and alters the dramatized representations of people who have lived through war and whose lives are permanently transformed by its effects.
Read the other posts in this series for more about Vietnamese art:
Correlations: The Visual Experience 13.3; Discovering Art History 4.5