Curator's Corner
Vietnam, part 2
---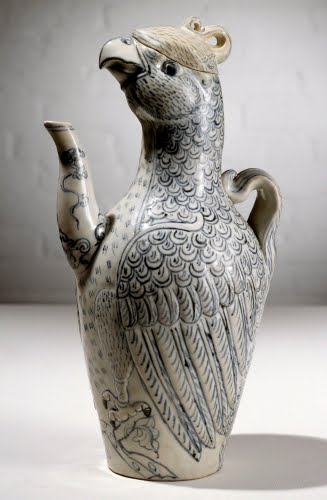 Vietnam, Carved, parrot-form beaker, 1500s. Porcelain, 11 3/16" x 13" x 12 1/8" (28.4 x 33 x 30.8 cm). © 2017 Worcester Art Museum, Worcester, MA. (WAM-537)
Although China dominated ceramic styles in Asia and Southeast Asia for centuries, Vietnam managed to develop its own distinctive styles. Ceramics kilns date back 2000 years, but the oldest persistent styles date to the 1000s through the 1400s, the period after the Vietnamese temporarily overthrew the Chinese. This style consisted of incised, iron (brown) glazed decoration on stoneware. Such wares were exported as far as the Philippines and Indonesia.
Starting in the southern Song dynasty in China (1127–1279) there was extensive export of porcelain to other parts of Asia, and hence an increase in Chinese influence in Vietnamese wares. Yuan Dynasty (1280–1368) blue-and-white wares influenced Vietnamese porcelain as early as the late 1200s. Porcelain became a strong export item for Vietnam starting in the 1300s. The greatest period of influence from Chinese blue-and-white porcelain probably came during the Ming Dynasty (1368–1644) occupation of Vietnam between 1407 and 1427. The period between 1450 and 1500 is generally considered the high point of Vietnamese blue-and-white porcelain.
This particular beaker may have been created after the period of civil war that began in 1527 in Vietnam. The quality of the blue-and-white indigenous wares seems to have suffered because of the political instability. Kilns were still producing these wares during the 1500s in Hai Duong Province. However, during the 1600s, Chinese blue-and-white wares apparently dominated the Vietnamese market.
Tomorrow I'll wrap up the series on Vietnamese art with a look at a contemporary artwork.
Read the other posts in this series for more about Vietnamese art:
Correlations to Davis Publications textbooks: The Visual Experience 13.3; Discovering Art History 4.5