Curator's Corner
What's in a Snake? part 4
For the last post in my Snakes in Art series, I'll take a look at modern sculpture. This is a neutral snake, neither sinister nor benign. Like a piece from 1961, Willy, Snake is Out references crawling natural things in the form of steel tetrahedrons (four-sided form). I like to think of it as an updated Mucalinda!
---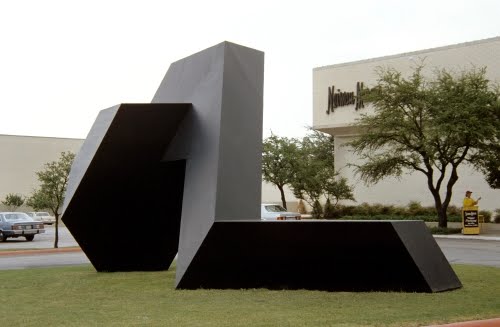 Tony Smith (1912-1980 US), Snake Is Out, 1962. Painted Cor-Ten steel, 15' x 23' 2" x 18' 10" (457.2 x 706.1 x 574 cm). Nasher Sculpture Center, Dallas. © 2017 Estate of Tony Smith/Artists Rights Society (ARS), New York. (8S-28527smiars)
Smith turned from architecture and architectonic paintings to sculpture in 1961. His earliest monumental pieces, such as this one, explored shapes and geometric relationships found in models of architecture he had never seen built. Despite a title that relates it to a life form, Smith's work is not pictorial or anecdotal. In spirit, Snake is Out is related to his first monumental work Cigarette, where the writhing, elongated form encourages the viewer to walk completely around it to get a sense of the whole.
Despite the purity of form and simplicity of Smith's shapes, he resisted the stylistic term Minimalism. He insisted that his work was always on the edge of dreams. However, he shared modern artists' enthusiasm for abstraction, partly because he conceived of his works on such a large scale. His sculptures reflect in part his enthusiasm for architecture.
Other posts in this series: