Curator's Corner
What's in a Snake? part 3
Today's post in my Snakes in Art series shifts to modern design. I guess a chair is an example of a good serpent! There's something both ironic and logical in the combination of a serpent form with a machine-made, metallic chair of Art Deco sophistication.
---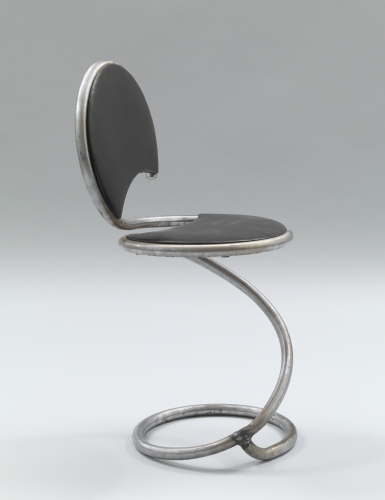 Poul Henningsen (designer, 1894–1967, Denmark) and V.A. Høffding A/S, Dansk Købestoevne (manufacturer, Copenhagen), Snake Chair, 1931. Chromium plated tubular steel, laminated wood, and leather, 31 1/2" x 14" (80 x 35.6 cm). Image © 2017 The Museum of Modern Art, New York. (MOMA-D1324)
Ironic, because Art Deco style was a descendant of the Arts and Crafts movement that dictated fine art aesthetics for utilitarian forms. It is logical, because Art Deco blended that aesthetic with the early-1900s appreciation for the efficiency and streamlined beauty of the machine.
The study of modern furniture is incomplete without looking at the contributions made by Scandinavian artists. These artists found ways to fulfill the demands of modern life in aesthetically beautiful design that runs the gamut from finely handmade wooden furniture to completely industrialized works in metal, laminates, and plastics. Denmark's Royal Academy of Fine Arts was founded in 1924 to encourage the development of Danish modern design. The school taught on the premise that the foundation for modern furniture must be an understanding of classic furniture construction.
Poul Henningsen, born in Copenhagen, studied to be an architect (1911–1914 and 1914–1917), although he never graduated. He practiced traditional architecture design initially. Gradually, however, he became interested in industrial design, particularly in furniture and lighting. I'm pretty sure Henningsen was not influenced by the episode of Buddha protected by the Naga king, Mucalinda, but it's a precedent for sitting on a snake!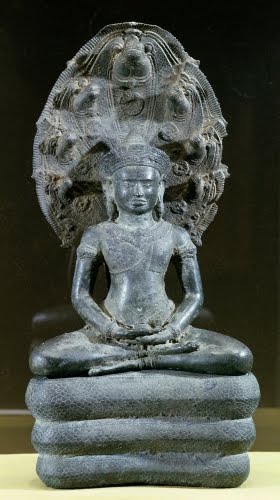 Cambodia, Naga-Enthroned Buddha, 1100s. Bronze, 23" x 18 7/8" (58.4 x 48 cm). © 2017 Cleveland Museum of Art. (CM-392)
Tomorrow I wrap up my series on Snakes in Art with a look at snakes in modern sculpture.
Other posts in this series: