Curator's Corner
Revival Curiosities
I once was a teaching assistant in a furniture history course in grad school, and have subsequently loved historic furniture and design. One of the mantras we chanted about the history of furniture was that, theoretically, furniture evolves around the human body and the way people are living at the time.
---
I could cite numerous periods in furniture history where I question just how certain styles fit into this idea, but, I'm pretty certain the 1800s saw some of the most over-the-top furniture styles that not only defy practicality, but, well, you'll see in the following examples. Keyword for the 1800s: REVIVAL STYLES.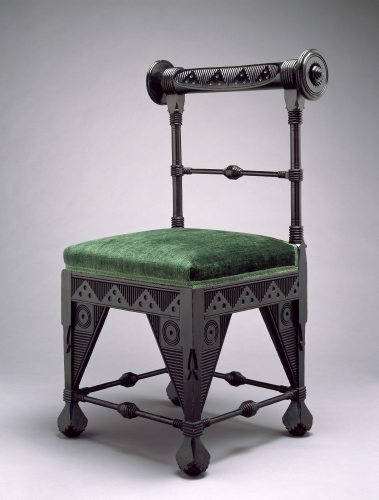 Daniel Pabst (1826–1910, US, born Germany), Side chair, ca. 1880. Ebonized cherry and silk (newer) upholstery, 37 1/8" x 21 3/4" x 19" (94.3 x 55.2 x 48.3 cm). © Brooklyn Museum. (BMA-5400)
As you know, a key stylistic trend in architecture and decorative arts during the 1800s in Europe and the US—I don't call it the "Victorian" period because she was only queen in Britain—was the "revival" of past styles going all the way back to ancient Egyptian. In America, the multitude of revival styles appealed to patrons because it afforded them the belief that they were just as cultured as their European counterparts. What better way to show it off than by having a room full of knock-offs from different periods of the past?
Daniel Pabst was a master cabinetmaker from Germany who hit it big in Philadelphia after immigrating there in 1849. He established a thriving furniture business there, and did much collaboration with the brilliant architect, interior designer, and furniture designer Frank Furness (1839–1912). Furness's architecture is renowned for its quirky combination of different period styles, and the unusual grouping of forms in the over 600 buildings he designed.
Similarly, Pabst had unique interpretations of historical periods. This chair, for example is variously dubbed Gothic Revival, Romanesque Revival, or Renaissance Revival. Honestly, I can't really see any of those periods in this, but maybe closest to Gothic with the pointed "tracery" carving. The ninety-degree angle of the seat and what little back there is doesn't seem like it would be comfortable, nor does the scroll-like chair rail on the top of the back. And really, I don't know what influenced the feet. Is that Pabst's version of a Gothic ball-and-claw foot?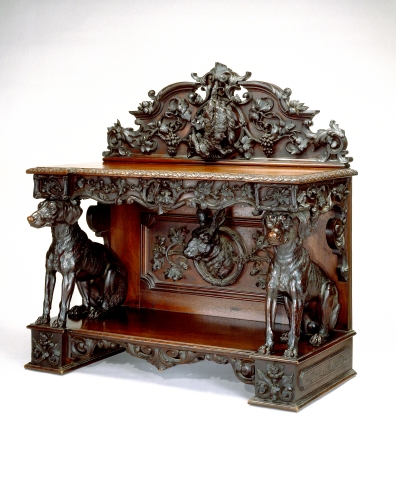 Alexander Roux (1813–1898, US, born France), Side board, ca. 1855. Black walnut, 49" x 49" x 24" (124.5 x124.5 x 61 cm). © Brooklyn Museum. (BMA-5381)
While I'll admit that there are many period styles that I feel should never have been touched by 1800s furniture designers, Mannerism Revival is probably the most appalling (with Palladian Revival a really close second). These two styles branched off from the Baroque Revival style, both of which revived the "grandeur" of the 1600s. What the Mannerism and Palladian strains of the Baroque Revival achieved was to make the word "overblown" seem mild to the grotesque decoration favored in this furniture.
Alexander Roux was not even in France during the Second Empire (1852–1872, the reign of Napoleon III 1808–1873), but he sure dug into the Baroque Revival style when it hit the US. He immigrated to the US in the 1830s and opened a studio in New York by 1837. He was a master cabinetmaker, and by the 1850s was employing 120 people and exploiting new industrial techniques for making furniture, such as steam-powered saws. What is amazing about this piece is the amount of actual carving. The sculpture of this sideboard is more compelling visually than the piece's intended use.
While Roux supposedly specialized in Rococo Revival—which was BIG in the 1850s and 1860s—this side board just doesn't look anything like Rococo to me. Like many of the revival styles, designers chose bits and pieces of past styles, often mixing periods in one piece. It has all the exuberant decoration of the Baroque substyles. I really don't know how comfortable I'd be eating in a dining room with those two dogs staring at me, or the dead hare hanging from the carved headboard. The bust of the rabbit between the two hunting dogs is a nice touch, though.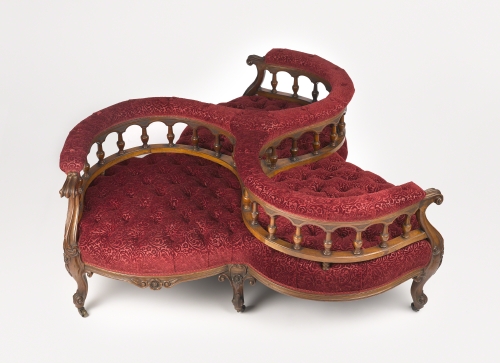 British, Three-way chair/sofa, ca. 1850. Wood, fabric, metal, 25" x 50 15/16" x 50 15/16" (63.5 x 129.5 x 129.5 cm). © Brooklyn Museum. (BMA-5267)
For those of you who remember it, the Addams Family TV show from the 1960s featured one of these curly-cue chair/sofas. This type of furniture would not fit in just any apartment. Such pieces were meant for the halls of museums, reception rooms in large houses, and conservatories. I've heard such a piece called a "peekaboo chair," the idea being that romantic conversation can be carried on discreetly with railings between the individuals. While the piece has elegant curves and is padded everywhere—a big feature of 1800s furniture, the more the better—it is not really a practical piece except in a public space, or for wealthy people with a big house who have lots of parties. It certainly would not be practical in a man cave.
This piece is executed in a more tasteful rendition of the Rococo Revival style than the Roux piece, although the only Rococo elements I can discern are the cabriole legs terminating in the arms. An interesting feature of this piece is how low to the ground it is. Many chairs and sofas of the 1850s and 1860s were built low, and often without arms to accommodate the skirts of women at the time which featured massive hoops and petticoats underneath (the crinoline). With short legs on the furniture, a woman could sit discreetly without the hoop tipping up to reveal her ankles (they were considered naughty at the time).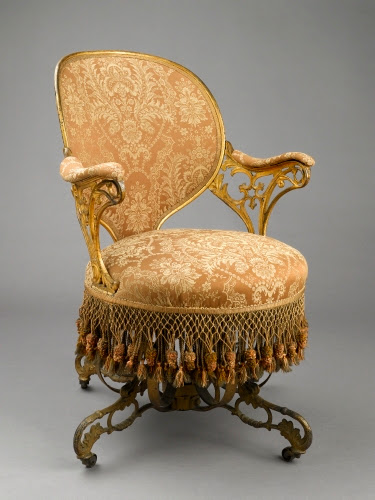 Warren E. Thomas (1808–?, US, designer), Centripetal Spring Chair, ca. 1849–1858. Cast-iron, wood, modern upholstery, original tassle fringe, 34 1/4" x 23 1/2" x 28 1/4" (87 x 59.7 x 71.8 cm). © Brooklyn Museum. (BMA-3500)
The Rococo Revival style had many uses, including zesting up office furniture. Believe it or not, this is often considered the forerunner of the modern office chair. "Centripetal" is the opposite of centrifugal, and I don't really understand how that applies to this chair. It has an interesting parallel to architecture in that the frame is cast iron, a material that, at the same time, was being used in building construction, sometimes whole facades. The industrial design of the chair was downplayed by the froufrou Rococo overstuffed upholstery and the tasseled trimming ("passementerie") along the seat that hid the C-springs that allowed tilting in four directions.
The Centripetal Office Chair was designed by an inventor and manufactured by the American Chair Company of Troy, NY. The chair was exhibited at the Great Exhibition in London's Crystal Palace (another cast iron masterpiece of building) in 1851. However, the chair never really took off outside the US. It was considered too luxurious for office workers. The chair had all the features of modern office chairs excepting an adjustable back. It swivels in four directions, rotates 360 degrees, and has casters for easy movement.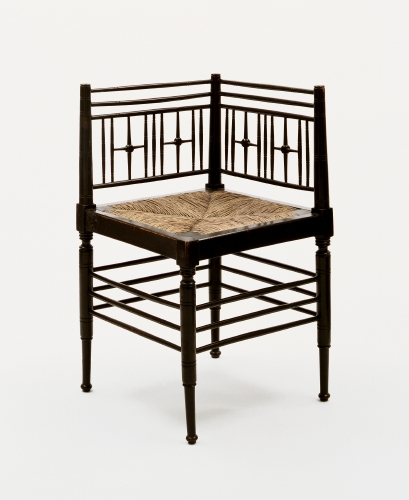 Ford Madox Brown (1821–1893, Britain, designer), Sussex Corner Chair, ca. 1865. Ebonized oak and rush, 27 3/4" x 22" x 22" (70.5 x 55.9 x 55.9 cm). © The Museum of Modern Art, New York. (MOMA-D0426)
In many ways, furniture revival styles were often a reaction to mass-production and the industrialization of furniture production. The most aggressive reaction to mass-production was the Arts and Crafts Movement that grew in Britain in the mid-1800s. It was spearheaded by a group of artists who had a romantic vision of the Middle Ages, and a romantic notion about living surrounded by hand-crafted furniture. Some of the artists associated with this movement were painters who had formed a group in 1848 called the Pre-Raphaelite Brotherhood, believing that the greatest period in painting was the Renaissance before the High Renaissance.
Ford Madox Brown was a member of the Pre-Raphaelites, and a co-founder of Morris, Marshall, Faulkner and Company in 1861, the beginning of William Morris and Company. Morris and Company spearheaded the Arts and Crafts Movement in designing furniture, stained glass, wallpaper, and tapestries in the Medieval taste. Brown designed stained glass and furniture. He is credited with "discovering" a "simple country chair" in Sussex that became the basis of his designing furniture for Morris's company. For the Medieval lovers, the Sussex chair summed up the simplicity and utilitarian nature of Medieval furniture, even though the only furniture most people had in the Middle Ages were chests or benches. Madox Brown is said to have designed eight variations on the Sussex chair.
Sussex furniture was valued for being light and moveable. I can see the corner chair being convenient in a crowded ballroom, but I'm not sure how I would sit in it to read a book or watch TV?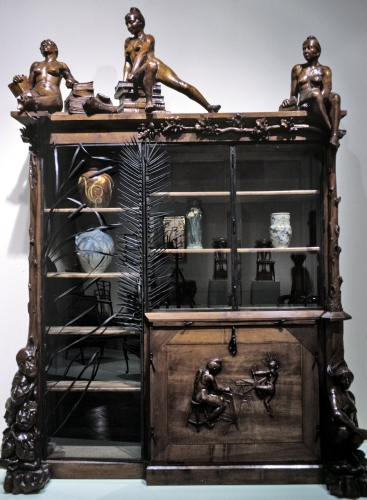 François-Rupert Carabin (1862–1921 France), Bookcase, ca. 1889–1890. Walnut and iron, 9'8" x 6'8" (300 x 210 cm). Private Collection, Paris. © Davis Art Images. (8S-27886)
Yes, I saved the best (worst?) for last. Did you ever wonder where the line between sculpture and furniture is? Well, I think this artist's work definitely blurs the distinctions. Carabin was an accomplished sculptor, photographer, and designer of medals and ceramics. He is generally considered a product of Art Nouveau, though to me the connections with Art Nouveau are tenuous. His work represents, I guess, the Art Nouveau emphasis on unconventional, realistic depictions of nature?
Interestingly, Carabin became famous after he spent a year carving this piece for a wealthy businessman. Although Carabin was a co-founder of the Society of Independent Artists, this piece was not accepted in one of their exhibitions because it was not considered sculpture. Art critic Gustave Geoffroy (1855–1926) decried the judgment saying that Carabin's piece was part of a "new kind" of art. Well, whatever one considers it—furniture or sculpture—it isn't a piece I'd want in my apartment, especially with "Truth," "Wisdom," and "Contemplation" lolling around on the top!
Correlations to Davis Programs: Explorations in Art Grade 1: 6.35; Explorations in Art Grade 2: 6.Studio 35-36; Explorations in Art Grade 3: 6 4.Studio 23-24; A Community Connection: 5.2; A Personal Journey: 3.1, 3.4; Beginning Sculpture: 5; The Visual Experience: 12.4; Discovering Art History: 2.2