Curator's Corner
Rethinking Romanticism Part 3
To close out my Rethinking Romanticism series, let's look at romanticism in 21st century art. In the instance of Jennifer Karady's subjects, that's probably an insulting term. If you are unfortunately equating romanticism with military influence based on my previous posts about Assyrian and Kamakura period romanticism, let's not forget how many Americans were against the wars in Iraq and Afghanistan but were helpless to stop it. No, I'm not equating the U.S. with Assyria, but war, masculinity, and turmoil are common themes throughout history. Nothing could have excited more dramatic art than those two stupid wars of the early 2000s (are they even over yet?). Some of the most thoughtful art on this subject has got to be the photography of Karady. Can you imagine how cathartic this project was for the veterans who are the subjects?
---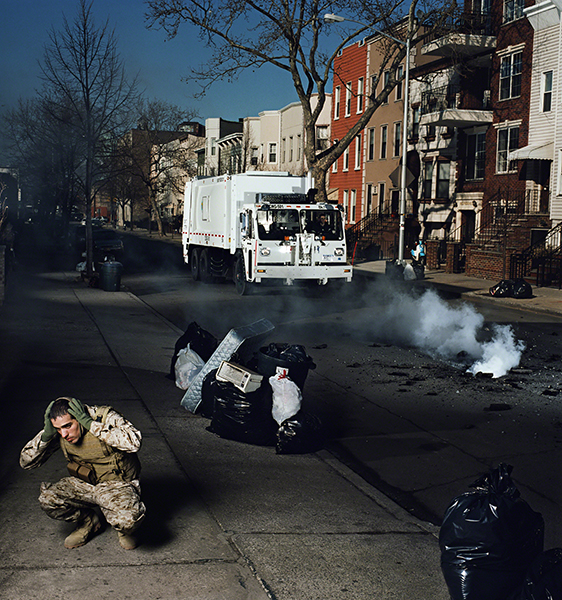 Jennifer Karady (born 1967, U.S.), Former Sergeant Jose Adames, U.S. Marine Corps Recon, Stinger Gunner, 1st Platoon, Alpha Company, veteran of Operation Iraqi Freedom, Brooklyn, NY, February 2009, from the series In Country: Soldiers' Stories from Iraq and Afghanistan, 2009. Chromogenic print on paper, sheet 47 ½" x 45 ½" (121.9 x 115.6 cm). Albright-Knox Art Gallery, Buffalo, NY. © 2020 Jennifer Karady. (AK-3037)
Karady's interdisciplinary art project and traveling exhibit In Country: Soldiers' Stories from Iraq and Afghanistan is unique in the history of documenting American wars because it focuses on longtime effects rather than immediate trauma. The artist works with veterans returning from Iraq and Afghanistan to explore their experiences both in battle and in transitioning to life as a civilian. Placed within the context of everyday life in America, these photographs highlight the challenges of living with memories of time spent in the military while having to maintain so-called normal life upon returning home. Recontextualizing moments from these two wars in settings such as American city streets, Karady juxtaposes the experiences to heighten the dramatic impact of the image.
The process of photographing veterans reenacting traumatic events is collaborative. First, Karady conducts extensive interviews with the veteran subjects, part of a lengthy planning process. Then, each veteran reenacts the memory they have chosen to show. Often, they're in uniform, surrounded and supported by family and friends from their everyday lives. In the exhibition, veterans' memories and interviews are included alongside Karady's photographs as text or recordings, giving voice to an often-overlooked segment of society.
Below are excerpts from Karady's October 2008 interview with Jose Adames, the subject of the photograph featured in this post.
I got hit by a mortar while on a convoy, which was not a typical mission for us. Three pieces of shrapnel went through my leg.
I am terrified of trucks, garbage trucks in particular, and it has to do with the fact that New York has so many potholes. When they hit one they make this deep echoing sound that sounds similar to a mortar exploding.
I black out, not in a bad way. I just tune out. Everything gets dark, and these images keep fluttering through my mind of the night we got hit. It just replays in my mind.
Karady was born in Elizabeth, NJ, and now lives and works in Brooklyn, NY. She is neither a journalist nor a documentary photographer. She is an artist who, starting in 2004, looked for a way to make sense of what military veterans experienced in the two wars started by George W. Bush. Photographing and interviewing veterans is something of a therapeutic process, allowing veterans a safe, supportive space in which to express their experiences and acknowledge their trauma. Karady is appalled by the statistic that 75% of the homeless in New York are veterans (of all recent wars).