Curator's Corner
Rethinking Romanticism Part 2
This week's Rethinking Romanticism series continues with romanticism in Japanese art. The Kamakura period (1185–1333) was a particularly turbulent, civil-war-ravaged era in Japan. It is the period when the shogun (military dictator) arose in importance, leaving the revered emperor in the shade. Like the Hellenistic period (ca. 320–146 BCE) in Greek art when their military conquests exposed Greek artists to styles other than the restraint and balance of "classicism," Japanese artists reflected the civil conflict in more attention to physical realism.
---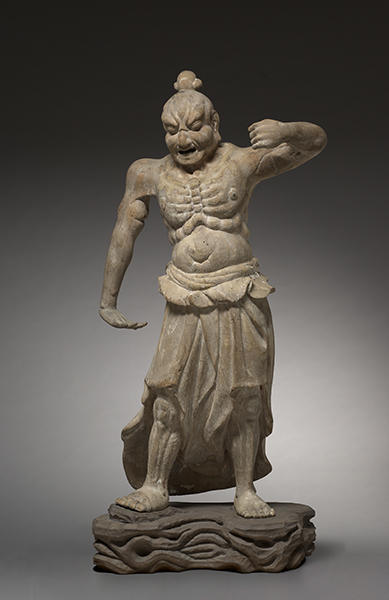 Kamakura Period, Japan, Agyo, Temple Guardian (Nio), from Shiga Province, 1200s. Chestnut and cypress wood, height: 66 1/8" (167.9 cm). © Cleveland Museum of Art.
This nio (temple guardian) is one of a pair of figures that appeared at the entrance to every Buddhist temple. The two nio, Agyo and Ungyo, are manifestations of Shukongoshin, a bodhisattva protector of the Buddha. Within the context of a pacifist religion, Shukongoshin's nio projections are probably the fiercest iconography in Japanese Buddhist art. The underlying idea was to "scare" people into enlightenment.
Ungyo is always depicted with a closed mouth, said to represent death, while Agyo's open mouth represents birth. Agyo often holds a lightning bolt in his upraised hand. The two figures reside in a gate called the niomon. These figures are constructed in the yosegi technique, in which numerous blocks of wood are hollowed out and joined together. This aided the artist's ability to concentrate on fine detail, the physicality of which was most likely linked to the increased militarism in Japanese culture at the time and the constant rebellions. This uncertainty in everyday life and the influence of Zen made Buddhism a refuge in trying times.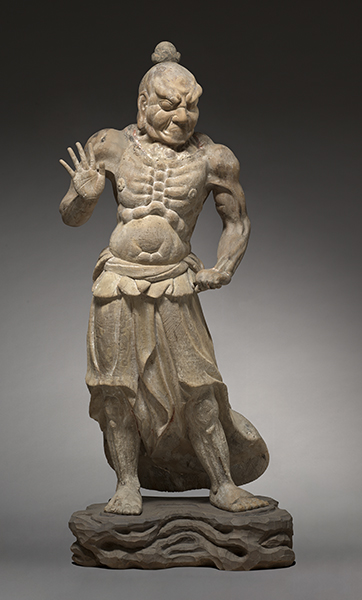 Kamakura Period, Japan, Ungyo, Temple Guardian (Nio), from Shiga Province, 1200s. Chestnut and cypress wood, height: 66 1/8" (167.9 cm). © Cleveland Museum of Art.
During the Kamakura period—a period dominated by the Kamakura family military dictatorship—Japan's so-called "medieval" period, the provincial military families fought one another for control of the country. The Gempei Wars (1185–1192) witnessed the victory of the samurai-supported clans over the emperor's court and the institution of the shogunate, a military dictatorship that would rule Japan until the mid-1800s. The respected emperor no longer had any real power. The Kamakura period was also the time when Zen Buddhism was introduced to Japan. This set of beliefs in meditation and rigorous self-denial was, ironically, particularly appealing to the samurai (military) class.
Art flourished despite the political turmoil of the Kamakura period. A heightened realism appeared in sculpture, influenced by that of the Song Dynasty (960–1279) in China after renewal of direct contacts with China. Like Assyrian reliefs, Kamakura realism manifested itself in a romanticized style that emphasized strength and spiritual power through heightened attention to human physical attributes.