Curator's Corner
Rethinking Classicism Part 6
Let's wrap up my Rethinking Classicism series with a look at what might be regarded as classic art of today in the future. 100 years from now, will video installation be considered a classic art form of the early 2000s? It is certainly possible. Artists like Kelly Richardson have taken video installation a looooong way in sophistication and beauty since the genre debuted in the 1970s.
---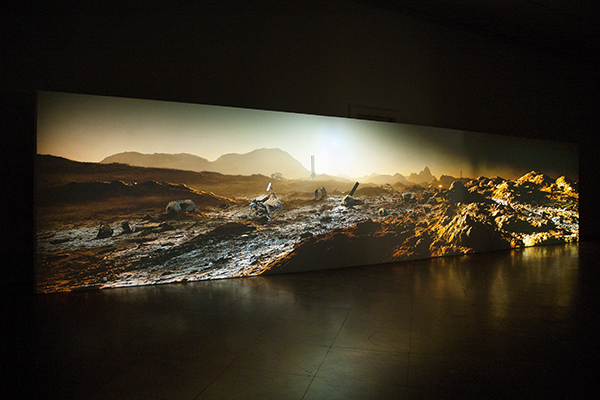 Kelly Richardson (born 1972, Canada), Mariner 9, 2012. 3-channel panoramic, high-definition video installation with 5.1 stereo sound, 20-minute loop, 43' x 9' (13.1064 x 2.7432 meters). Albright-Knox Art Gallery, Buffalo, NY. © 2020 Kelly Richardson. (AK-3276)
I discussed Richardson's video installations and her explorations of reality, landscape, and narrative in a post this past May.
Richardson's 2012 video installation Mariner 9 presents a Martian landscape with pale sunlight and ominous mist or dust floating across the planet's surface. Marred by rovers and other evidence of human exploration, the work suggests that once Earth's resources have been depleted, people will move on to devastate other planets. The panoramic screen brings the viewer into the space of the video, making this possible future feel tangible and immersive, encouraging viewers to reflect on the exploitation and destruction of natural resources.
Mariner 9 is named after NASA's Mariner 9 mission to Mars, becoming the first spacecraft to orbit another planet in 1971. The mission sent back the most highly detailed photographs anyone had seen of the red planet at that time, mapping 85% of the planet's surface by October 1972. Since then, NASA and other space agencies have sent numerous spacecrafts, landers, rovers, and other objects to Mars, many of which remain on the planet. Richardson used data from these missions, as well as film and gaming software for generating scenery, to create Mariner 9.
Commissioned by Tyneside Cinema, the work was first exhibited at Spanish City Dome in Whitley Bay, England, in August 2012 before being shown around the world. The timing of the installation's premier aligned with the August 2012 landing of the Curiosity Mars rover.
View a clip of Richardson's Mariner 9 installation on Vimeo.