Curator's Corner
Spring Illusion
In a time in history when we could all use either a vacation, a walk in the park (six feet apart, of course), or just an escape to one of Star Trek's "shore leave" planets, we can look at art that helps us get out of our dismal quarantine. The first time I saw Kelly Richardson's installation Leviathan, I felt like I wanted to either crawl right into it or stand in the gallery for about two hours to watch it over and over. It's so lovely, and it's an example of how technology mixed with good old-fashioned art forms make truly unique art. And, she totally understands how viewing a landscape—whether real or constructed—can affect our senses.
---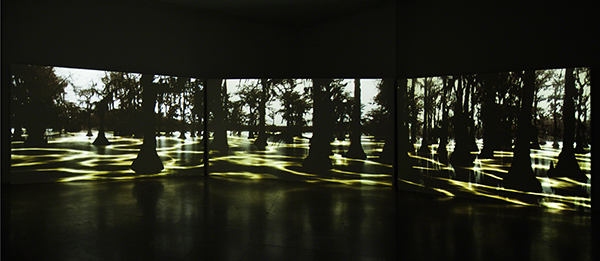 Kelly Richardson (born 1972, U.S.), Leviathan, 2011. 3-channel, high-definition video installation with stereo sound, 20-minute loop. Albright-Knox Art Gallery, Buffalo, NY. © 2020 Kelly Richardson. (AK-2976)
For an installation at Artspace San Antonio in 2011, Richardson created an immersive work called Leviathan. It was a high-definition, multi-channel video installation on the subject of the cypress forest in Caddo Lake, Uncertain, TX. This lake was the first site for over-water oil exploration (1910). Richardson explored the lake for four days with still and video cameras. Through digital manipulation, she inserted twisting tendrils of electric light, alluding to an unknown creature or force.
Richardson, born in Burlington, Ontario, explores the "hyper-real," a notion that we can no longer distinguish the real from the constructed due to our increased use of new media and forms of simulation. She is fascinated by the ways we connect with landscape. Within her deeply layered practice, she draws on narrative devices used in science fiction and B-movie horror films, as well as 1800s landscape painting, with particular interest in the apocalyptic conjurings of John Martin (British, 1789–1854).
The results are complex cinematic installations that present us with seemingly "real" locations subtly doctored with technology, animation, and sound. These unsettling portals into otherworldly atmospheres lack any physical human presence but suggest the residual effects mankind has had on the natural world. Hauntingly poignant in their post-apocalyptic beauty, Richardson's installations are a resurrection of The Sublime—playing on our greatest fears through awe-inspiring visuals that offer us a rare glimpse into what the future may hold.
View more work by Kelly Richardson on her website: kellyrichardson.net