Curator's Corner
National Arts in Education Week 2021
How quickly we forget that, up until the late 1800s, going to the local museum to copy "masterpieces" of past art and training under a male relative who was a professional artist were practically the only ways female art students received their education. The seated young woman in this print by Winslow Homer is copying a religious work. In the middle ground, Homer included a bit of whimsy by showing several young men who seem to be dressed like Dutch Baroque artists. This print most likely came from a drawing Homer executed when he visited Paris in 1866.
---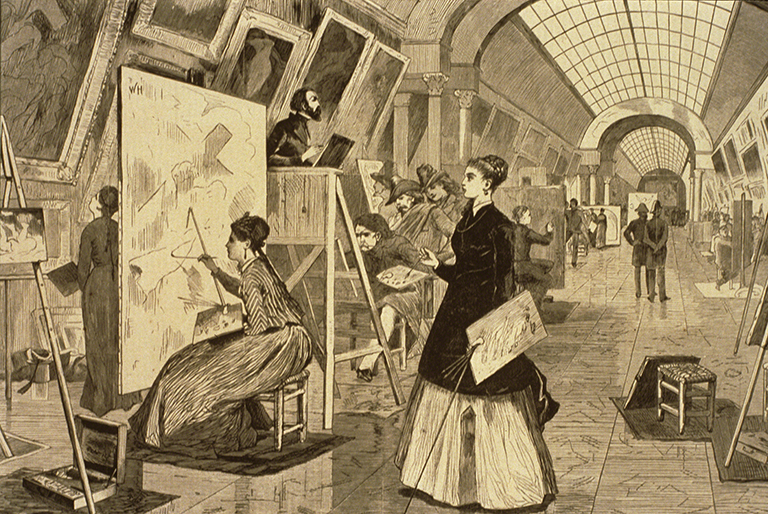 Winslow Homer (1836–1910, U.S.), Art Students and Copyists at the Louvre Gallery, 1868, published in Harper's Weekly magazine, January 11, 1868. Wood engraving on paper, 9" x 14" (22.9 x 35.6 cm). © 2021 Butler Institute of American Art, Youngstown, Ohio. (BIAA-367)
Homer was essentially a self-taught artist. His mother, Henrietta Benson Homer (1809–1884)—an amateur artist—encouraged him to learn art at an early age. In his native city of Boston, he apprenticed at nineteen to the lithography firm of John Bufford (1810–1870). Bufford's firm was a rival to that of Currier and Ives (1834–1906). Bufford produced lithographs of book illustrations and music cover sheets, including creating most of the drawings. This established an artistic foundation in graphic arts, which helped sustain Homer financially for the first 25 years of his career.
In 1859, Homer moved to New York to become a freelance illustrator. His formal art education was a few evening classes at the National Academy of Design. He created illustrations for Harper's Bazaar, Appleton's Journal, Ballou's Pictorial, Frank Leslie's Illustrated Newspaper, Harper's Weekly, and Every Saturday, among other publications.
During the Civil War (1860–1865), Homer made hundreds of sketches as an artist-correspondent. Unlike his fellow illustrators, however, Homer preferred to concentrate on camp life rather than battle scenes. This reflected Homer's intrinsic interest in genre scenes that would characterize much of his painting output. Some of his illustrations were eventually translated into paintings. Toward the end of the war, he concentrated more and more on painting.
In 1865, Homer was elected to the American Academy of Design. Although his studio was in New York, he rarely depicted city scenes in his paintings, traveling to Pennsylvania, the Hudson River Valley, and New England to sketch camping, hunting and fishing, and farm scenes. He believed that he could become a good artist through intense observation and study of nature, as well as diligent practice.
Homer made a year's visit to France in 1866. He was impressed by the Realist landscapes for their intense emphasis on visual reality, Dutch Baroque genre painting, and Japanese prints that had just begun to be imported into France. This was also the period of nascent French Impressionism.
Correlations to Davis programs: Explorations in Art 2E Grade 3: 5 art criticism; Experience Printmaking 1E: Chapter 5; Discovering Art History 4E: 12.3