Curator's Corner
Mid-Winter White
To celebrate the upcoming publication of our new book, Fashion Fundamentals, I'm showing you a glimpse of January fashion from one of my favorite periods in fashion history, the early 1910s. Yes, this was the style seen on wealthy women on the Titanic. It's so fabulous, and I feel that outside of Alexander McQueen (1969–2010 Britain) and a few other designers, "fabulous" just doesn't sum up a lot of current looks.
---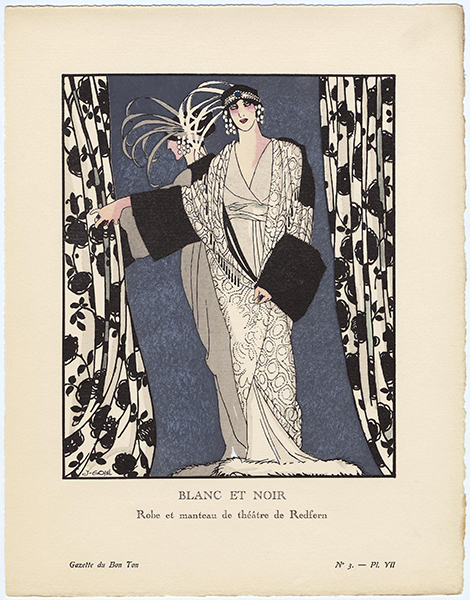 Francisco Xavier Gosé i Rovira (1876–1915, Spain), Black and White – Theater dress and coat by Redfern, plate 7 for the Gazette du Bon Ton, Volume I, no. 3, January, 1913. Photomechanical lithograph with hand-applied color, 10" x 7 ½" (25.4 x 19.1 cm). © 2020 Museum of Fine Arts, Boston. (MFAB-588)
During this period, women's fashions were greatly influenced by Art Nouveau and designers' ideas of "Oriental" style, i.e. from the Middle East and Asia. Art Nouveau borrowed a much wider range of non-Western motifs, including Japanese. Read about how the Ballet Russe influenced these Parisian fashion trends in my post from 2008.
The explanation for this outfit in Gazette du Bon Ton is the following:
The Redfern coat is in watered silk velvet decorated with black fox. The dress in silk satin, hemmed with white fox, is closed by a large Japanese belt in satin. (Le manteau de Redfern est en velours moiré garni de renard noir. La robe en charmeuse ourlée de renard blanc est fermée par une large ceinture Japonaise en satin.)
I'm pretty sure by "Japanese belt" the magazine means the Japanese obi, the sash worn around the waist of both men's and women's kimonos. The belt of this frock is rather narrow, so I suspect that it was based on the men's obi, which was narrower than those worn by women. The high waist was influenced by First Empire (1804–1814) fashion, while the evening coat is most likely influenced, again, by the Japanese kimono.
The look below isn't from January, but I wanted to show another example of the same artist's work.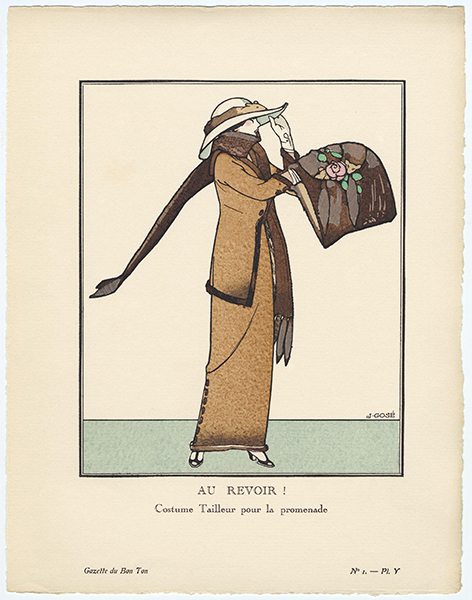 Francisco Xavier Gosé i Rovira, Good Bye! Tailor made promenade costume, plate 5 from Gazette du Bon Ton, volume I, number 1, November 1913. Photomechanical lithograph with hand-applied color, 10" x 7 ½" (25.4 x 19.1 cm). © 2020 Museum of Fine Arts, Boston. (MFAB-587)
The same high waist is seen in this charming walking outfit. The ensemble includes what was humorously labeled a "hobble skirt," because they became so narrow that women could not take long strides. These skirts were often draped like a "harem" outfit (or what the designer thought that looked like). The use of fur as decoration and not for warmth is pure Western hedonism. The description for this elegant ensemble reads:
Tailored outfit for the walk, in cloth chamois, bordered in chinchilla. Matching hat and muff. (Petit costume tailleur élégant pour la promenade, en drap chamois, bordé de zibeline. Le chapeau et le manchon sont assortis.)
These elegant illustrations are from the hand of the Catalan artist Francisco Javier Gosé, who died tragically young from tuberculosis. He was born in Alcalá de Henares in Catalonia, studying at the Arts and Crafts School in Barcelona in 1894 under the painter/illustrator/cartoonist Josep Lluís Pellicer (1841–1910). Between 1895 and 1898, he provided illustrations for several magazines. At the time, Barcelona was a center of the Art Nouveau style in Spain.
In 1900, Gosé moved to Paris. By 1902, he was supplying illustrations for satirical magazines The Laugh (Le Rire) and The Plate of Butter (Assiette au Beurre), at the same time continuing to illustrate Catalan magazines. His illustration style definitely shows the influence of Henri de Toulouse-Lautrec (died 1901), whose work had a profound impact on French illustration at the time. He also contributed drawings for the German magazines Youth (Jugend) and Very Easy (Simplicissimus).
Gosé's contributions to fashion illustration began in 1912. He adapted a refined, elegant, and linear style, usually with minimal backgrounds and no attention paid to volume or shading in his figures in order not to detract from details of an outfit. He returned to Catalonia at the outbreak of World War I (1914–1918), where he died a year later.
Correlations to Davis Programs: A Personal Journey 2E: 3.1, 3.3; Experience Painting: Chapter 4; The Visual Experience 3E: 12.4