Curator's Corner
May Is Flying By
May can quite often be a rainy month in New England, and let's face it, during this quarantine I get a little "showery" every now and then. My remedy is to look at beautiful landscape paintings. John Appleton Brown may not spring to mind when you first hear the term American Impressionism, but he was indeed one of the artists who, like Childe Hassam (1859–1935) and William Merritt Chase (1849–1916), helped introduce the Impressionist aesthetic into American painting during the 1880s.
---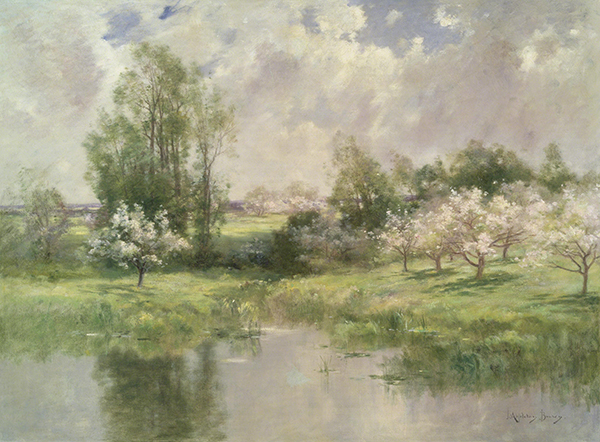 John Appleton Brown (1844–1902, U.S.), A Showery May Morning, 1890s. Oil on canvas, 30" x 42 1/8" (76.1 x 107 cm). © 2020 Museum of Fine Arts Boston. (MFAB-327)
Brown's work, while Impressionistic in nature, has a great affinity to that of Jean-Baptiste Camille Corot (1796–1875, France), a Realist painter of the so-called Barbizon School of painters. His palette certainly mimics Corot much more than Claude Monet. His misty forms are also reminiscent of the American Barbizon painter George Inness (1825–1894), although I think in spirit they are much more a reflection of Corot's influence.
Corot was the first French painter to present oil sketches he made outdoors as finished works. He believed that they spontaneously captured the truth and vitality of nature. Corot transmitted this belief to Charles Daubigny (1817–1878). In turn, these Barbizon artists advised the young Impressionists in the late 1860s to "paint outdoors." This process is now called "plein air painting" (literally "open air painting"). Brown's A Showery May Morning displays Corot's influence to the maximum, particularly in the restricted palette and overall silvery tonality.
Here's a work by Corot just for reference!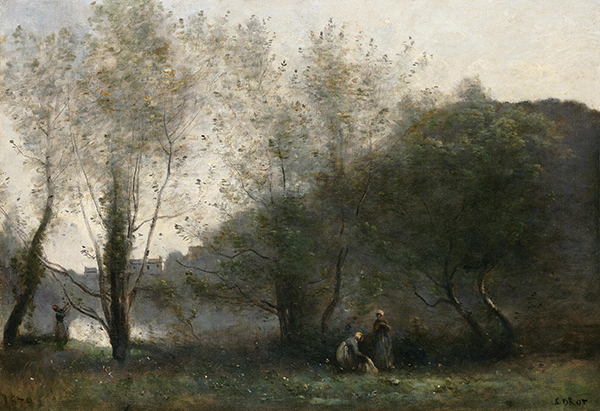 Jean-Baptiste Camille Corot (1796–1875, France), Morning on the Estuary, 1870. Oil on canvas, 22" x 31 13/16" (55.9 x 81 cm). © 2020 Philadelphia Museum of Art. (PMA-2877)
Born in Newburyport, Massachusetts, Brown went to France in 1866 to study oil painting. At first he studied at the Louvre, where he copied master paintings. He studied with a painter of rural landscapes, Émile Lambinet (1813–1877), who had studied with Corot. It was not long before he met Corot and Daubigny, which had by far the greatest impact on his mature style. Returning to Boston in 1868, Brown began painting landscapes in earnest. He associated then with William Morris Hunt (1824–1879), a painter associated with establishing the American Barbizon movement. During this period, Brown's landscapes reflected both Morris's and still Corot's influence.
Brown did not solidify his mature style until after another trip to France in 1874, when he painted with Corot at Ville d'Avray. He also encountered the works of the nascent Impressionism movement. After returning to Boston, he focused exclusively on landscapes of New England. By the 1880s, he was at the peak of his success as an artist, sometimes called "apple blossom Brown" because of his affinity for blooming orchards (as seen in A Showery May Morning) and spring landscapes.
Returning to Boston after a trip to Britain in 1886, during which he hung out with John Singer Sargent (1856–1925), Brown began to associate with American Impressionists Hassam and Chase. He spent time at two hotspots of American Impressionism: the Old Lyme Art Colony in Connecticut and poet Celia Thaxter's (1835–1894) Isle of Shoals hotel/art salon off the coasts of Maine and New Hampshire.
Brown mastered pastels after seeing Hassam's maginificent works in the medium, particularly scenes of crashing waves, which Brown emulated in both pastel and oil. The lovely little pastel below comes as close to the broken color of Hassam as Brown ever got. He held on to the emphasis on tonal relationships and gradation of lights and darks, rather than precisely-depicted light and sharp-edged form. This was totally the influence of Corot.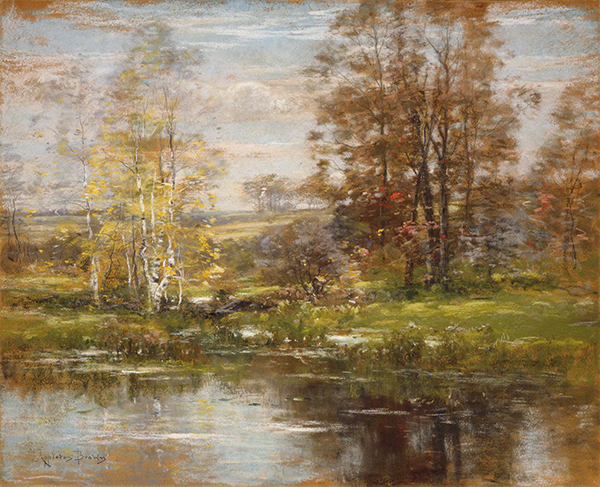 John Appleton Brown, New England Landscape, ca. 1887. Pastel on paperboard, 17 ¾" x 21 7/8" (45.1 x 55.6 cm). © 2020 Museum of Fine Arts, Boston. (MFAB-322)