Curator's Corner
May Day Late
Being a painter of landscapes and cityscapes myself, I'm always eager to share with you little landscape gems that come to my attention. Since I missed May Day with this post, this bouncy little treasure from the Philadelphia Museum of Art will have to be my "hooray, hooray for the first of May."
---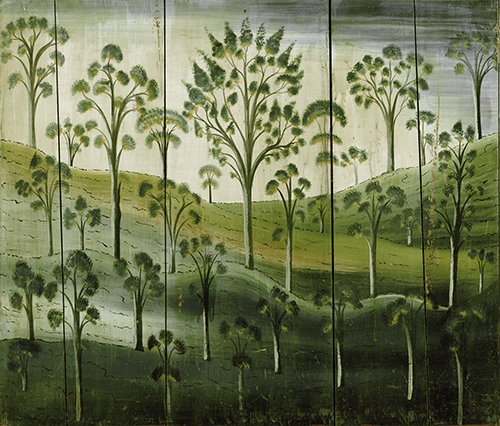 Unknown American Artist, Landscape, fireboard, from Perry County, PA, ca. 1825–1835. Pigments on pine board, 31 ¾" x 37 ½" (80.6 x 95.3 cm). © 2019 Philadelphia Museum of Art. (PMA-8201)
As I mentioned in a previous post, landscape was down the list on European academic categories of "noble subjects." When the American colonies finally became prosperous, the first art people wanted to commission was portraits depicting them in the same gleaming spotlight as their prosperous counterparts in Europe. Portraiture dominated American painting until after the Revolution (1775–1783). Landscape evolved gradually during the early 1800s, basically from the 1820s on, until we had a full-blown American school of landscape painting called the Hudson River School.
Interestingly, although landscape was not being commissioned by early Americans from professional painters, it was the lot of "decorators," who painted window shades, carriages, doors, and walls to earn a living. Many of the early American portraitists had side hustles doing decorative painting.
Obviously, no one who could afford a portrait wanted it on a fire screen or overmantel (and I still don't understand why "mantel" is spelled that way). Like Japanese screens of the Edo Period (1615–1868) that separated rooms, Americans enjoyed landscapes on these two distinctive supports—fireboards (fire screens) and overmantels (boards that lined the wall above a fireplace mantel).
The artists who painted these works were similar to the itinerant limner painters who were self-taught. But there is a freshness of conception and a wonderful sense of composition that makes many of these works really delightful and beautiful. They are not typically based on European models, and often reflect local environs. In the fireboard above, I'm wondering what the artist used to paint the sponge-like indication of leaves?
The overmantel below is simply awesome in the energetic American rhythm of the trees across the composition, dotted with early American homes. Even though it was painted in Massachusetts, the trees look like palms!

Unknown American Artist, Townscape, overmantel from Wheeler House, Worcester, Massachusetts, 1787–1793. Oil on eastern white pine panel, 24 7/8" x 60 1/16" (63.2 x 152.6 cm). © 2019 Worcester Art Museum. (WAM-441)