Curator's Corner
An April Birthday Boy
Antoine Vollon, known primarily for his excellent still-life paintings, had a birthday on April 23rd. In the glory days of the annual academic Salon in Paris (1760s–1890s)—when the self-appointed arbiters of artistic tastes judged all art submissions—the Salon had a hierarchy of "eminent" fine art forms starting with "the best": painting and sculpture. There was also a hierarchy of "worthy" subjects in this order: history (or religious), portraits, landscapes, genre, and, lastly, still life.
---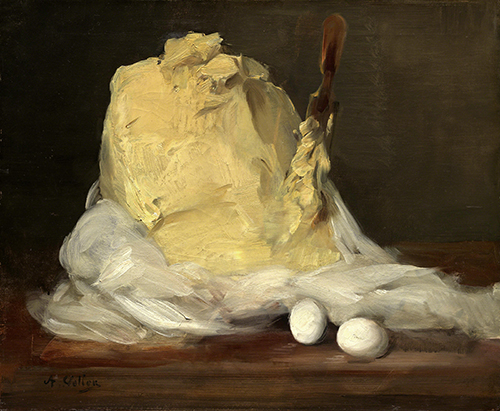 Antoine Vollon (1833–1900, France), The Mound of Butter, 1875/1885. Oil on canvas, 19 ¾" x 24" (50.2 x 61 cm). © 2019 National Gallery of Art, Washington, DC. (NGA-P0874)
Although Vollon had won prizes in the salon in the bottom of the barrel category, he always aspired to be a figure painter. His one figural work submitted to the Salon, Femme du Pollet à Dieppe, in 1876 was extremely well received. However, it was shot down with one snide remark from an artist I used to like, proto-Impressionist Édouard Manet (1832–1883): "Bah! What is Vollon's Femme? A basket that walks." I would think Manet would have been a little humbler, seeing as he was roundly criticized ten years earlier for his Luncheon on the Grass!
Manet's criticism effectively relegated Vollon to the "still life" category for good. I'm not sure if he ever ventured one of his landscapes, which was only a rung or two from the bottom. Well, as far as I'm concerned, if still life was an important subject for Dutch Baroque artists, including Rembrandt (1606–1669), it's good enough for me. I put it at the top of the list.
Vollon, who painted during the heyday of the Impressionist movement, was basically trained in the Realist tradition, with the typical earth-tone based palette of the Barbizon artists. Born in Lyon, he studied under the academic realists Georges Vibert (1840–1902) and, after moving to Paris in 1859, Théodore Ribot (1823–1891). Like Ribot, who painted mainly still life, Vollon was greatly influenced by the Dutch still-life painters of the 1600s.
Vollon once said that he was madly in love with painting, but he was also in love with the idea of having his work go down in history. He worked very hard at exhibiting in the official Salon in Paris, and even exhibited once in the Salon of Refused Artists (1863). Eventually, his still-life painting secured third (1865), second (1868), and first-class medals (1869) in the official Paris Salon. Despite that fact, he always longed to be accepted as a figure painter, hence the debacle with Manet's stinging critique.
Kitchen scenes, food preparing, and kitchen objects were a major part of Vollon's body of work. It is reminiscent of the still-life works of the Bourgeois Baroque painter Jean-Baptiste Siméon Chardin (1699–1779), whose still-life work, too, was lauded at the Academy Salon. Vollon's Mound of Butter depicts the manner in which butter was purchased from farms where it was produced, wrapped in cheese cloth.
Unlike Baroque artists' flawless surface treatment of still life, Vollon has built up an impasto of brush strokes in the butter to imitate the motion of the knife. This may have been an influence of Impressionism. The dark palette, neutral dark background, and presentation on a shallow table are all traditional aspects of Baroque still life painting.
Correlations to Davis programs: A Personal Journey 2E: 2.6; Discovering Drawing 3E: 3; Explorations in Art 2E Grade 1: 1.5; Explorations in Art 2E Grade 2: 5.4; Explorations in Art 2E Grade 4: 6.8; Explorations in Art 2E Grade 5: 2.3; Explorations in Art 2E Grade 6: 1.8.