Curator's Corner
An Art Ode to Labor Day Week, part 2
---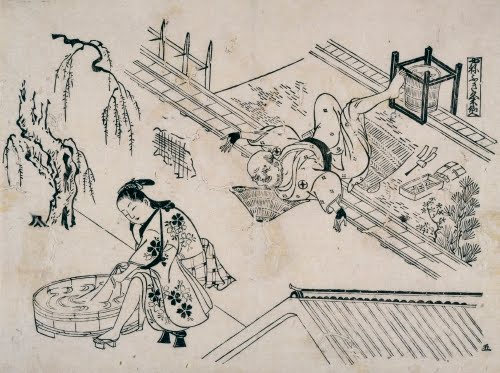 Okumura Masanobu (1686–1764, Japan), A Roofer's Precariousness. Woodcut print on paper, 10 3/4" x 14 5/8" (27.3 x 37.1 cm). © 2017 Brooklyn Museum. (BMA-1135)
I guess this roofer should have kept his mind on his work, rather than turning to ogle the young woman innocently baring her leg while doing her laundry. Even doing the laundry, she is depicted in the height of fashionable kimono and the latest coiffure, one of the key elements of ukiyo-e. This print is charming in so many ways, especially the little hint at traditional Japanese landscape with the tree in the upper left. I'm never quite sure what the roofer is actually working on, since he seems to be straddling a garden wall. But the dizzying perspective of the architectural elements creates a solid background for the main plot.
The Tokugawa shogunate (1603–1868) maintained strict control over every aspect of society, making amusing prints like this a welcome diversion to the hard-working middle class. The earliest ukiyo-e images are usually dated around the 1670s with paintings of beauties from the Yoshiwara. Monochromatic prints endured through the first two decades of the 1700s, when color started to be hand-applied. Multiple-block printing did not develop until the 1740s, when two-color prints appeared, called benzuri-e. Masanobu was also around for the development of multiple-block (as many as twelve colors) in the 1760s.
Ukiyo-e—pictures of the floating world—referred to the transience of the earthly pleasures of Japanese cities and their many entertainments. Ukiyo-e prints arose out of this milieu as a chronicle of the latest fashions, most popular actors, and famous beauties. They also documented humorous scenes of everyday life (genre).
Little is known about Okumura Masanobu's training or upbringing, until he appeared on the print scene around 1701. Early in his career he reworked a series of prints designed by Torii Kiyonobu (1664–1729). His elegant, lithe women established a fashion in prints that endured through the 1700s. By 1720, he was sufficiently successful to open his own publishing house, a rarity at the time. It gave him greater creative—and monetary—control.
Be sure to check out Part 3 of my Labor Day series tomorrow.