Curator's Corner
An Art Ode to Labor Day Week, part 3
I often marvel at how hard producers of the TV show M*A*S*H tried to faithfully depict everyday life in Korea. Of course, looking at this scene from the turn of the 1800s is an unfair comparison to 1950s Korea, but it does make me want to go home and watch some M*A*S*H shows! When one sees depictions of such mundane activities in Chinese and Japanese art of the same period, they are often done with "humor." In other words, those scenes have an element of mockery to them, particularly works by artists such as Hokusai (1760–1849). Kim Deuk-sin actually gives his scenes a sense of dignity, rather than send-up.
---
Labor Day Week continues with this album leaf depicting blacksmiths at work in Korea.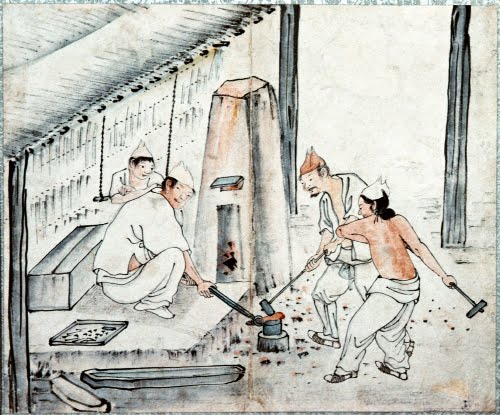 Kim Deuk-sin (1754–1822, Korea), Blacksmiths, leaf from an album of genre scenes. Ink and colors on paper. Gan-song Art Museum, Seoul, South Korea. Image © 2017 Davis Art Images. (8S-26191)
Throughout the centuries, Chinese art influenced Korean artists, particularly painting and ceramics. While landscape painting developed with a strong Chinese style in the Song Dynasty mode, indigenous styles appeared in figurative work, particularly genre scenes. The Joseon Dynasty is considered to be the period when Korean painting reached its maturity.
Koreans suffered greatly during the second half of the Joseon Dynasty (ca. 1590 onwards), first from Japanese invasion, then at the hands of the Chinese armies that came to Korea's aid, only to stay to pillage. By the 1700s, peace with China and Tokugawa Japanese isolation brought somewhat better conditions. Korea's greater degree of independence is reflected in the subtle elements of indigenous stylistic variations seen in paintings of this time. Painting was divided into two "schools": 1) landscape painting in the Chinese style and official portraiture; and 2) scenes of everyday Korean life.
Kim Deuk-sin and his brother Kim Sok-sin were leading genre painters of the late Joseon period. The brothers were sons of a court painter Kim Eungri. They became members of the royal guild of painters. That notwithstanding, they were pioneers and advocates of the "true view painting" style. The style, known as pungsokhwa, is represented in far more of Kim's works, particularly albums, than official portraiture.
This week's series continues tomorrow with Part 4.
Correlations to Davis programs: A Personal Journey: 2.3, 2.4; The Visual Experience: 13.6