Curator's Corner
Keep Summer Going with Color: Theodore Earl Butler
Although I guess technically August is the last full month of summer, once August rolls around New Englanders are prone to saying, "well, summer's over!" The only way an art historian can counter such cynicism is by showing Color. Theodore Earl Butler was an American Impressionist whose work bears comparison with that of American Impressionist leaders such as Childe Hassam (1859–1935). Unlike Hassam, who returned to the U.S. after a fruitful period in France and spread the style, Butler spent most of his Impressionist years in France.
---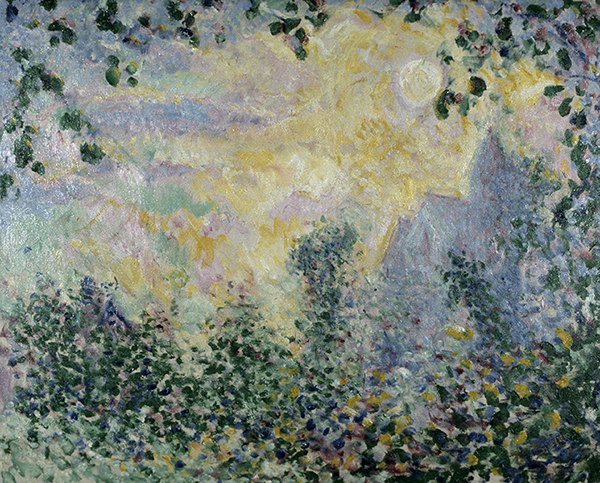 Theodore Earl Butler (1861–1936, U.S.), Sunset, Giverny Church, 1910. Oil on canvas, 25 ½" x 31 7/8" (65 x 81 cm). Photo courtesy of Richard H. Love Gallery, Chicago. Image © 2023 Davis Art Images. (8S-17090)
Landscapes such Sunset, Giverny Church recall the Nabis painters Édouard Vuillard (1868–1940) and Pierre Bonnard (1867–1947) with an infusion Pointillists Georges Seurat (1859–1891) and Paul Signac (1863–1935), more than Giverny's Claude Monet (1840–1926). Butler's palette, however, is still firmly Monet. The vague reference to space and non-local color help create a flat, decorative picture plane. Of the two versions of this composition that Butler executed in one sitting, this version by far contains a greater contrast between dissolved forms and more solidly modeled forms.
During the last half of the 1800s, painting in America was dominated by the Society of American Artists and the National Academy of Design in New York City. These institutions ruled the art world, and their juries decided who did and did not show at annual exhibitions, just as European academies did. Impressionism was artistically and aesthetically controversial in the 1890s.
French Impressionist works were introduced in New York exhibitions in the 1880s, and they were not well received by critics. By the time of the 1893 World's Columbian Exposition in Chicago, many American painters were working in impressionist styles, although painting at the time was still dominated by the brown-yellow landscapes of the academic artists. Many American artists in the 1880s went to Paris to study painting and were enthralled by the revolutionary style of Impressionism. They subsequently brought the style back to America.
Butler was born in Columbus, Ohio. His earliest painting lessons were with a local academic portrait and landscape painter, Albert Fauley (1859–1919). In 1882, Butler moved to New York and studied under American Impressionist William Merritt Chase (1849–1916) at the Art Students League, a progressive art school. Butler went to Paris to further his art training with another student inclined toward Impressionism, Phillip Leslie Hale (1865–1931).
In Paris, Butler enrolled in private schools and his painting La Veuve (The Widow) won honorable mention in the Paris Salon in 1888. The same year, he went with another Impressionist American painter, Theodore Robinson (1852–1896), to Giverny to meet the great master of Impressionism, Monet. Under Monet's influence, Butler began painting garden scenes outdoors in loose brushstrokes of pure color.
Other than John Singer Sargent (1856–1925) and Butler's own son, James (1893–1976), Butler was the only artist from the American colony in Paris allowed to paint in Monet's water lily garden in Giverny. He married Monet's stepdaughter, Suzanne Hoschedé (1868–1899), in 1892. After her death, Butler temporarily moved to New York in 1900, where he painted expansive views of the Brooklyn Bridge. Returning to Giverny six months later, he married Suzanne's sister, Marthe Hoschedé. Butler became a permanent resident of Giverny until World War I (1914–1918), returning in 1921 and remaining for the rest of his life.
In Giverny, Butler began painting landscapes almost exclusively. He became a key link between the American painters and Monet. However, Butler's style exceeded the Impressionistic aesthetic of Monet, and he incorporated many of the elements of both Pointillism and the Nabis with an emphasis on simplification of form into shapes, color contours, and flattened form.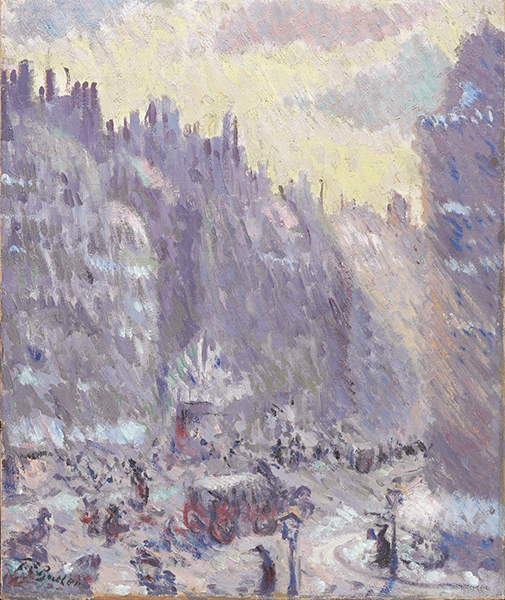 Theodore Earl Butler, Place du Havre, Windy Day, 1909. Oil on canvas, 25 ½" x 21" (64.8 x 53.3 cm). © 2023 Philadelphia Museum of Art. (PMA-17088)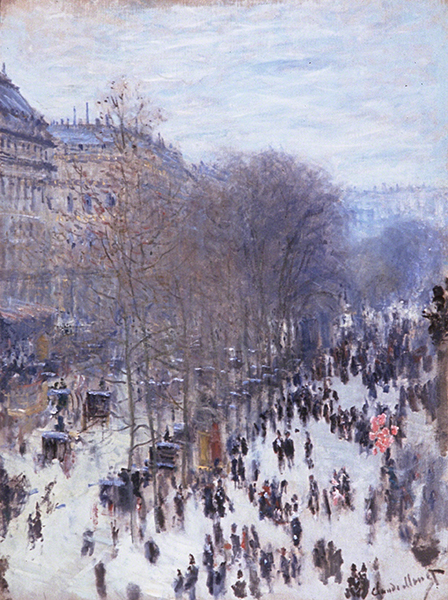 Claude Monet, Boulevard des Capucines, 1873. Oil on canvas, 31 5/8" x 23 3/4" (80.3 x 60.3 cm). © 2023 Nelson-Atkins Museum of Art. (PFF-0195)
Art critic Ernest Chesneau (1833–1890) once ridiculed Monet's many versions of Boulevard des Capucines (1873–1874) as an "indecipherable chaos of palette scrapings." I imagine his response to Butler's work 36 years later might have been softened. However, Butler's view of Paris on a windy day is a truly remarkable transformation of Impressionism into a Futurism-like scene with the slashing brushstrokes of broken color taking on a visual impression of wind.
Correlations to Davis programs: Explorations in Art 2E Grade 5: 6.1; A Personal Journey 2E: p. 290; A Global Pursuit 2E: 7.4; A Community Connection 2E: 5.4; Discovering Art History 4E: 7.1