Curator's Corner
Pfahl for Fall
---
I'm always intrigued with novel interpretations of an ages-old subject matter that can, quite frankly, get rather dry over time. Pfahl's interpretations of landscape are an interesting take on the viewer's perception of what landscape actually is. His landscape photography combines what is seen with how to interpret it (or misinterpret it) based on his brilliant framing of his subjects.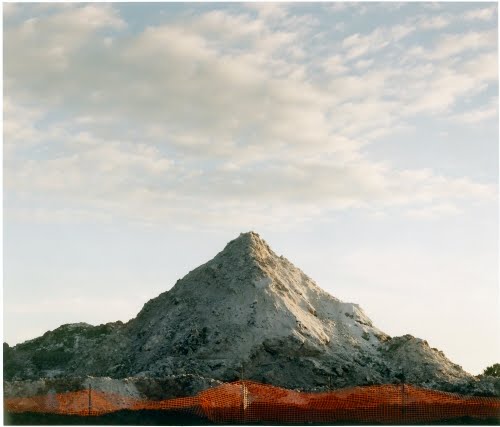 John Pfahl (born 1939, US), Toxic Waste Reclamation Site, Niagara Falls, New York, from the Piles series, 1996. Chromogenic print on paper, 16" x 20" (40.6 x 50.8 cm). Photo © Albright-Knox Art Gallery, Buffalo, NY. Art © 2018 John Pfahl. (AK-2021)
Pfahl, born in New York City, studied at Syracuse University, first receiving a BFA in 1961 and then an MA in communications in 1968. He taught photography at Rochester Institute of Technology and has served as a professor at the Visual Studies department at the University of Buffalo.
Throughout the 1900s, artists questioned the very nature and purpose of art. By the late 1900s, many photographers had concluded that photography was not a medium that always had to record absolute fact. This was not in the sense of Pictorialism's staged fantasies, but rather in the way the artist framed his subject without distorting focus or perspective. Pfahl explores ways to produce landscape images composed in such a way as to emphasize ambiguity and uncertainty in the viewer.
Pfahl's landscapes deal not only with presenting them in compositions that question vantage point and scale of forms, but they are informed by his abiding love of landscape and of the environment. Many of his works deal with the erosion of environmental standards, couched in compositions that resemble landscapes. Such was the case with his Piles series of the 1990s. Emulating Ansel Adams' (1902–1984) iconic views of the Sierra Nevada Mountains in California, Pfahl carefully observed light, atmosphere, and scale in his photographs.
The Piles series features mounds of raw and recycled materials, debris, tires, soil, and toxic waste, imbued with a sense of monumentality and grandeur of real mountains. Pfahl isolates his subjects in this series brilliantly so that scale is uncertain. The only thing that gives it away in this one is the orange plastic fence. And even that could be mistaken for a fence in front of an impressive vista across a valley! He purposely elevates these piles of garbage into a grandeur that he recalls from seeing such alluringly lighted views of mountains in the Sierras and the Alps. A series from 2014, Picture Windows, exhibits the same careful attention to framing and scale in a series of landscape views in which picture windows act as the lens of the camera.
Correlations to Davis programs: Focus on Photography 2E: 10