Curator's Corner
It's All How You See It
Winter landscapes full of snow are a joy to behold. Of course, snow in the mountains is even more joyous to behold. Imagine a series of photographs that presents piles of various materials as landscapes. This is the brilliant work that artist John Pfahl did with his 1990s series Piles. What better way to elevate a pile of miscellaneous materials than a beautiful and monumental composition? I sometimes think that this series could also be titled Mountains.
---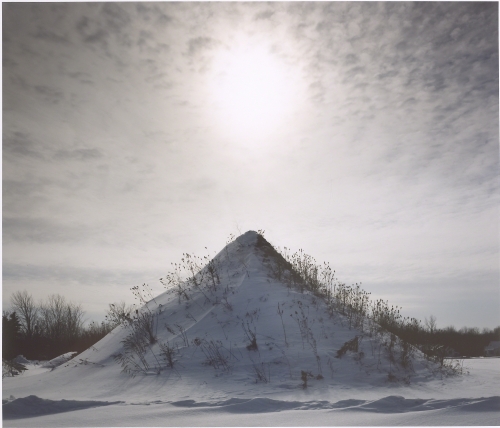 John Pfahl (born 1939, US), Nursery Topsoil Pile (Winter) Lancaster, NY, from the Piles series, 1994. Chromogenic print on paper, 16" x 20" (40.6 x 50.8 cm). Albright-Knox Art Gallery, Buffalo, NY. © 2018 John Pfahl. (AK-2019)
The study of the history of photography often includes that of landscapes. One of the types of views of landscapes often discussed, such as in the Davis book Focus on Photography 2E, is the grand landscape. This term was coined to describe the panoramic landscapes of the American West in the late 1800s, when it was a vast, unexplored territory. The photography of John Pfahl turns the idea of the grand landscape on its head in his brilliant series called Piles.
Ansel Adams (1902–1984) and Eadweard Muybridge (1830–1904) had their Sierra Nevada Mountains, and Timothy O'Sullivan (1840–1882) his Rocky Mountains. Pfahl is inspired by the grand landscapes of Adams, and tries to create photographs of piles of various materials in imitation of the grandeur of the grand landscape style. He judiciously works with light, atmosphere, and scale to produce images of piles of such things as topsoil or wood scraps to create images that imitate the monumental feeling of mountain photographs.
Pfahl's Pilesworks are not meant to look natural, because he is not interested in pure landscape photography. He prefers for the viewer to make a mental connection to real mountains from the images. This creates an intellectual construction tool out of a photograph, as disbelief that this is not a landscape is suspended. Pfahl prefers the ambiguity, although he does admit the finished photographs remind him of his love for the mountains he has seen in his travels.
Pfahl was born in New York and grew up in New Jersey. He received a BFA and MA from Syracuse University. He was interested in cartography (mapmaking) as a young man. Like a cartographer, he uses visual symbols to help the viewer construct a landscape out of the piles of detritus. In documenting such debris as automobile tires or leaves, he creates something monumental from material that has a less-than-monumental back story. In this way, Pfahl is hoping viewers of his Pilesseries will reevaluate landscape as subject matter, as well as their relationship to it.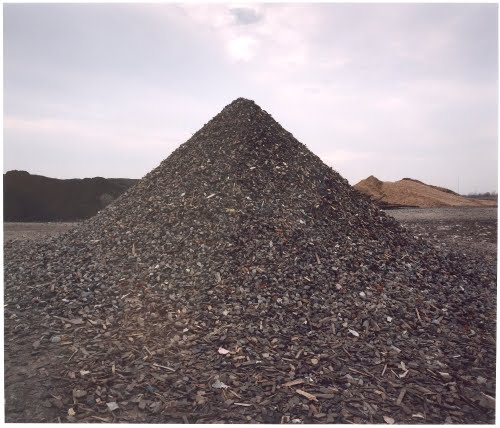 John Pfahl, C & D Pile, Modern Salvage Company, Model City, NY, from the Piles series, 1994. Chromogenic print on paper, 16" x 20" (40.6 x 50.8 cm). Albright-Knox Art Gallery, Buffalo, NY. © 2018 John Pfahl. (AK-2020)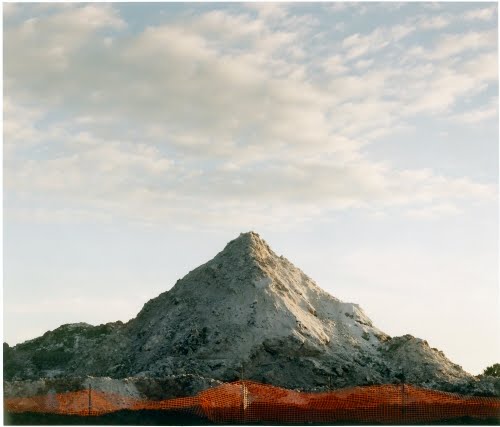 John Pfahl, Toxic Waste Reclamation Site, Niagara Falls, NY, from the series Piles, 1996. Chromogenic print on paper, 16" x 20" (40.6 x 50.8 cm). Albright-Knox Art Gallery, Buffalo, NY. © 2018 John Pfahl. (AK-2021)