Curator's Corner
Invented Worlds of Maria-Helena Vieira da Silva
One of the most fascinating abstract movements to emerge in the mid-1900s was Art Informel. Often termed European Abstract Expressionism, the artists of the group emphasized intuitive, spontaneous, and automatist expression, just like the New York School artists did. Maria-Helena Vieira da Silva was a leading painter of this group of fascinating artists.
---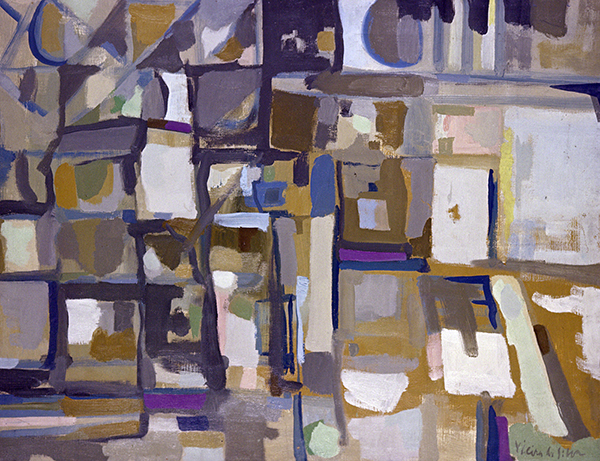 Maria-Helena Vieira da Silva (1908–1992, Portugal-France), Stones, 1950. Oil on canvas, 19 5/8" x 25 3/8" (49.9 x 64.5 cm). The Phillips Collection, Washington, DC. © 2023 Helena-Maria Vieiera da Silva / Artists Rights Society (ARS), New York. (PC-417vdars)
Many of Vieira da Silva's paintings, such as Stones, imply architectural spaces or elements. The irregular grid is reminiscent of patterns found in a stone wall or pavement, but the other random elements within the composition suggest eroding architecture. Her compositions are often more linear and geometric with a restricted palette than most of the Art Informel lyrical abstractionists. From 1950 forward, her perspective/non-perspective compositions had evolved into flattened, grid-like abstractions. Like many of her works, Stones visually looks like a surface covered in colorful tiles, with diagonal lines giving the effect of disorder (destruction). While abstract, the work still evokes the idea of architecture.
In post-World War II (1939–1945) Paris, a group of artists became increasingly interested in abstraction that was not dogged by a philosophy or canon, such as the pre-war styles of De Stijl, Constructivism, and Suprematism that had dominated European aesthetic through the Bauhaus. These artists sought pure abstraction that was spontaneous, intuitive, and guided by emotion ("lyrical abstraction"). It coincided with similar developments at the same time in the U.S. with Abstract Expressionism.
Critics coined a variety of terms for the movement. A French critic gave the movement the name Art Informel (Formless Art). Another named it Tachisme, related to the French word tache, which means "stain" or "drip." Tachisme referred specifically to the French version of "action painting." The movement was also called l'Art Autre (the "other art"). The artists of Art Informel worked in various types of totally nonobjective abstraction.
Vieira da Silva was born in Lisbon, Portugal. As a young person, she travelled extensively in Europe, encountering numerous modernist art movements in the formative period for modern Western art. She studied drawing in Lisbon and moved to Paris in 1928. There she studied at the avant-garde (forward looking) Academy of the Great Thatched Roof, a low-cost painting and sculpture school that was free of conservative academic teaching. In Paris, she absorbed a variety of influences from geometric abstraction to decorative coloration.
Over time Vieira da Silva's painting developed into a combination of Cubism, Futurism (Italian Cubism that emphasized movement and the machine), and Russian Constructivism (basically geometric abstraction). Her works were overall characterized by the curious interaction of a deep perspective with the picture plane fractured by jagged shapes (non-perspective).
In 1939, Vieira da Silva fled to Brazil to escape World War II. Returning to Paris in the late 1940s, her work became part of the lyrical abstraction that was a dominant trend of the post-war Paris school. Vieira da Silva became a major painter in the Art Informel movement, combining her abstract planar aesthetic with subjects that delved into her lamentations of the ruins of World War II. Up until her death, her paintings contained mystical references to architecture. Her works from the 1950s attracted the attention of the Abstract Expressionists in America.
Correlations to Davis programs: The Visual Experience 4E: 1.2, 4.3; Explorations in Art 2E Grade 4: 6.7; Explorations in Art 2E Grade 6: 5.1