Curator's Corner
Hispanic Heritage Month 2023: Galo Galecio
During the early to mid-1900s, many Central and South American artists gradually developed schools of modernist art, moving away from the domination of Spanish styles that had endured in art academies through the 1800s. Many modernist movements were vehicles for nationalistic and political imagery, most notably in the mural movements that swept the region. Ecuadorian artist Galo Galecio was a muralist, painter, printmaker, and ceramic artist. His expressionist-realist style explored the lives of the hardworking poor in Ecuadorian society.
---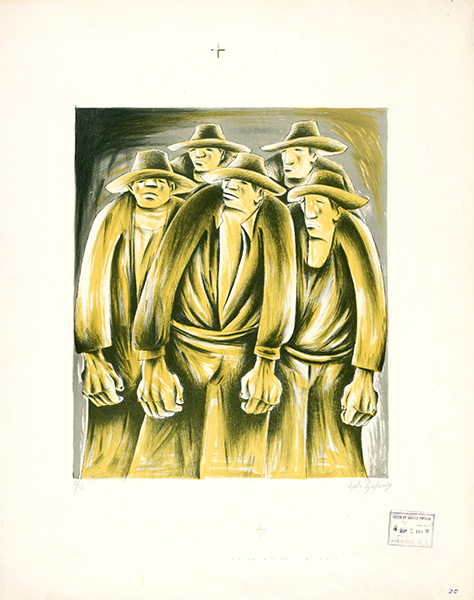 Galo Galecio (1906–1993, Ecuador), Workers, 1946. Color lithograph on paper, sheet 24 ½" x 19 ¾" (62.2 x 50.2 cm). Courtesy of the Philadelphia Museum of Art. © 2023 Artist or Estate of Artist. (PMA-4605)
Galecio's images of the hardworking rural people of Ecuador are very much in the same spirit as the works of fellow Ecuadorian painter Diógenes Paredes (1910–1968), whose body of work tended to emphasize the life of farmers. Galecio's images showed a variety of backbreaking labors of Ecuadorian people, including fishing, farming, and mining. He also produced many images of rural poverty and the differences between the middle class and the poor. Galecio's exaggerated figure style is much closer to that of mural painter David Alfaro Siqueiros (1896–1974)—whom he befriended while in Mexico—than to that of famed muralist Diego Rivera (1886–1957). Galecio tended to emphasize overly large hands and haggard faces in his figures as symbols of the hard work these men and women had to perform. The Workers print was produced during Galecio's time in Mexico.
Since the 1500s—when the Spanish invaded, conquered, and brutally subjugated the indigenous people of Ecuador—Ecuadorian art has had two strains that have coexisted and ultimately combined: the indigenous and the European influenced. Throughout the Spanish territories of Central and South America, the Spanish initially tried to force the Spanish Baroque style on native artists with some success. Gradually, Spanish conquerors realized that indigenous artists brought a fresh perspective to European styles.
As the Spanish and indigenous cultures blended, many Ecuadorians looked to Europe, predominantly Spain, for artistic training up until the 1900s. Starting in the first quarter of the 1900s, this changed to include Paris as a destination, where Ecuadorian artists learned of the latest developments in modernism. With the rise of indigenous political activism in the early 1900s, many artists used modernism to serve political ends, like the Mexican muralists. When modernism finally took hold in Ecuadorian art, the Indigenista movement also spawned a mural movement starting in the 1940s.
Galecio was born in Vinces, Ecuador. He studied painting from 1925 to 1930 at the Guayaquil School of Fine Arts under a Spanish Impressionist landscape painter. From 1929 on, he created caricatures and illustrations for Ecuadorian newspapers and painted landscapes. He received a scholarship from the Ministry of Education to study printmaking and mural painting in Mexico from 1944 to 1946.
While in Mexico, Galecio worked with Rivera and became a member of the Taller de Gráfica Popular (Peoples' Printmaking Studio). During that time, influenced by the work of Mexican muralists, Galecio formed a realist/expressionist style that he used to explore the neglected rural poor of Ecuador, particularly indigenous peoples and Afro-Ecuadorians. After returning to Ecuador, he painted murals in Quito and Tulcán, including one called The History of Ecuador. Late in his career, Galecio became a professor of printmaking at the School of Fine Arts in Quito. In 1987, he received the Eugenio Espejo Prize for his lifetime achievements in the arts.
Correlations to Davis Programs: Explorations in Art 2E: Grade 6, 1.3, 1.4; Experience Art: 2.1, 6.3; A Personal Journey 2E: 2.1; A Global Pursuit 2E: 5.1, 5.5; The Visual Experience 4E: 8.6; Exploring Printmaking: Chapter 6