Curator's Corner
Gem of the Month: Oki Sato
It's always refreshing to learn about a designer who combines an unconventional aesthetic with concern for our climate-changing planet, so Oki Sato's Cabbage Chair is my Gem of the Month.
---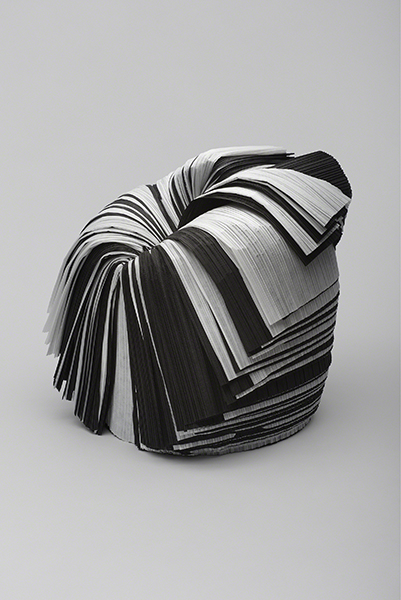 Oki Sato (born 1977, Japan), manufactured by Nendo (2002 to present, Tokyo), Cabbage Chair, 2008. Resin-impregnated pleated paper, 25 5/8" x 29 ½" x 29 ½" (65 x 75 x 75 cm). Courtesy Philadelphia Museum of Art. © 2022 Oki Sato. (PMA-8602)
Sato's dedication to his field earned the notice of fashion designer Issey Miyake (born 1938) in 2007. Miyake is renowned for his designs that incorporate a multitude of pleats. The pleating process generates piles of sheets of paper, which are discarded. Miyake approached Sato with a proposal that he design a product that could repurpose the discarded paper.
The Cabbage Chair emerged out of Miyake's proposition. Sato's idea was to take bundles of the tossed paper sheets and make them into a chair. He sliced the paper down the side and peeled the sheets apart. In spirit, the aesthetic of the Cabbage Chair resembles that of Frank Gehry's (born 1929) furniture made from used corrugated cardboard of the 1970s. The Cabbage Chair, the result of sheer experimentation, was produced by Sato's design firm Nendo, whose design aesthetics are driven by a traditional sense of Japanese meticulous attention to perfection.
The history of furniture and product design is defined by forms that have accommodated human needs and the human body through the many vicissitudes of fashion and what is fashionable, impacted also by concurrent trends in painting, sculpture, and architecture. In essence, design is an excellent gauge of what has happened in history, socially, politically, and artistically. The rapid industrialization of Western Europe and the United States during the late 1800s and early 1900s had a major impact on, at first, the mass production of furniture and household devices, and later on the styles.
As the 1900s progressed, design was less about conformity and more about being a reflection of a modern, industrial, progressive society. With that in mind, many design artists create in much the same ways as many contemporary painters or sculptors, as avenues of personal expression, regardless of what is the current trend. In the 2000s, design has truly evolved to the point where it is often indistinguishable from sculpture or installation.
After the rapid industrialization and Westernization of Japan during the Meiji Period (1868–1912), Japan became a major industrial world power. After the mistake of World War II (1939–1945), Japanese designers focused on updating Japanese design to accommodate Western aesthetics with the already established Japanese brilliance in technical innovation.
In the 2000s, Japanese technical innovation has combined with a popular aesthetic trend called kawaii (cuteness). This trend initiated in the 1990s with the worldwide popularity of anime and manga. It has come to characterize an aesthetic movement in which cuteness is the emphasis. This idea of cuteness extended also into the realm of furniture design.
Born in Toronto, where his father was working, Sato spent 10 years in rural Canada. He claims he was not particularly interested in art as a child but became immersed in manga and anime when his family moved back to Japan. He also became a regional champion in video games. While studying architecture at Waseda University in Tokyo, he also explored drawing caricatures and cartoons, finding the architectural curriculum too restrictive.
Sato's artistic epiphany came in 2002 when he attended the Milan Salon of Furniture, the world's largest design exhibition. There he discovered furniture designers who designed clothes, and fashion designers who designed interiors. In other words, he found the world of design far more accommodating to his playful, creative nature than architecture.
Gathering a group of like-minded designers, Sato founded the design group Nendo in Tokyo in 2002. Nendo has designed a wide range of products from disposable pens to high-brow furniture. Sato's kawaii design sense defies Western perceptions of Japanese design as reserved, severe, and bound by traditional forms, while maintaining integrity and passion in his designs.
The original design of the Cabbage Chair was produced from untinted discarded paper: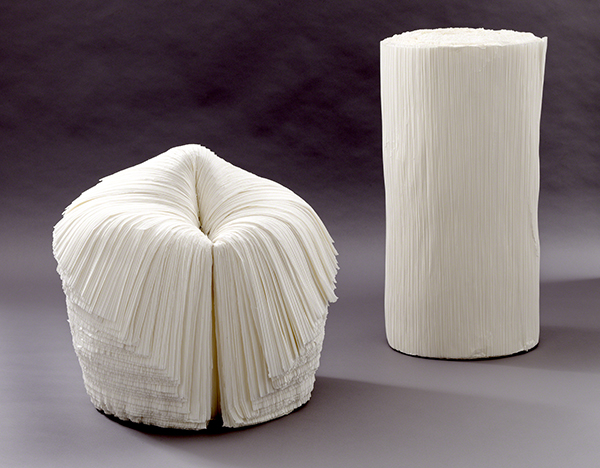 Oki Sato, manufactured by Nendo, Cabbage Chair, 2007. Pleated recycled paper, chair: 29" x 33""(73.7 x 83.8 cm), roll: 36" x 20" (91.4 x 50.8 cm). Courtesy The Museum of Modern Art, New York. © 2022 Oki Sato. (MOMA-D1062)