Curator's Corner
Facing the Past: Jennifer Karady
Many people would probably prefer to forget about the wars in both Afghanistan and Iraq, but there is something therapeutic about facing them and admitting they happened. Artist Jennifer Karady uses her work to encourage healing for our service members by allowing them to reconstruct and ultimately come to terms with their often-horrifying experiences.
---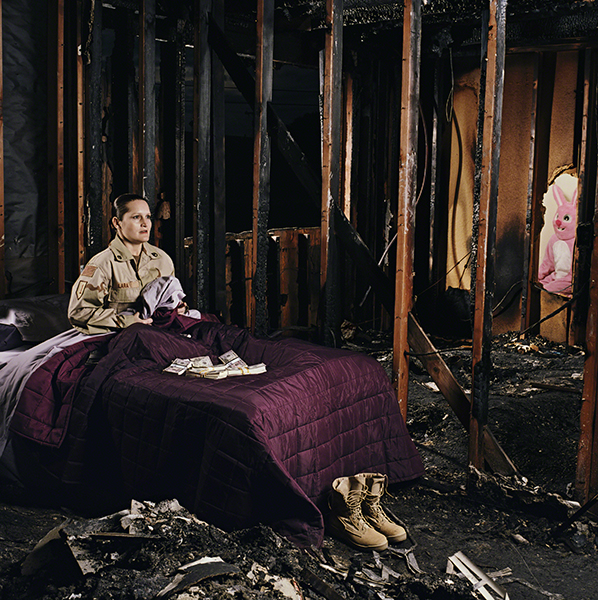 Jennifer Karady (born 1967, U.S.), Former Staff Sergeant Starlyn Lara, C Detachment, 38th Personnel Services Battalion, 1st Infantry Division, Veteran of "Operation Iraqi Freedom," Treasure Island, San Francisco, January 2010, from the series In Country: Soldiers' Stories from Iraq and Afghanistan, 2010. Chromogenic print on paper, 48" x 48 1/8" (121.9 x 122.2 cm). Image courtesy of the Buffalo AKG Museum, Buffalo, NY. © 2023 Jennifer Karady. (AK-3038)
Karady's interdisciplinary art project and traveling exhibit In Country: Soldiers' Stories from Iraq and Afghanistan is unique in the history of documenting American wars because it focuses on long-term effects rather than immediate trauma. The artist works with veterans returning from Iraq and Afghanistan to explore their experiences both in battle and in transitioning to life as a civilian.
Placed within the context of everyday life in America, these photographs highlight the challenges of living with memories of time spent in the military while having to maintain so-called normal life upon returning home. Recontextualizing moments from these two wars in familiar settings, Karady juxtaposes the experiences to heighten the dramatic impact of the image. In this work, Former Staff Sergeant Starlyn Lara relives surviving a roadside bomb in Iraq.
The process of photographing veterans reenacting traumatic events is a collaboration between photographer and subject. Karady conducts interviews with the veteran to plan the photograph in which the veteran recreates a memory selected from the interview. Each photograph is carefully constructed, often with the veteran in uniform and sometimes featuring their loved ones. Exhibits of the photographs include quotes from the interviews.
War has been an integral "testing ground" for the perception of the medium of photography as absolutely factual. After photography was invented in 1839, several wars broke out that gave photographers a chance to experiment in the field of war photojournalism. However, it was the Crimean War (1853–1856) that produced the first large body of photographic images that count as war photojournalism. In the U.S., Daguerreotypes documented the Mexican War (1846–1848), but photographs of the Civil War (1860–1865) were by far the most extensive and grisly documentation of war's brutality.
Horrors of World War II (1939–1945) and the Korean War (1950–1953) were graphically documented, as were those of the Vietnam War (1955–1975). Vietnam was extensively covered by photojournalists and became the U.S.'s first "television war," where images were transmitted by nightly TV news broadcasts.
Western governments learned from these conflicts that too much accessibility to the press in combat was politically unwise. Furthermore, the inundation of images of war to the American public caused "compassion fatigue." Since the Grenada War (1983), the Western press has been strictly monitored about what it can and cannot cover photographically. But this has not curbed artists from using photography in the interest of social practice.
Born in Elizabeth, NJ, Karady now lives and works in Brooklyn. Although her work documents an American experience, Karady does not describe herself has a photojournalist or documentarian. She is an artist who, starting in 2004, looked for a way to make sense of what military veterans experienced in Afghanistan and Iraq. Photographing and interviewing veterans is something of a therapeutic process, allowing veterans a safe, supportive space in which to express their experiences and acknowledge their trauma.
View another artwork from In Country: Soldiers' Stories from Iraq and Afghanistan in my post from 2020.
Correlations to Davis Programs: Focus on Photography 2E: Chapter 6; The Visual Experience 4E: 9.1