Curator's Corner
Blossom Dedicated to Art Teachers
A good friend of mine—who is an art teacher (from home now) in Ohio—recently shared pictures with me of a lesson about taking selfies inspired by famous paintings. Her own examples were so brilliant. It got me to thinking: during this pandemic crisis, I think that there is a group of heroes who have, more or less, been left out of the media's ratings-grabbing attention. That would be TEACHERS. It has got to be challenging for teachers to work over Zoom, and it must be additionally challenging for ART TEACHERS whose work is so hands-on intensive. Despite the lackluster support for education in this country, I am constantly aware of how important the job teachers do is to the future of this world. I therefore dedicate this giant blossom to art teachers, who are among the true heroes of our culture, and who get all too little credit most of the time.
---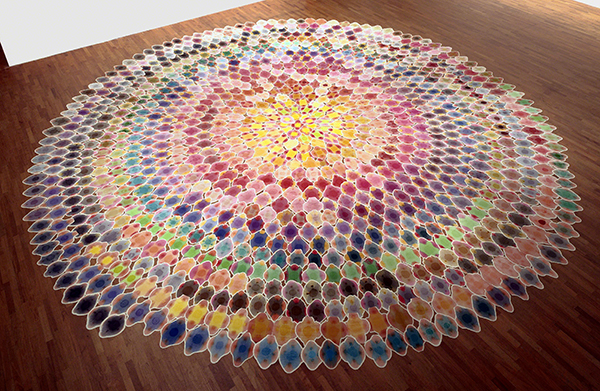 Polly Apfelbaum (born 1955, U.S.), Blossom, 2000. Synthetic velvet and fabric dye, approximate width: 18' (548.6 cm). Image © 2020 Museum of Modern Art, New York. Art © 2020 Polly Apfelbaum. (MOMA-S0514)
Polly Apfelbaum's work first attracted notice with her pieces of the early 2000s in the "fallen painting" category. Using preliminary sketches to map out her paintings—which she believes exist somewhere between painting and sculpture—she meticulously hand-dyes fabrics in colors inspired by magazine spreads, advertising and package design, and other glaringly colored objects of commercial culture.
Apfelbaum arranges these dyed pieces in eye-catching combinations that often mimic organic forms. Her work concentrates on painterly issues such as color, line, and flatness, even while they define a three-dimensional space. While her work may reflect the influence of feminism from the Pattern and Decoration movement, it is solidly rooted in the pure joy in and appreciation for color.
Born in Abingdon, Pennsylvania, she earned a BFA from Tyler School of Art in Philadelphia in 1978. Initially classifying herself as a sculptor, her installations of the 1980s and 90s consisted of stuffed fabric and stained fabric arranged horizontally on the gallery floor.
The artist credits the Pattern and Decoration movement in New York of the late 1970s and seminal floor installation artists such as Lynda Benglis (born 1941) and Carl Andre (born 1935) as inspirations for her work. It is tempting to compare Apfelbaum's "fallen paintings" with the late-1960s works of Benglis, who used pigmented latex and polyurethane to form what she, too, called "fallen painting."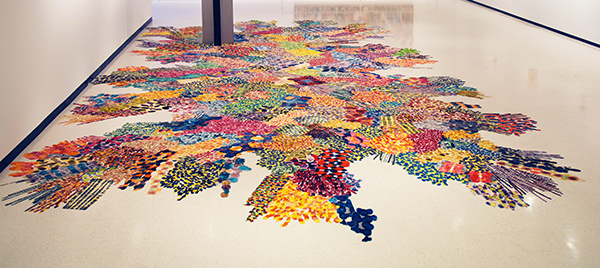 Polly Apfelbaum, Reckless, 1998. Synthetic velvet with fabric dye, installed dimensions variable. Image © 2020 Albright-Knox Art Gallery, Buffalo, NY. Art © 2020 Polly Apfelbaum. (AK-3709)