Curator's Corner
It Isn't All in the Title
I'm always a sucker for color. When I see works that I've never seen before by an artist I've always admired, and they involve color, then I have a sudden Beauty Attack. When Lynda Benlgis was asked for an artist's statement for the publication Art: A Woman's Sensibility (© 1975 Miriam Schapiro), she responded: "My statement is my work." This is just so appropriate to her oeuvre that is so varied and so wonderful. I had never seen these watercolors before. Beauty Attack!
---
| | | |
| --- | --- | --- |
| | | |
| Lynda Benglis (born 1941, US), Untitled, 1998. Watercolor on paper, Sheet: 16" x 12" (40.6 x 30.5 cm). Albright-Knox Art Gallery, Buffalo, NY. © 2017 Lynda Benglis / Licensed by VAGA, New York. (AK-2521bnvg) | | Lynda Benglis, Untitled, 1998. Watercolor on paper, sheet: 16" x 12" (40.6 x 30.5 cm). Albright-Knox Art Gallery, Buffalo, NY. © 2017 Lynda Benglis / Licensed by VAGA, New York. (AK-2522bnvg) |
By the early 1960s, there were artists who rebelled against what they perceived as Abstract Expressionism's domination of the American contemporary art scene. This "rebellion" not only spawned Pop Art, but also various types of abstraction, including Minimalism. In contrast to the personality-stamped action painting or color field works of AE, Minimalism strove for pure, abstract form devoid of the artist's personal footprint in the work of art's creation.
Minimalism, however, like many of the reactions against Abstract Expressionism, became an entrenched, canonic style that was also subject to rebellion. Benglis's work since the 1960s has flown in the face of art ideologies and "movements." In her exploration of form in all media, she rejects the notion of leaving no personal signature in her works. In a way, many of her works are about process, and that's why she says "My statement is my work."
Benglis pioneered forms of metamorphic oozing and melting. Her art is sometimes lumped under Process Art because the act of creation, rather than the finished work, emphasizes a timelessness and structural stability. The Process artist's action is finished then the substance is selected and a site chosen, often in a random way. The rest is left to natural forces, time in conjunction with weather, gravity, temperature, etc.
Benglis's watercolors, like her dramatic multicolored pigmented work, are documents of her process of creation. I dare say these glorious watercolors would have been lauded in the days of Abstract Expressionism. In the late 1990s period of appropriation, hybridism, and narcissism, however, they are refreshing reminders that some artists remain true to their vision of pure self-expression without boundaries or agendas.
Benglis, born in Louisiana, became interested in the interrelationships between painting and sculpture in the late 1960s. She is arguably best known for her early experiments in pouring brightly colored liquid polyurethane as installations in galleries, creating floor paintings that could easily be associated with sculptors pouring molten bronze.
From these floor pieces Benglis began creating three-dimensional pourings, almost exclusively site specific. Pieces that were meant to fill corners of galleries or hug parts of buildings evolved into hung poured pieces, sometimes covered in Day-Glo paint. She later began casting the poured polyurethane sculptures in bronze to make a less fragile and temporary sculpture, yet still express the process of unsupervised creation through pouring.
I absolutely LOVE this piece at the Albright-Knox Art Gallery. Is it a sculpture? Is it a painting? Do you LOVE the color?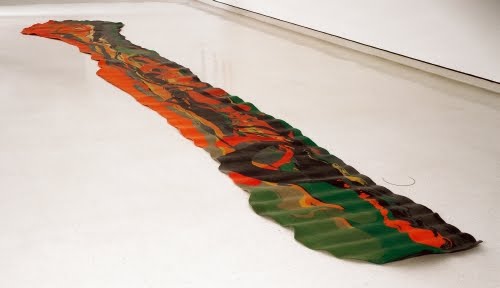 Lynda Benglis, Fallen Painting, 1968. Pigmented latex rubber, length: ca. 29.5 feet (901.7 cm). Albright-Knox Art Gallery, Buffalo, NY. © 2017 Lynda Benglis / Licensed by VAGA, New York. (AK-127bnvg)
I'm not fond of the colors of these melt pieces, but imagine this in contrast to the works of Sol LeWitt or Frank Stella! However, as you can see from the above works, this artist clearly likes working with color.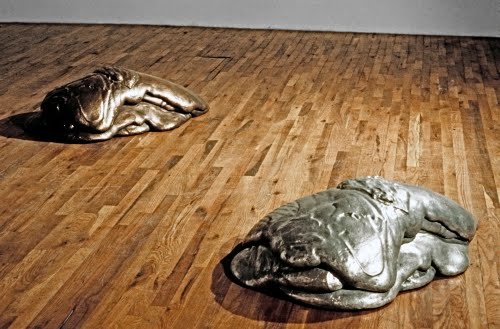 Lynda Benglis, Modern Art, 1974. Bronze and aluminum, each: 13" x 43" x 29 1/8" (33 x 109 x 74 cm). Private Collection, New York. Photo courtesy of the artist. © 2017 Lynda Benglis / Licensed by VAGA, New York. (T18596bnvg)