Curator's Corner
Being Thankful for Art
Thanksgiving is supposed to be a time to be grateful for the gifts with which we've been endowed in life, not gluttony. One of the things I'm eternally grateful for is the many, many, many museums I've been able to visit in my life, and the wonderful art I've seen. In 2013 I was fortunate to see the painting below at the Brooklyn Museum, and it really made my appreciation for Monet increase all the more, if that's even possible. Unfortunately, the Brooklyn Museum has deaccessioned (probably sold at auction) this little gem. The act of deaccessioning works from a museum's collection didn't dawn on me until the 1990s, and I remember being shocked that museums would sell off artworks. But such sales help museums upgrade their collections. Still, I hate saying goodbye to this wonderful little painting.
---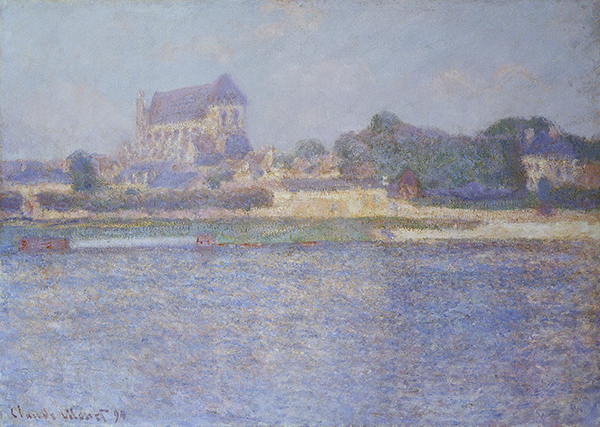 Claude Monet (1840–1926, France), Church at Vernon, 1894. Oil on canvas, 26" x 36 5/8" (66 x 93 cm). Formerly Brooklyn Museum.
After moving to Giverny in the early 1880s, Monet focused on nearby views up and down the Seine. In 1883 he painted the first in a series of views of the collegiate church in Vernon. In the 1890s, the period of his Rouen Cathedral and Poplar series, he painted several views of the same church in a markedly different style, in which much of the detail was softened or eliminated altogether. This reflects the changes his palette and vision underwent when he was in Antibes in 1888.
Church at Vernon, although painted years afterwards, reflects perhaps best of all—outside of his foggy London scenes—the influence British Romantic Joseph M. W. Turner (1775–1851) had on Monet's work. Fleeing the Franco-Prussian War (1870–1871), Monet went to London to wait it out. While there, not only did the peculiar British weather influence his artistic vision, but also the landscapes of Turner, particularly his use of white and his watercolors.
Monet did not use white in his works because he was dissatisfied with how it flattened his space. He came to the realization that he could achieve an overall lightened atmospheric (foggy) effect by placing high value swipes of different colors next to one another in order to achieve that scintillating, yet veiled, effect of fog. That usage is very evident in this foggy vision of the church at Vernon. Monet felt that Turner did not understand the true nature of shadows—combinations of dark-value complementary colors—rather than using burnt sienna or black. He felt that shadows in Turner's paintings became "holes."
Another artist who influenced Monet greatly was the Romantic landscapist John Constable (1776–1837). Constable said that one reason most artists' landscapes at the time were flat and uninteresting was because they tended to use one shade of colors, particularly green. He indicated that different hues of green gave "verdure" (lush green vegetation) depth and an active surface. Monet believed that such thinking could be applied to any color.
After seeing the work of Turner and Constable in London, Monet's mature style crystallized. He returned to Le Havre, where he painted An Impression, Sunrise. This painting gave the movement its name. It was displayed in the First Impressionist Exhibition in 1874 in Paris. In Church at Vernon, it is quite evident that Monet used different hues of violet and blue to achieve form within an overall palette of pinks, violets, and yellow ochre. This painting is a good work to use when teaching students about secondary colors, cool colors, and high (light) value.
Correlations to Davis programs: A Global Pursuit 2E 7.2; Discovering Art History 4E 13.1