Curator's Corner
June Birthday Boy
John Constable's birthday is June 11th, and I never miss an excuse to feature a brilliant landscape painter who has inspired my own painting. But, instead of featuring The Hay Wain, which is in every art history book, I've got three examples of his studies he routinely did for larger paintings.
---
The British of the late 1700s and early 1800s were wild about enjoying views of the British countryside on daily walks. It went so far as to engender newspaper articles recommending the best scenic walks. This love of landscape, I think, clearly manifested itself in the former British colonies—the US—in the Hudson River School. And it clearly shows in Constable's views of his beloved environs.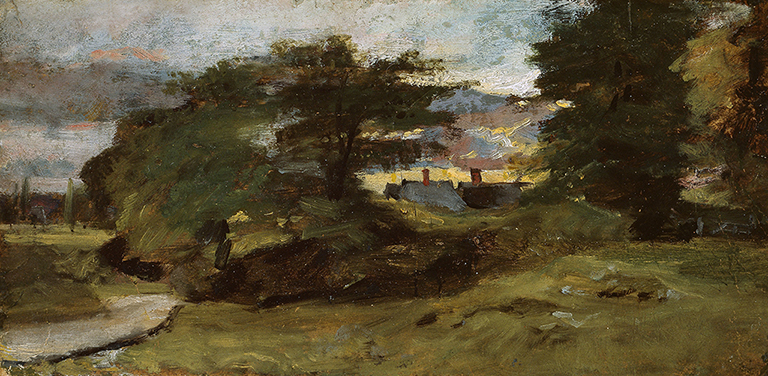 John Constable (1776–1837, Britain), Landscape with Cottages, 1809–1810. Oil on canvas, 5 ⅞" x 11 ½" (15 x 29.2 cm). © 2019 Art Institute of Chicago, Bequest of Elsie K. White. (A6998)
Constable made two kinds of painted sketches. Small ones he made outdoors on paper or small pieces of canvas attached to wooden panels. These he worked quickly to capture nuances of sky and light and elements of landscape. Larger sketches, typically in active, fluid brushwork, expanded on these small studies to prepare for his large-scale paintings.
So, now we know that the French Impressionists did not "invent" oil painting en plein air! In contrast to the Impressionists of some 60 years later, however, such outdoor studies were not meant by Constable as finished works. Additionally, Constable worked in the traditional, academic method of landscape painting using a green-yellow-brown combination of colors for underpainting.
The most luminous passages of all three of these studies are the cloud-laden skies. They are reminiscent of the dramatic cloud configurations in Dutch Baroque landscapes. Like Constable, Dutch Baroque artists, too, felt that massive cloud formations were good at transmitting a sense of drama and human emotion. In antiquity, clouds were associated with the god Apollo and symbolic of thought.
Constable trained at the Royal Academy in portraiture and history painting—the highest categories of "fine art." However, he was more drawn to the topographical watercolor tradition of the 1700s. He was also strongly influenced by Dutch landscape painting of the Baroque period with vast, endless, often turbulent cloudscapes. So committed to the British landscape was Constable, that he opposed the opening of the National Gallery of Art in London in 1832 on the grounds that it might convince British artists to pursue foreign or ancient themes.
Constable grew up on the Stour River in East Bergolt, Suffolk. He painted dozens of views this region. The period of 1821 to 1822 was one of intensive outdoor oil sketches of clouds in every imaginable weather and light condition.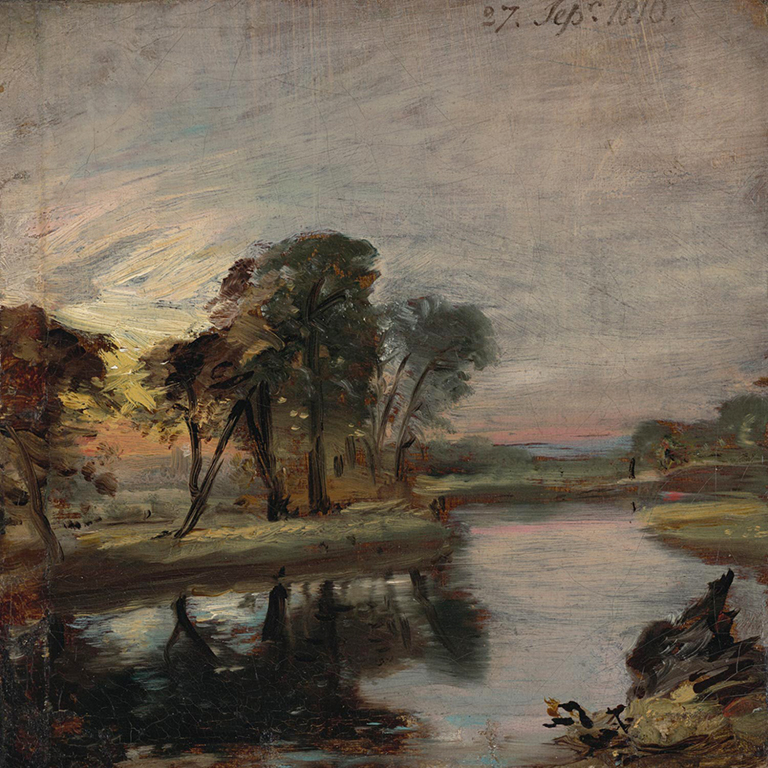 John Constable, The Stour, 1810. Oil on canvas, 9 ⅜" x 9 ¼" (23.8 x 23.5 cm). © 2019 Philadelphia Museum of Art. (PMA-714)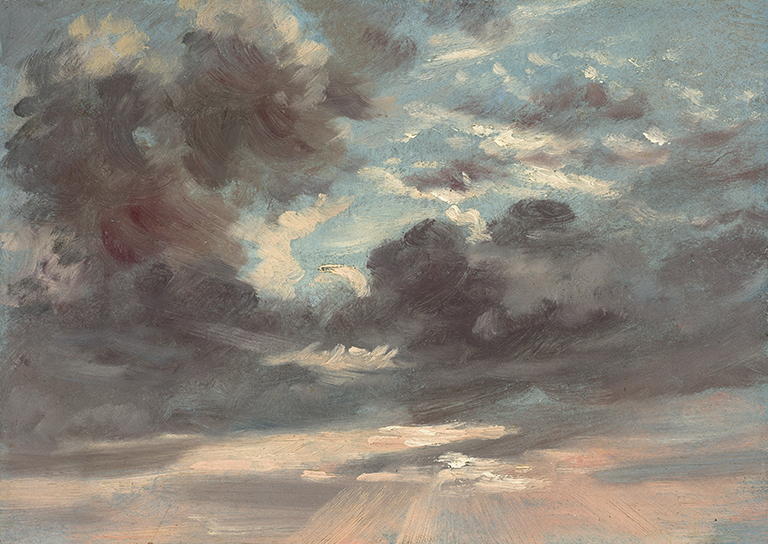 John Constable, Cloudy Sky: Stormy Sunset, 1821–1822. Oil on paper mounted on canvas, 8" x 10 ¾" (20.3 x 27.3 cm). © 2019 National Gallery of Art, Washington, DC, Gift of Louise Mellon in honor of Mr. and Mrs. Paul Mellon. (NGA-P1235)
Correlations to Davis programs: A Global Pursuit 2E: 6.1